Marauders' Alemais delivers big day at plate
Pirates No. 22 prospect collects seven hits in last seven at-bats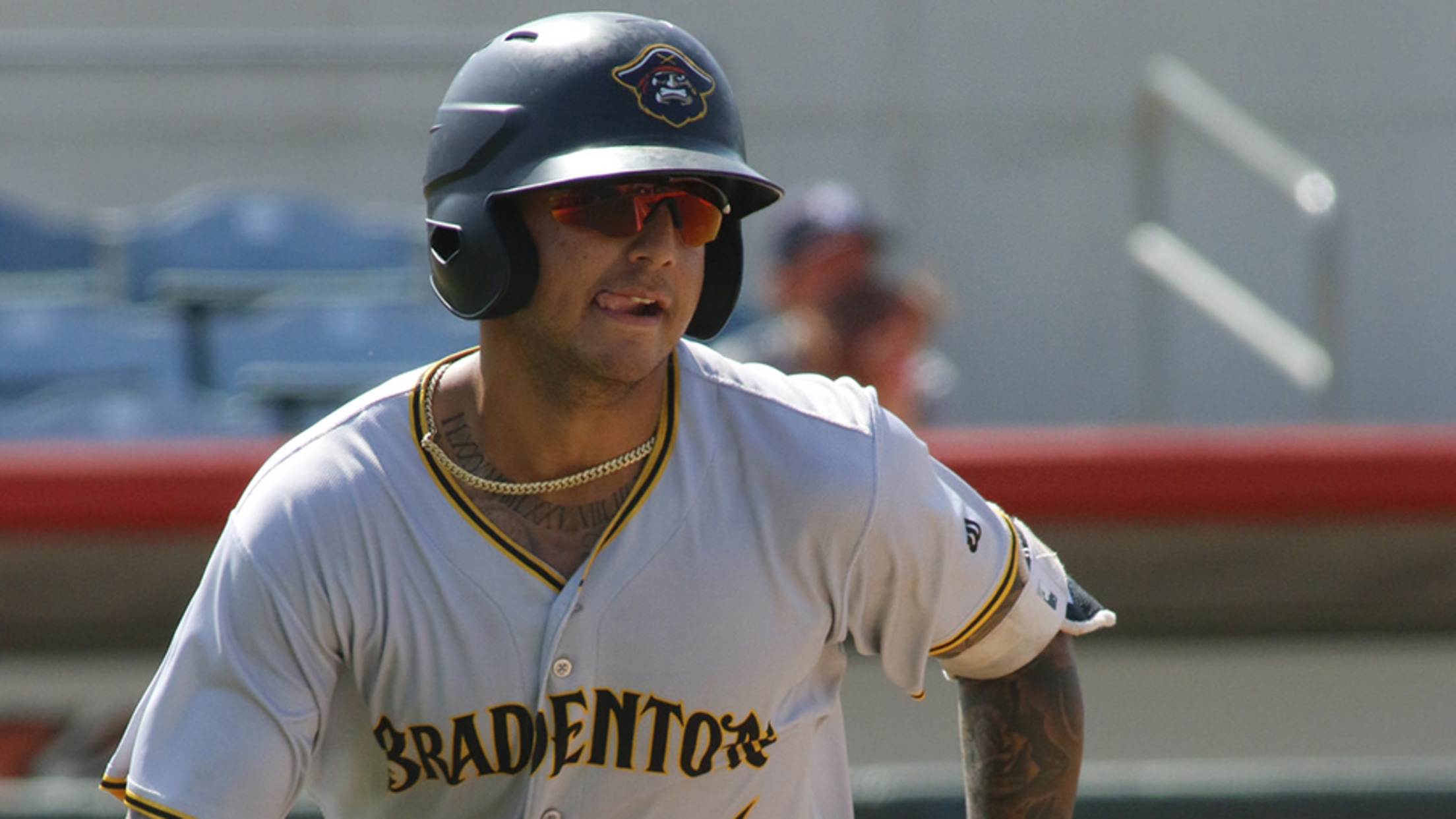 Stephen Alemais has hit safely in 11 of 17 games since his promotion to Bradenton. (Bill Setliff/Bradenton Marauders)
Stephen Alemais largely struggled after being drafted in the third round last year, and those struggles continued before a May thumb injury that cost him a month-and-a-half of this season. He's been a completely different hitter since his return.Pittsburgh's No. 22 prospect went 4-for-4 in Class A Advanced Bradenton's 13-6
Stephen Alemais largely struggled after being drafted in the third round last year, and those struggles continued before a May thumb injury that cost him a month-and-a-half of this season. He's been a completely different hitter since his return.
Pittsburgh's No. 22 prospect went 4-for-4 in Class A Advanced Bradenton's 13-6 win over Daytona at LECOM Park on Monday. His five RBIs shattered his previous professional best of two, and he's seven for his last seven after enduring four straight hitless games from Aug. 7-11.
Gameday box score
"Not that I'm glad I got hurt, but it gave me time to reflect on myself as a player and what kind of player I want to be down the road," Alemais said. "[The injury] helped me go back to the basics. I'm not going to hit 40 homers, and [the organization] wants me to get on base a lot and score a lot of runs."
Batting seventh in the Marauders lineup, Alemais started his night with a single to right field off Tortugas right-hander Wendolyn Bautista in the second inning after Carlos Munoz walked. Both came around to score two batters later when Alfredo Reyes singled to center in a three-run frame.
Alemais led off the fourth with a single to center, advanced to second on a bunt single by Reyes and reached third after tagging up on Casey Hughston's flyout to right. He scored his second run of the game -- which matched his previous total in 16 games with Bradenton -- when Bautista balked with Pirates No. 4 prospect Ke'Bryan Hayes at the plate.
"I'm feeling pretty well, seeing the ball really well as of late ever since the promotion," Alemais said. "Just building off my last at-bats, and my confidence is high so far."
With the game tied in the fifth, 6-6, Alemais lifted a sacrifice fly to center to score Kevin Krause and give the Marauders a 7-6 lead they wouldn't relinquish. He wasn't done, however, smacking a two-run single to center in the seventh before plating two more runners with a double to center in the eighth to pad his career-high single-game RBI total.
"I'm just trying to get a good ball to hit and see the ball over the plate," Alemais said. "I talked a lot with hitting coach [Keoni De Renne] about trying not to do too much in certain situations and trying to see the ball and elevate it to be able to drive those runs in."
• Get tickets to a Marauders game »
After hitting .249/.286/.306 with 29 strikeouts in 50 games for the Class A Short Season BlackBears and the Class A Power in 2016, Alemais bought into the fly-ball revolution taking baseball by storm last offseason and made some adjustments in his swing. Those changes led to a .223/.266/.380 batting line and 32 strikeouts in 29 games in the South Atlantic League before he hurt his thumb making a tag on May 18 and landing on the disabled list, missing the rest of May and all of June.
"This offseason, I [got into] a lot of reading, and people were talking about elevating and launch angle. It got into my head a bit how I don't have a lot of power," Alemais said. "I got lost in it, too into it, so I started trying to elevate and bring leverage and that translated to a lot of strikeouts in West Virginia. I've been working a lot on my swing, had a couple mechanical adjustments I made since Class A that our hitting coordinator [Larry Sutton] wanted me to work on, and it's been translating to games.
"I went back to the basics and talked about what kind of player I was going to be, more contact-oriented. I was really big on trying to create power in my swing, and now I've toned it down. Made a couple adjustments in my swing, and ever since the adjustments in Bradenton, it's been translating really well."
The 6-foot, 190-pound Tulane product hit in his first six games after debuting with the Marauders on July 20, going hitless in his seventh contest before a 4-for-4 night on July 31 against Palm Beach. After a 2-for-24 stretch to begin August, Alemais went 3-for-3 on Saturday before getting Sunday off, and Monday's four-hit game raised his batting line in the Florida State League to .397/.470/.448 with 15 RBIs through 17 games. He's struck out only 10 times.
"Just the adjustments have made me more of a confident hitter and I haven't felt any pain in my thumb at all," Alemais said. "We cleaned up my stride, a toe-tap and double-tap load, and I'm finishing my swings with two hands on the bat. That has allowed me to keep more of a line-drive approach and stay through balls better, turning the rollovers into line drives."
Hayes went 3-for-4 with a double and two RBIs, while Krause, Reyes and Mitchell Tolman had multi-hit games for the Marauders.
James Vasquez homered twice and drove in three of Daytona's six runs and Daniel Sweet added three hits for the visitors.