Tortugas' Antone perfect through seven
Righty strikes out seven but Frogs rally in doubleheader opener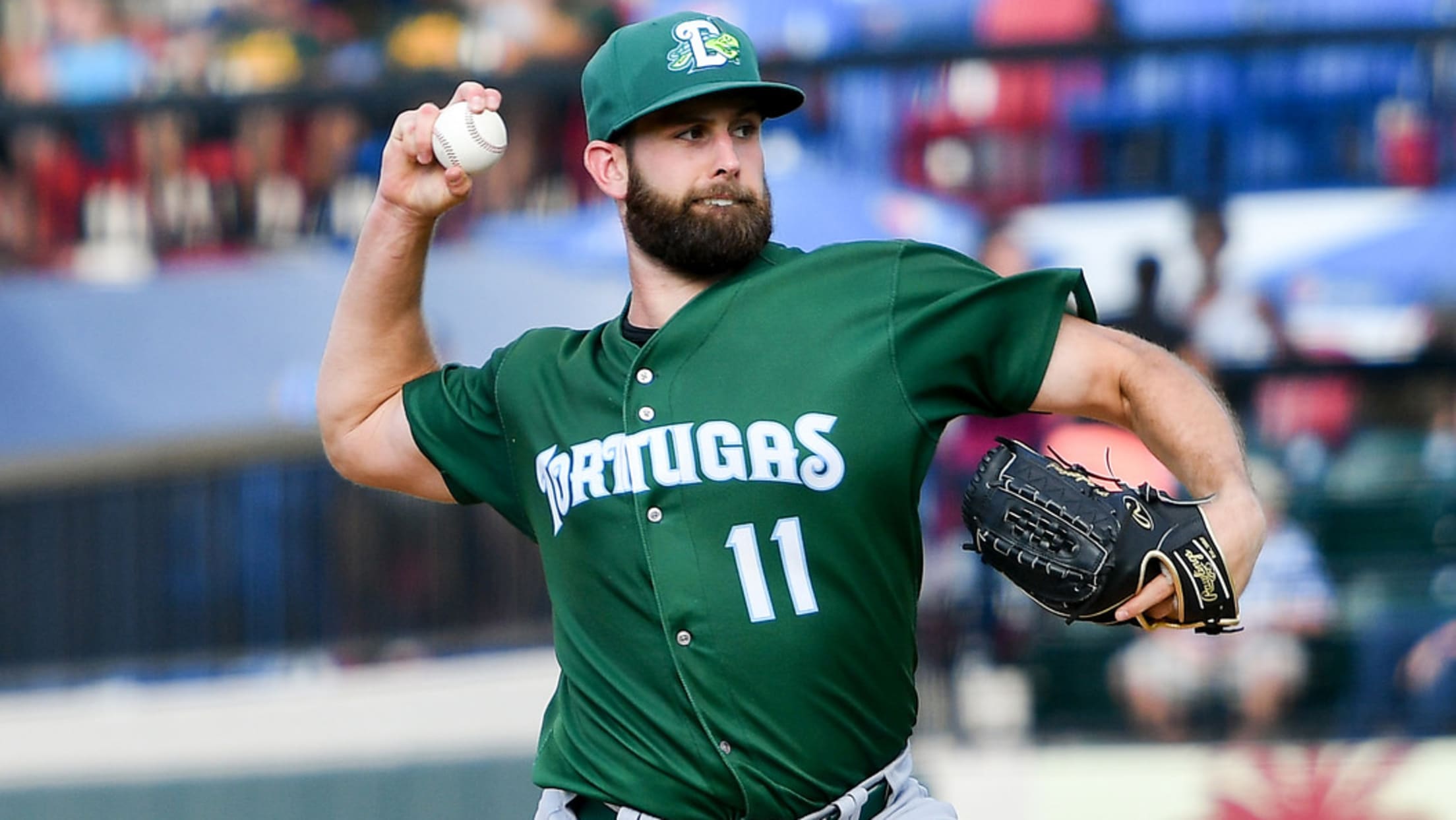 Tejay Antone lowered his ERA almost a full run from 5.82 to 4.83 with the perfect outing. (Tom Hagerty/MiLB.com)
A lack of offense was the only thing that kept Tejay Antone out of the Minor League history books Monday.The right-handed Cincinnati prospect threw seven perfect innings in Class A Advanced Daytona's 3-1 loss in the opening game of a doubleheader against Florida. His outing proved to be a duel
A lack of offense was the only thing that kept Tejay Antone out of the Minor League history books Monday.
The right-handed Cincinnati prospect threw seven perfect innings in Class A Advanced Daytona's 3-1 loss in the opening game of a doubleheader against Florida. His outing proved to be a duel against Joey Wentz, the Braves' No. 9 prospect, who held the Tortugas off the scoreboard for 6 2/3 innings in his fourth consecutive scoreless start, a span of 22 1/3 frames.
It was a great bounceback outing for Antone, who was tagged for nine runs on five hits and four walks over 1 1/3 innings July 4 against Palm Beach.
"It was nice to go out there and have a start like that," Antone said. "My previous outing was one of the worst of my career. I allowed nine earned [runs] in only 1 1/3, and I was really upset with myself. But when it was all said and done, I dropped it and got ready for my next start. I told myself that [tonight] would be the complete opposite."
Gameday box score
After a 10-pitch first inning, Antone struck out Braxton Davidson and Garrison Schwartz swinging to start the second before getting Jared James to ground out to second base. He fanned one batter in each of the next two innings before whiffing Davidson again to start the fifth, inducing a groundout to short from Schwartz and striking out James, his sixth punchout of the afternoon.
"I knew going in that they would be swinging the bats early in the count," Antone said. "I was throwing my sinker down and letting the infield do the work. They really made some great plays for me out there. But overall, everything was working and I felt tremendous."
The 2014 fifth-rounder followed an 11-pitch sixth by fanning Atlanta's eight-ranked prospect, Cristian Pache, on three pitches to start the seventh. No. 20 Isranel Wilson flied out to center and No. 22 Brett Cumberland flied out to left to get the 24-year-old right-hander through seven with a perfect-game bid intact.
"After I got through the lineup the first time I said, 'Let's do it again,'" he said. "When I got through the sixth, I was thinking, 'Wow, if we can score, then I'll have the top of the order up, but I can do it.' I was a little bit nervous, but I calmed myself down and executed my pitches in the seventh.
"My teammates were pushing and I couldn't ask for anything more from them. They all knew what was going on and were trying to get me that run. It just didn't work out for us today. I feel good because I threw so well, but it doesn't feel great because we got the loss."
With Wentz matching the zeros on the scoreboard, the game headed to extra innings. Antone was pulled after 89 pitches, one off his season high in his eighth start since returning from Tommy John surgery and losing the 2017 season. Right-hander Joel Kuhnel pitched a 1-2-3 eighth, but Daytona couldn't take advantage in the bottom of the frame, going down in order with an automatic runner starting on second.
Kuhnel allowed three runs -- two earned -- on four hits and one walk in the top of the ninth. The Tortugas scored on a single by Ibandel Isabel with two outs, but they didn't muster any further offense in the frame.
Wentz allowed five hits and struck out four while lowering his ERA to 2.19.
No. 3 Reds prospectTaylor Trammell singled twice and scored Daytona's lone run.
Kyle Muller (4-1) led the Fire Frogs to the sweep with a 2-1 win in the nightcap. The 11th-ranked Braves prospect gave up an unearned run on five hits with a career-high 12 strikeouts over seven innings.