Miracle's Lewis continues to mash in FSL
Top Twins prospect slugs first homer, logs career-best five RBIs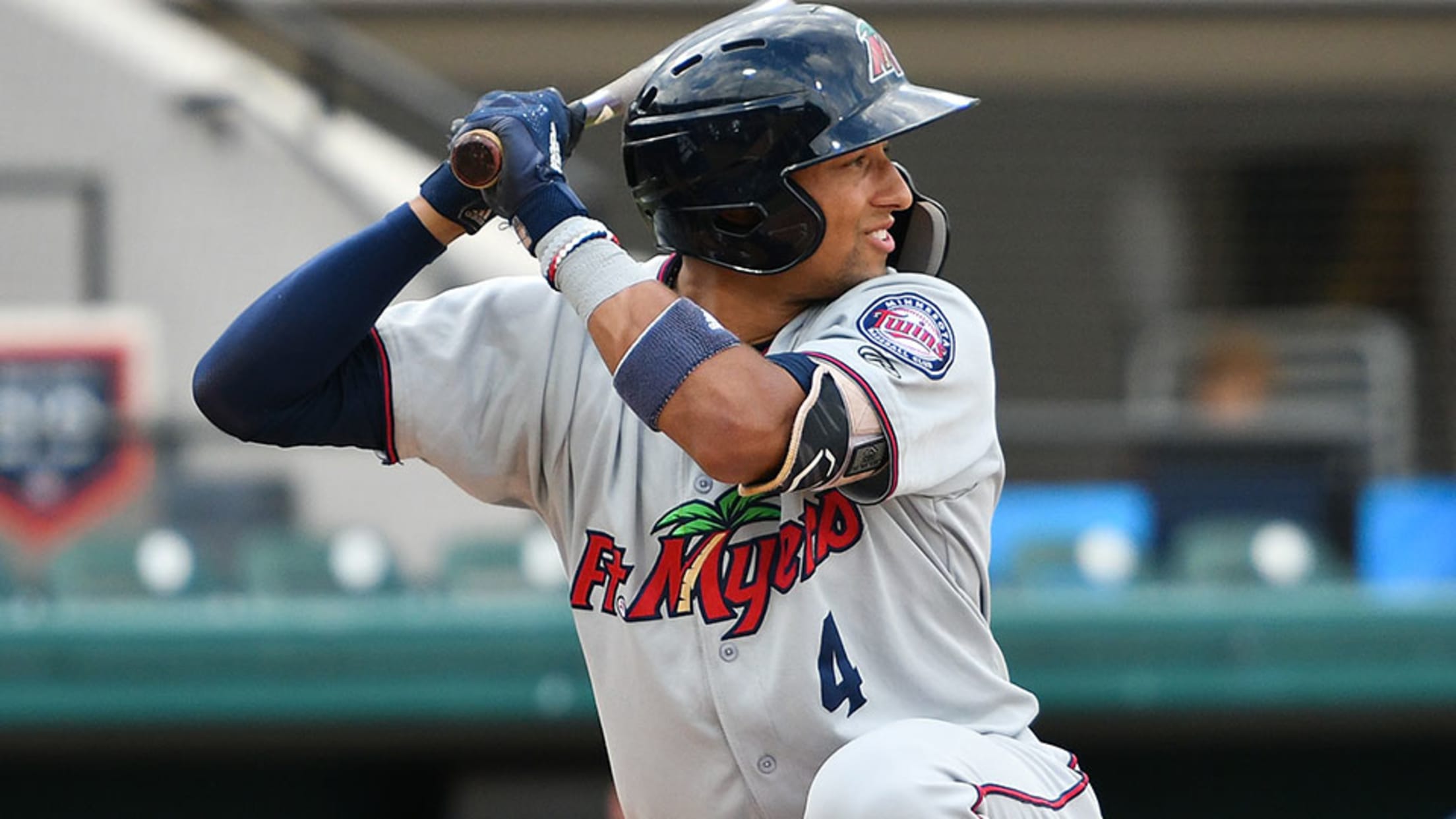 Royce Lewis is batting .357 through his first 28 at-bats in the Florida State League. (Tom Hagerty/MiLB.com)
Royce Lewis hit the ground running following his promotion to Class A Advanced Fort Myers, and after a week on the new circuit it seems the top Twins prospect is enjoying his time in the sun.Lewis cracked his first Florida State League home run and compiled a personal-best five RBIs
Royce Lewis hit the ground running following his promotion to Class A Advanced Fort Myers, and after a week on the new circuit it seems the top Twins prospect is enjoying his time in the sun.
Lewis cracked his first Florida State League home run and compiled a personal-best five RBIs on Friday as the Miracle defeated Lakeland, 11-6, at CenturyLink Sports Complex. Last year's No. 1 overall pick has 10 hits in his first 28 at-bats (.357) through seven games with Fort Myers.
"That kid has a lot of talent ... he's been doing what we expect," Miracle manager Ramon Borrego said. "He's been competing really well."
MLB.com's No. 11 overall prospect opened the season with Class A Cedar Rapids and was elevated after batting .315/.368/.485 with nine homers, 53 RBIs and 22 stolen bases. He debuted for the Kernels last August and went 21-for-71 (.296) with four extra-base hits over 18 games.
During his brief time with the young shortstop, Borrego has seen a mature player who will benefit from some seasoning, particularly to hone his situational awareness on defense.
"I think he's got what we're looking for ... the tools offensively [and] defensively," the 40-year-old skipper said. "There's little things he needs to adjust. ... He's going to learn. He's really smart. ... He's always asking questions to see if he's in the right spot."
Gameday box score
Lewis has hit safely in five of seven games in the FSL and he put up his fourth career four-hit performance in his second game on the level, against Lakeland on July 15. The Aliso Viejo, California, native picked up his first RBI on July 18 against St. Lucie, a game in which third-ranked Twins prospect Alex Kirilloffstole the show with four hits, three RBIs and a pair of runs scored.
Facing right-hander Franklin Perez in his first at-bat in the opening inning Friday night, Lewis lined out to second. He got another opportunity against the top Tigers prospect in the third but went down looking on four pitches.
Staked to a 4-0 lead, Perez ran into trouble in the fourth. Fort Myers evened the score on three hits, three walks and a pair of sacrifice flies before Perez was lifted in favor of Wladimir Pinto with two runners on for Lewis.
After falling behind, 0-2, the 19-year-old fought off three sliders and closed the book on Perez (0-1) by turning on a fastball and depositing it over the left field fence for a three-run shot.
"That was a really, really good at-bat," Borrego said. "The pitcher wanted to throw the fastball ... and he put it middle-in and [Lewis] finally got the homer."
The Miracle put together another big inning in the fifth, with Lewis once more delivering the biggest blow. And once again, he did it against a new pitcher. Pinto gave way to Fernando Perez to face Lewis with the bases loaded and two outs. On a 1-2 count, Lewis dumped a two-run single into right field.
"The adjustments he's made is, he's not guessing. He just always waits until the ball gets in so he can recognize it," Borrego said of Lewis' two-strike approach. "Obviously, he's got really good hands. He's got really good eye-hand coordination."
The 6-foot-2, 188-pound shortstop struck out swinging in his final at-bat in the seventh.
Kirilloff provided a pair of doubles, including one for an RBI in the seven-run fourth. MLB.com's No. 66 overall prospect blazed the trail from Cedar Rapids to Fort Myers in late June and is batting .324 in 26 games on the level.
Sixth-ranked Twins prospect Brusdar Graterol (1-2) allowed four runs on five hits and three walks while fanning seven over six innings to pick up the win.
Perez, who was acquired from the Astros in the Justin Verlander trade last August, missed most of the first two months of the season with a right lat strain and made his first rehab appearance in the Rookie-level Gulf Coast League on June 25. The No. 33 overall prospect yielded six runs on four hits and three walks with three strikeouts over 3 2/3 innings in his third FSL start.
Gerard Gilberto is a contributor to MiLB.com. Follow and interact with him on Twitter, @GerardGilberto4.