Former Keys Players Added to 40-Man Roster
Kremer Played for Keys in 2019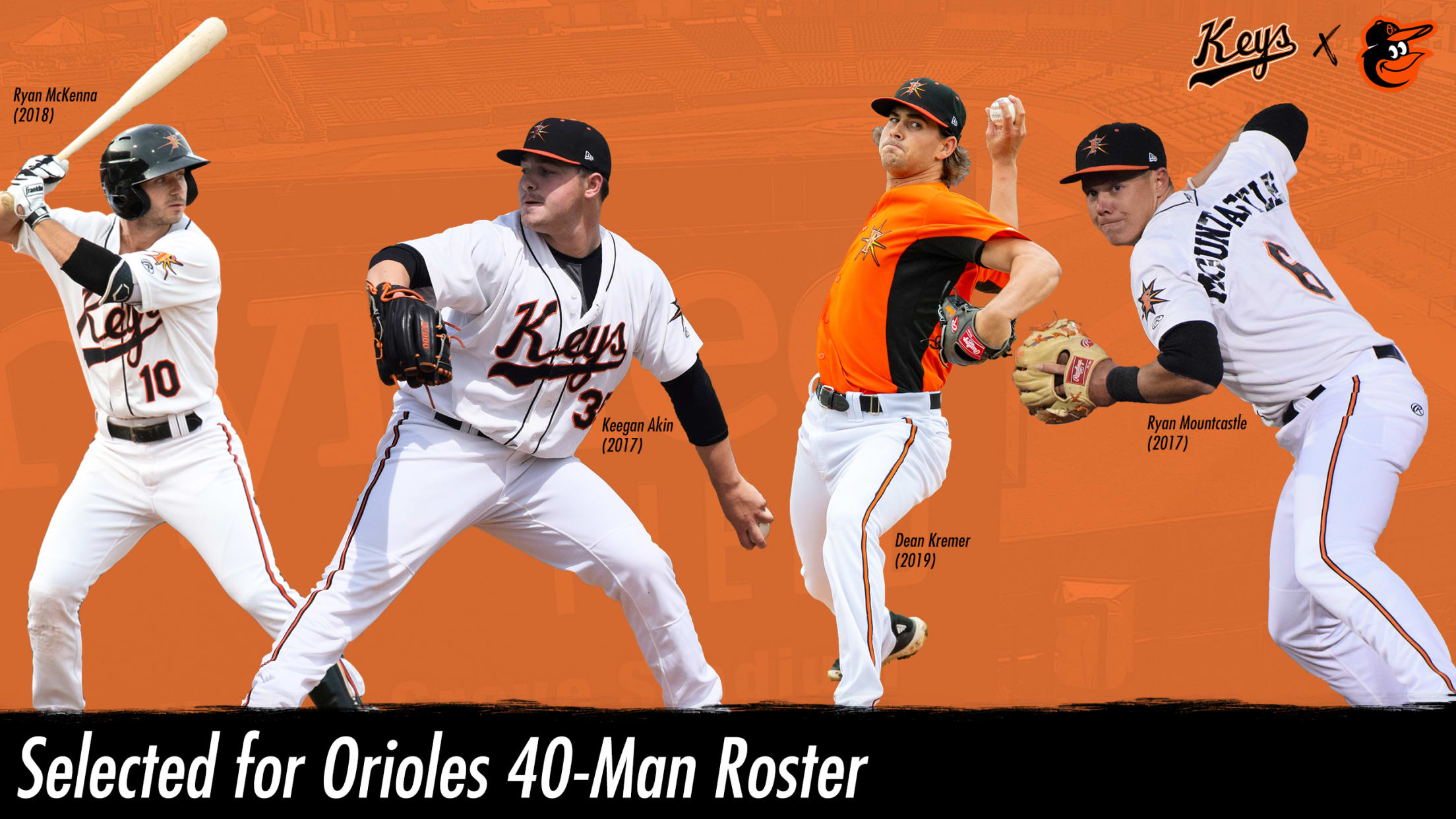 FREDERICK, MD -On Wednesday, the Baltimore Orioles announced that they purchased the contracts of Ryan Mountcastle , Keegan Akin , Dean Kremer and Ryan McKenna. These players have been added to the team's 40-man roster, protecting the quartet from the Rule 5 draft on December 12. By being added, all
FREDERICK, MD -On Wednesday, the Baltimore Orioles announced that they purchased the contracts of Ryan Mountcastle , Keegan Akin , Dean Kremer and Ryan McKenna. These players have been added to the team's 40-man roster, protecting the quartet from the Rule 5 draft on December 12. By being added, all four could also potentially make their Major League debuts in 2020.
A member of the Keys in 2017, Mountcastle, 22, slashed .312/.344/.527 with an .871 OPS to go with 25 home runs, 83 RBIs one triple, 35 doubles and 81 runs scored in 127 games for the Triple-A Norfolk Tides. The Floridian finished first in the International League in hits (162) and total bases (274), second in extra-base hits (61) third in doubles (35), fifth in hitting, RBIs and runs scored and sixth in slugging. He spent time at first base and leftfield.
Mountcastle was named the IL's Most Valuable Player as well as a midseason and postseason all-star. He received all-star nods in both halves with the Keys in 2017.
A teammate of Mountcastle's at Norfolk, Akin, 24, made 25 appearances (24 starts) going 6-7 with a 4.73 ERA. Pitching 112.1 innings, the left-hander struck out 131 and walked 61. Opponents hit .252 against him. Named an International League midseason all-star, Akin led the league in strikeouts, was tied for lowest batting average against (.252) among starters, tied for fourth in starts (24) and ranked sixth in ERA.
Twice named Carolina League Pitcher of the Week as a member of the Keys in 2017, Akin's best statistical minor league season came in 2018. Finishing 14-7 with a 3.27 ERA, the southpaw was named the Eastern League Pitcher of the Year.
Suiting up for Frederick in 2018, McKenna, 22, was a midseason and postseason all-star and twice won Carolina League Player of the Week before a promotion to Double-A Bowie last June.
Closing out 2018 with the Baysox, McKenna returned to the Eastern League this year, hitting .232/.321/.365 with nine home runs, 54 RBIs, six triples and 26 doubles to go with 78 runs scored in 135 games. Mckenna was a fourth-round pick by the Orioles in 2015 out of St. Thomas Aquinas High School (NH).
Kremer, 23, was the most recent player to pass through Frederick. Pitching two games for the Keys in 2019, the right-hander tossed 9.2 scoreless innings with 14 strikeouts to go with a .176 batting average against.
Quickly moving back to Bowie, Kremer racked up a 9-4 record and 2.98 ERA in 15 starts, before closing out the season with four starts in Norfolk. He closed out the season by pitching for Surprise in the Arizona Fall League and was selected to the Rising Stars Game.
A link to the entire schedule for the Keys 2020 season is available here while fireworks shows are scheduled for Fridays and Saturday night games and other select games during the season. To stay tuned for the latest team news and for ticket information fans can visit frederickkeys.com and follow the team on Twitter (@frederickkeys), Facebook and Instagram (@frederickkeys.com).