Reserved All-Star Game Tickets Sold Out
Skills Challenge Rules Announced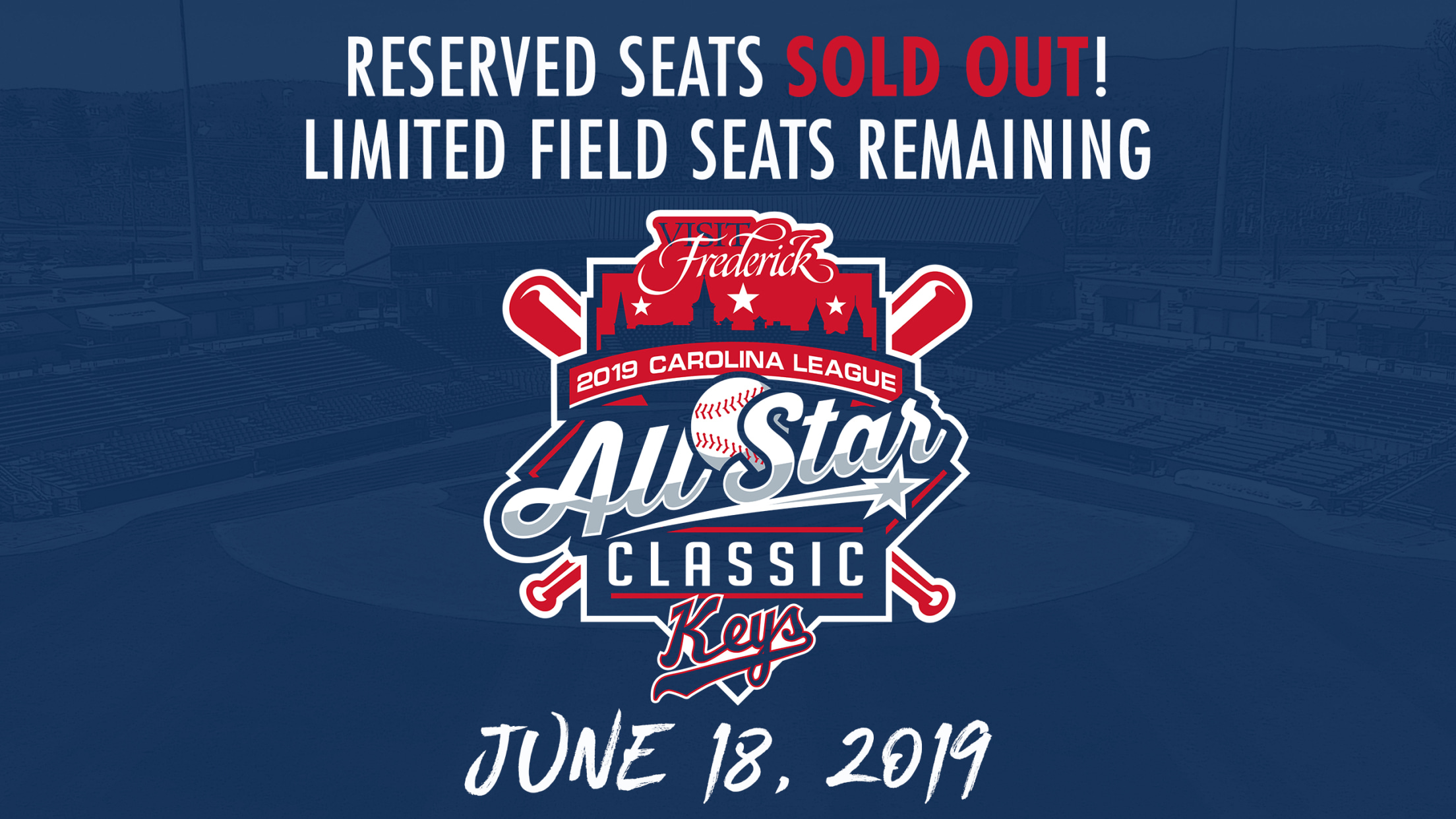 FREDERICK, MD-With the Carolina League All-Star Classic presented by Visit Frederick, less than two weeks away, game tickets are going fast. Currently, all reserved seats are sold out, while limited field seats and general admission seating is available. Fans interested in attending the game should purchase their tickets quickly before
FREDERICK, MD-With the Carolina League All-Star Classic presented by Visit Frederick, less than two weeks away, game tickets are going fast. Currently, all reserved seats are sold out, while limited field seats and general admission seating is available. Fans interested in attending the game should purchase their tickets quickly before it is too late. For tickets, fans can call 301-815-9939 or visit frederickkeys.com.
"We were well aware of how popular this game was going to be, and the fact that so many fans have bought tickets to attend is really exciting," said Keys General Manager, Dave Ziedelis. "We can't wait until Tuesday, June 18 for all of the festivities to kick off."
Although the Carolina League All-Star rosters have not been announced yet, the Keys are also excited to announce the format for the 2019 All-Star Hitting Challenge. Taking place from 5-6 p.m. each side will have four players per side (three position players, one pitcher). The winning team will receive $500.
Each batter will receive 20 swings, while the last batter on each team is a pitcher whose point total is worth double. Participants can either earn or lose points by hitting various targets located throughout the field.
These obstacles include:
-Hula Hoops, located on the infield for bunting.
-"Flamingo Zones", located in the grass beyond 2B and SS, rope used in a circle to enclose the area
-5 gallon bucket pyramid-located in shallow center field, made of 15 buckets
-batting screens with targets on them
-Signs/oversized glove
-Gator driving on the warning track
-A lift in the outfield with an individual with a glove stationed in it
-Fathead style Nick Markakis head located in rightfield
-Ropes separating right, center and leftfields
Teams can earn standard points ranging from 10-100 apiece, while fun point opportunities range from 10-500 points. Additionally, any ball hit to the opposite field is worth double the standard point value.
Skills Challenge pitching will be provided by Hood College and Frederick County Community College baseball teams.
For ticket information and additional details about the Carolina League All-Star Classic presented by Visit Frederick, fans can visit frederickkeys.com. The Keys play the second game of a four game set against the Down East Wood Ducks on Friday night at Grainger Stadium. Right-hander David Lebron (2-0, 2.87) starts for the Keys and will be opposed by Wood Ducks left-hander Sal Mendez (2-0, 2.66). First pitch is at 7:00 p.m. and the broadcast can be heard on frederickkeys.com and the TuneIn app.