Seven Keys Named Midseason All-Stars
All-Star Game to be Held in Frederick on Tuesday, June 18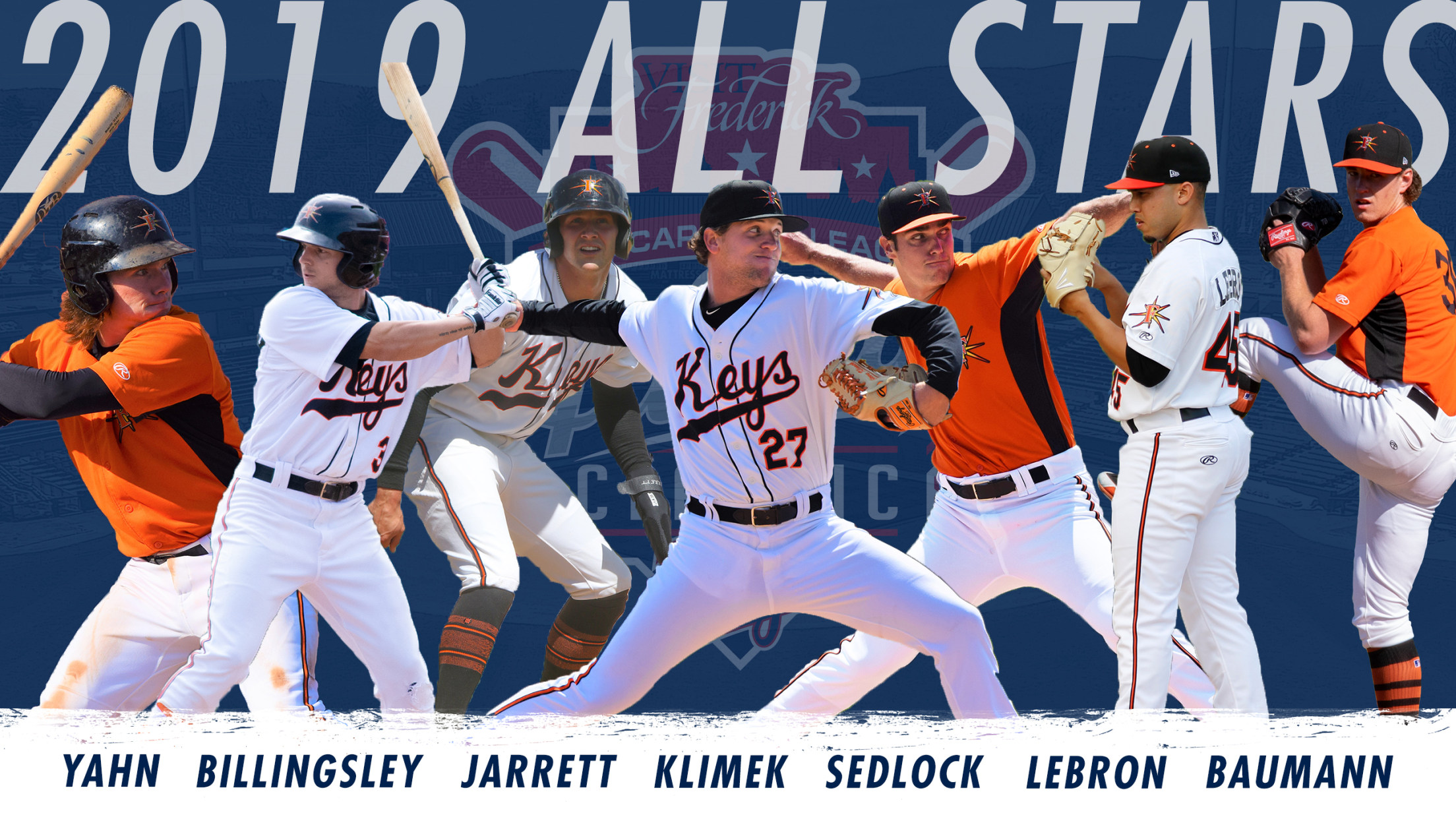 FREDERICK, MD-The Frederick Keys are excited to announce that seven Keys have been named midseason Carolina League All-Stars. Pitchers Cody Sedlock , Mike Baumann, David Lebron and Steven Klimek as well as infielder Willy Yahn and outfielders Zach Jarrett and Cole Billingsley will participate in the Carolina League All-Star Classic
FREDERICK, MD-The Frederick Keys are excited to announce that seven Keys have been named midseason Carolina League All-Stars. Pitchers Cody Sedlock , Mike Baumann, David Lebron and Steven Klimek as well as infielder Willy Yahn and outfielders Zach Jarrett and Cole Billingsley will participate in the Carolina League All-Star Classic held at Nymeo Field at Harry Grove Stadium on Tuesday, June 18. Presented by Visit Frederick, it marks the first time the Keys have hosted a midsummer classic since 2005.
Sedlock, 23, makes his first professional all-star team following a tremendous first half on the mound. In eight starts, the right-hander went 3-0 with a 1.44 ERA to go with one complete game shutout. Working 43.2 innings, he allowed only seven runs on 20 hits to go with 14 walks and 41 strikeouts. Opponents are batting only .140 against Sedlock, while he boasts a 0.78 WHIP. In all eight of his starts, Sedlock has allowed two runs or less and in seven of his eight outings, three hits or less. The right-hander was selected by the Orioles in the first round of the 2016 draft out of the University of Illinois.
In his second season with the Keys, Baumann, 23, is tied for the Carolina League in strikeouts (73) along with Salem's Kutter Crawford. In 10 starts with Frederick this season, Baumann is 1-4 with a 3.86 ERA. Over 49 innings, he has allowed 21 earned runs on 38 hits. He tallied a 2.66 ERA in May (20.1 IP/6ER) while holding opponents to a .213 batting average and a .605 OPS. Finishing the 2018 season second among Orioles minor leaguers in wins (13) and ERA (3.17), Baumann was drafted in the third round of the 2017 draft out of Jacksonville.
A valuable member of both the Keys starting rotation and bullpen, Lebron, 25, is 2-0 with a 2.74 ERA in 10 games (seven starts). Working 42.2 innings, he has allowed 13 earned runs on 35 hits to go with 54 strikeouts (11.4 SO/9IP). Opponents are only slashing .224/.309/.340 with a .648 OPS against him, while he boasts a 2.59 ERA as a starting pitcher (seven starts) and a 3.18 ERA as a relief pitcher (three games). Originally selected by Texas in the 26th round of the 2018 draft out of the University of Tampa, Lebron was acquired by the Orioles via trade in February for international bonus slots.
After a masterful May, Klimek, 25, receives his first midseason all-star selection as a pro. In 15 relief outings, he is 4-1 with a 1.21 ERA. Over 29.2 innings, he has surrendered only four earned runs and is holding opponents to a .167 batting average against. Klimek did not allow a run and only five hits in 14.1 May innings (six games) and held opponents to a paltry .111/.216/.156 slash line with a .371 OPS. Entering Tuesday, he has not allowed a run in his last 18.2 innings. Klimek was selected in the 33rd round of the 2015 draft out of St. Bonaventure.
Yahn, 23, receives his second straight all-star selection after being picked for the New York-Penn League All-Star game in 2018. In 49 games this season, he is slashing .293/.315/.440 to go with five home runs, 32 RBIs, 13 doubles and 20 runs scored. He ranks 10th in the CL in slugging. In May, Yahn batted .292 with a .510 slugging percentage and .844 OPS to go with five home runs and 18 RBIs. Both figures were monthly highs for the Keys, while the five home runs marked the fist five of his pro career. Yahn was selected by Baltimore in the 25th round of the 2017 draft out of UConn.
In 37 games this season with the Keys, Jarrett, 24, is hitting .281/.349/.437 with four home runs, 14 RBIs, nine doubles and 23 runs scored. Like Yahn, this is Jarrett's second straight season making a midseason all-star team, receiving South Atlantic League midseason accolades with the Delmarva Shorebirds. He was also a postseason all-star in the SAL. Jarrett was picked by the Orioles in the 28th round of the 2017 draft out of UNC-Charlotte.
Billingsley, 25, rounds out the Frederick all-star roster and is slashing .339/.412/.413 with an .825 OPS to go with nine doubles, eight RBIs and 19 runs scored. Joining the Keys at the end of April from Double-A Bowie, the Alabama native hit .372/.426/.477 with a .902 OPS and five stolen bases in 23 May games. A 19th round pick by the Orioles in 2016, Billingsley attended the University of South Alabama.
Keys Manager, Ryan Minor, serves as the field leader for the CL North squad, while he will be assisted by pitching coach Justin Lord, hitting coach Bobby Rose, development coach Adam Bleday and trainer Marty Brinker.
Next Tuesday's Carolina League All-Star Classic presented by Visit Frederick will include pregame ceremonies starting at 7:00 p.m. with first pitch scheduled for 7:15. A Skills Challenge will take place from 5-6 p.m. while Fan Fest presented by Mattress Warehouse and Smile Frederick Orthodontics is from 3-6. In-game performances by XPOGO and Tyler's Amazing Balancing Act are scheduled, while fireworks presented by Visit Frederick follow the game. Limited tickets to the game are still available by calling 301-815-9939 or by visiting frederickkeys.com.