Fresno beats Salt Lake 8-2 as the offense explodes for second straight night
31 Grizzly hits in the first two games of the series; Drew Ferguson crushes second homer since returning from injury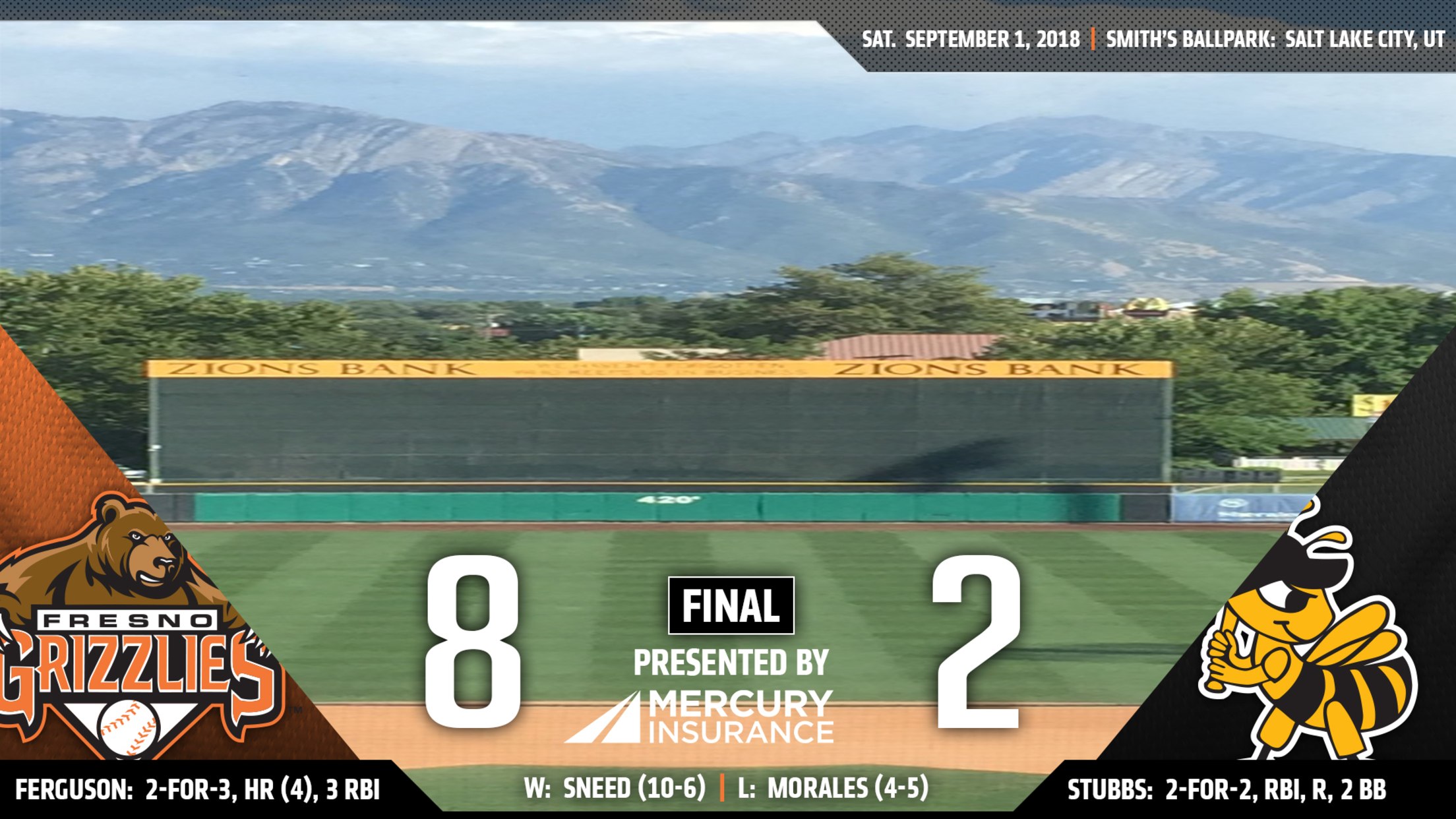 The Fresno Grizzlies (81-56) swatted the Salt Lake Bees (70-67) 8-2 Saturday night from Smith's Ballpark. For the second straight game, the Fresno offense exploded for 10-plus hits. On the evening, they had 13 while yesterday, they blasted 18 for a total of 31. They improved to 49-12 when recording
The Fresno Grizzlies (81-56) swatted the Salt Lake Bees (70-67) 8-2 Saturday night from Smith's Ballpark. For the second straight game, the Fresno offense exploded for 10-plus hits. On the evening, they had 13 while yesterday, they blasted 18 for a total of 31. They improved to 49-12 when recording 10 or more hits.
In the bottom of the second, the Bees drew first blood. Stephen McGee drove a double to left, knocking in Bo Way (2-for-4). J.D. Davis provided the Grizzlies a 2-1 lead in the top of the fifth. He smacked a single to left, plating a pair.
After the base hit by Davis, Salt Lake starter Osmer Morales (4-5, loss) gave way to the bullpen. He was charged with two runs (earned) on three hits, two walks and three strikeouts over four and two-thirds frames.
On the other hand, Fresno righty Cy Sneed (10-6, win) lasted five innings. He scattered six hits and one run (earned) while walking five and whiffing two. His 10 victories are the best on the team. Garrett Stubbs (2-for-2) extended the advantage to 3-1 in the top of the seventh after a single to center notched Drew Ferguson (2-for-3).
A four-run top of the eighth expanded the lead to 7-1. AJ Reed ripped a single to right, netting Jack Mayfield (3-for-5), who doubled. With the single, Reed tied Scott McClain for most RBI by a Grizzly in a single-season with 108. Then, Ferguson hooked a pitch just fair over the right field wall. The three-run shot was his fourth of the year and second since returning from the disabled list (August 28).
Mayfield made it 8-1 in the visitor's half of the ninth when he spanked a single to center, adding Kyle Tucker, who tripled to right. The three-bagger lengthened Tucker's current team-high hit streak to 10 games, his second longest this season. He had an 18-game streak from June 10-29.
Up by seven, the Bees pushed the score to 8-2 after a sacrifice fly to center by Michael Hermosillo. Jose Rojas (2-for-4) trotted home on the play. That would end the rally as a double play finished the contest.
Dean Deetz hurled two scoreless innings, lowering his earned run average to 0.55 while Alex De Goti rocked a two-hit night.
Both squads continue the series with game three of four Sunday evening from Smith's Ballpark. First pitch is scheduled for 5:05 PT. Fresno LHP Kent Emanuel (5-3, 5.31) battles Salt Lake RHP Griffin Canning (2-3, 6.00).