Grizzlies crush four homers to shut out Express 5-0
22-4 since June 23, Fresno is tied for 1st in the PAC North Division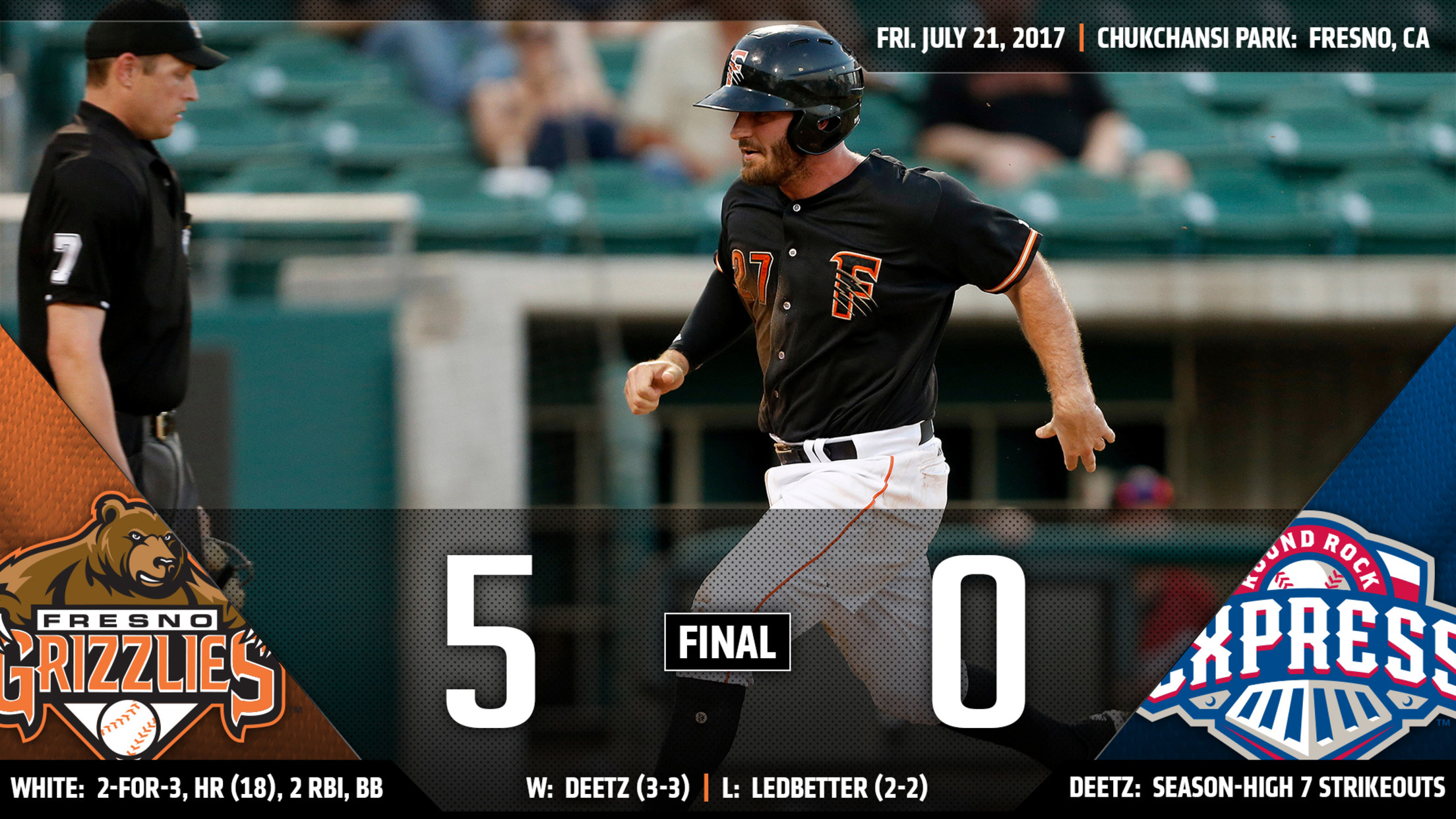 The Fresno Grizzlies (57-42) shut out the Round Rock Express (45-54) 5-0 in the series opener of a four-game set at Chukchansi Park, the two club's first and only meetings of the season. It's Fresno's fifth shut out of 2017 and fourth at home. With the Reno Aces dropping their
The Fresno Grizzlies (57-42) shut out the Round Rock Express (45-54) 5-0 in the series opener of a four-game set at Chukchansi Park, the two club's first and only meetings of the season. It's Fresno's fifth shut out of 2017 and fourth at home. With the Reno Aces dropping their contest Friday night, Fresno is now tied with Reno for first in the Pacific North Division. With the Grizzlies scoring five runs on four homers, they now have hit 153 home runs in 99 games this season to lead all of Minor League Baseball. They trail only their parent club, the Houston Astros, for the lead in all of baseball.
The Grizzlies jumped out in front early with a 2-0 lead after the first. Tyler White (2-for-3) hit his 18th home run of the season, a two-run knock to left. Jon Kemmer scored after he walked to get on. Later in the contest, Kemmer crushed his 14th of the season. The solo shot to right center gave the Grizzlies a 5-0 lead in the seventh. For Kemmer, it was his third home run in just two games after homering twice in Las Vegas on Thursday night. He is batting .424 (25-for-59) in the month of July with four home runs and 14 RBI.
Two solo home runs in the sixth scored the third and fourth Fresno runs of the game. Preston Tucker led off the frame with a long ball to right center, his 18th of the season and second in just as many games. For Tucker it was his team-leading 74th RBI. A.J. Reed then went back-to-back with a bomb to right, his 20th of the season. Also coming off a two homer game on Thursday night in Las Vegas, Reed has homered six times in nine contests.
Fresno starter Dean Deetz (3-3) struck out a personal season-high seven batters through 5.1 scoreless innings. He allowed just five hits and three walks for the win. Three Fresno relievers combined to walk just one and struck out five. Round Rock starter David Ledbetter (2-2) lasted just five and a third after allowing the first three Fresno homers. He allowed the four runs on six hits and five walks with three strikeouts for the loss.
The Grizzlies and the Express will play the second game of the four-game series on Saturday night. RHP James Dykstra (1-3, 7.97) will be on the hill for Round Rock to face Fresno RHP Mike Hauschild (5-1, 5.13). The Grizzlies are 9-2 this season with Hauschild on the mound. First pitch is set for 7:05 p.m.