Grizzlies triumph in 10th to split series at Tacoma
Kemmer, Kemp & Moran homer in 8-7 victory; Martes strikes out personal and Grizz season-high 9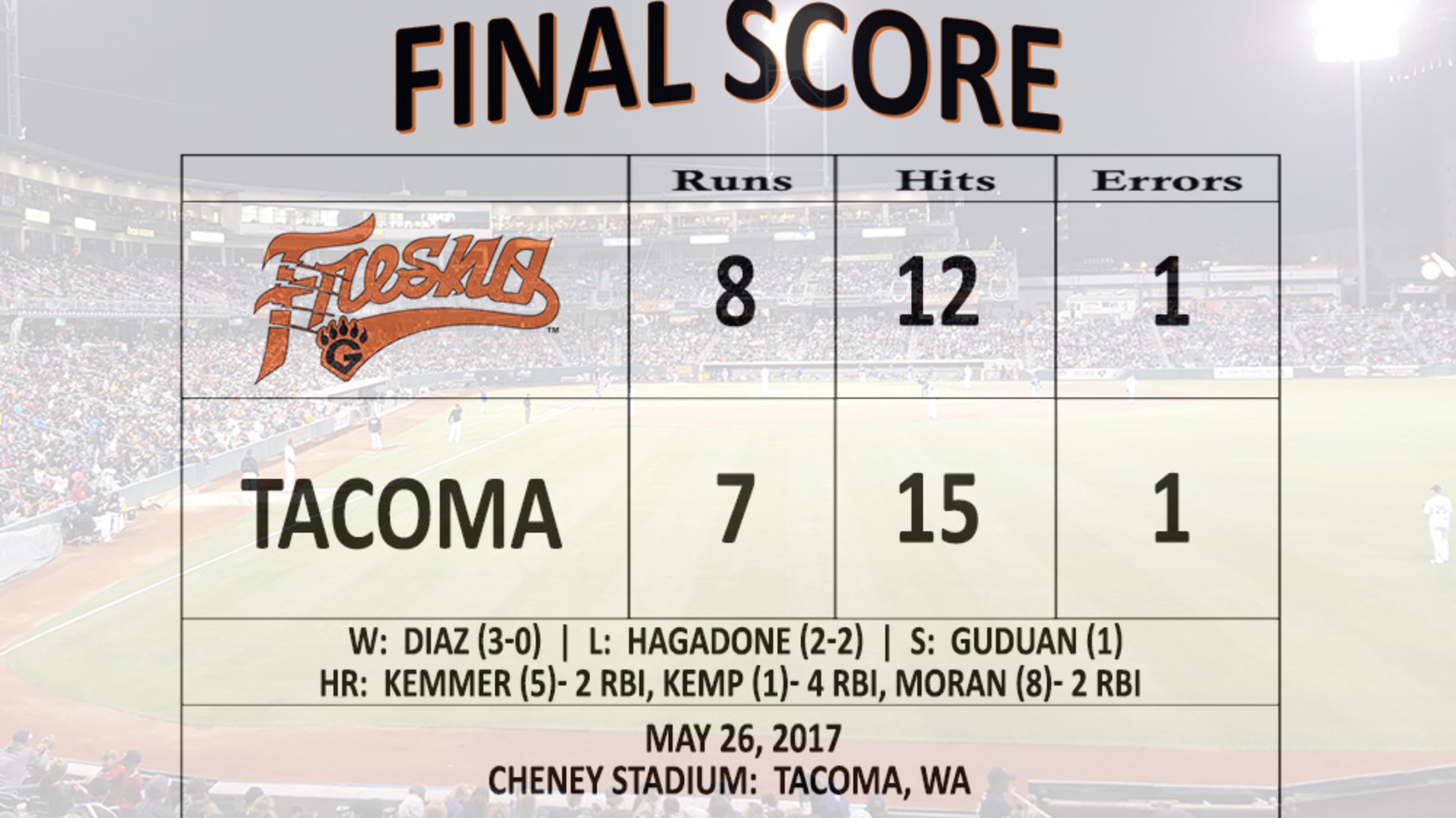 Five Fresno Grizzlies collected multiple hits Friday night in the series finale against the Tacoma Rainiers (29-18), in an 8-7 win in 10 innings to split the four-game set. It was just the second extra-inning game in 49 played this season for the Grizzlies (20-29), who have played just two
Five Fresno Grizzlies collected multiple hits Friday night in the series finale against the Tacoma Rainiers (29-18), in an 8-7 win in 10 innings to split the four-game set. It was just the second extra-inning game in 49 played this season for the Grizzlies (20-29), who have played just two extra innings total this season.
A Zack Shank (3-for-5) RBI single in the second spoiled an otherwise great beginning for Fresno starter Francis Martes, giving the Rainiers an early 1-0 lead. Martes struck out five and walked one in the first two frames; the walk scored but Martes was also hurt by an error, before Shank's blooper scored the run. For Shank it was his second RBI knock in as many nights.
With the Tacoma rotation thinned out due to recent roster moves, it was a bullpen night for the Rainiers. Right-hander Jean Machi, a former Grizz and veteran of 194 MLB games started and pitched a perfect first two innings with a pair of strikeouts. Not only did Machi get the save against the Grizzlies in Wednesday's day game, but with Fresno on September 2, 2011, he earned his first Triple-A win at Tacoma pitching 2.1 innings of relief. Machi pitched in 72 games for the Grizzlies between 2011 and 2013, around making his big league debut with San Francisco in 2012.
The Grizzlies did not have a hit until the fifth with two out, but quickly made up for lost time with a pair of home runs. Jon Kemmer (3-for-4) uncorked a massive solo shot to right field, his fifth homer of the season to tie it 1-1; the batted ball was measured at an estimated 410 feet, with an exit velocity of 108 mph off the bat. Two batters later, after a Max Stassi walk, Tony Kemp (2-for-4) lifted an opposite field shot to left, his first longball of the year. The two-run shot gave Fresno a 3-1 lead. Stassi was on base three times with two walks and a hit-by-pitch.
In the sixth the Rainiers struck back with a Tyler Smith leadoff solo shot to left, cutting the Grizz lead to 3-2. In the top of the seventh Fresno responded with a Kemp two-run double, scoring Preston Tucker (single) and Stassi (walk) to make it a 5-2 game. All four runs Kemp drove in came with two out, his first four-RBI game of the season. His 17 multi-hit games equal Derek Fisher (2-for-5) for the club lead, who has now hit safely in 24 of his last 28 games, batting .347 in that span after a sixth inning single Friday night.
Kemp's effort was also the fourth game of four RBI or more for the Grizzlies this season; Teoscar Hernández (four, April 21 vs. Las Vegas), Colin Moran (four, April 23 vs. Salt Lake) and Kemmer (five, April 30 at Reno) were the others.
Martes, the Houston Astros' consensus top minor league prospect, enjoyed his longest outing of the season in his seventh Triple-A start, going 5.2 innings. Martes scattered six hits and just one of his two runs were earned (Smith's homer). His nine strikeouts (one walk) were a personal and Grizzlies season-high in individual strikeouts. The pitch count for Martes was also a season-high, at 105 (67 strikes).
Things unraveled for the Fresno bullpen in the seventh, as an eight-batter Tacoma inning tied the game 5-5. The Rainiers plated three runs on four hits and two walks, including a Leonys Martin RBI double. The game would head to extra innings with that score after each 'pen settled down in the late innings.
Fisher led the top of the 10th with a single, and stole second base. That set the table for a two-run homer crushed to center by Moran (2-for-5), his eighth of the season. Moran, who is now just two shy of his 2016 homer total of 10 with Fresno (117 games), put the Grizzlies in front 7-5 in extras. It was 8-5 after Reid Brignac (one-out single, 2-for-5) scored on Kemmer's two-out RBI double off the wall in left, which proved to be the game-winning hit as the drama was far from over.
Fireballing lefty Reymin Guduan was forced to inherit a bases-loaded jam with nobody out in the bottom of the 10th, and immediately induced a 4-6-3 double play, allowing a run. For Guduan, who has now inherited 11 runners this season, this was the first that scored under very forgivable circumstances. After the twin-killing, Guduan ended the game with a strikeout and a runner on third base for his first save of the season. Guduan has now pitched 9.2 consecutive scoreless innings with 10 strikeouts, and has not allowed a run in eight of his last nine appearances. He's allowed just two runs in his last 15 innings, with 15 strikeouts in that span.
Friday's win improved Fresno to 1-1 in extra inning games this season, and 4-6 in one-run games; it was their first one-run win in five such decisions on the road in 2017. The Grizzlies now return to Fresno for an eight-game homestand; four against the Albuquerque Isotopes Saturday through Tuesday (Colorado Rockies) before a rematch with Tacoma June 1-4 (Seattle Mariners). Probable starters for Saturday are RHP Jeff Hoffman (3-2, 3.46) for Albuquerque, and RHP Casey Coleman (2-2, 6.20) for Fresno, a 7:05 p.m. first pitch at Chukchansi Park.