J.D. Davis continues tear with another multi-HR night as Grizzlies smash Rainiers 8-1
Davis has gone deep six times in his last four games, enjoys another four-RBI night as Fresno's magic number drops to nine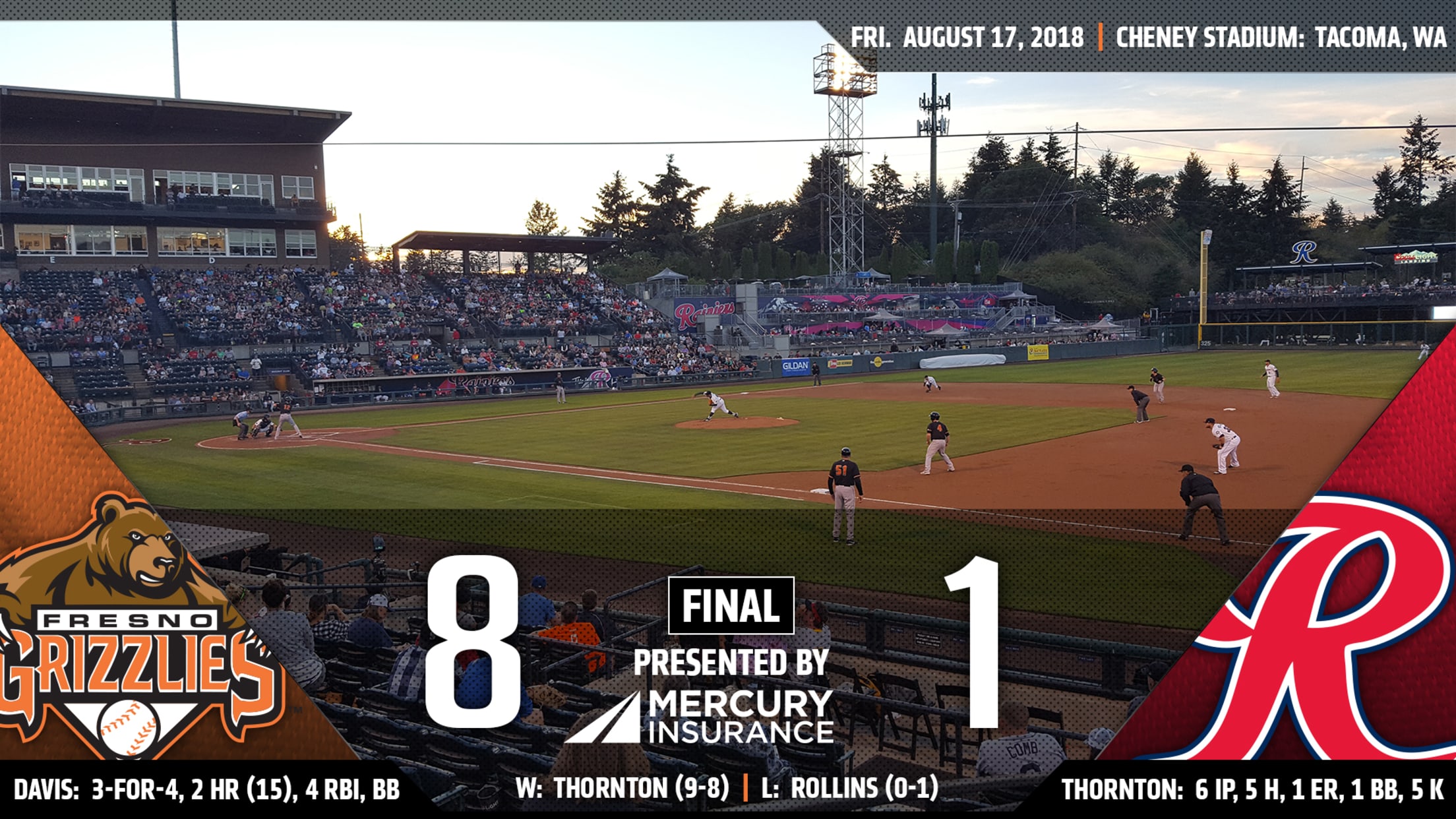 Behind another outstanding game from J.D. Davis (3-for-4), the Fresno Grizzlies (71-53) powered past the Tacoma Rainiers (60-63) 8-1 Friday night from Cheney Stadium. The right fielder went deep twice in the contest, the second consecutive evening that he completed that feat. Overall, Davis has three multi-homer games on the
Behind another outstanding game from J.D. Davis (3-for-4), the Fresno Grizzlies (71-53) powered past the Tacoma Rainiers (60-63) 8-1 Friday night from Cheney Stadium. The right fielder went deep twice in the contest, the second consecutive evening that he completed that feat. Overall, Davis has three multi-homer games on the season with the other coming on June 30th at Sacramento. He has six dingers in his last four contests, seven in his past six games and 15 overall at Triple-A. Davis also drove in four runs, his third time doing so in four nights.
A Jack Mayfield RBI groundout to short put Fresno up 1-0 in the top of the first. Myles Straw (single) and Derek Fisher (4-for-5, double) set the table for Mayfield. The lead expanded to 5-0 in the visitor's half of the third. First, Mayfield lined a sacrifice fly to center, knocking in Straw (2-for-5). Then, J.D. Davis cleared the bases with a three-run blast to left field.
That advantage would grow to 8-0 in the top of the sixth. Davis clobbered a pitch to right-center field, a solo shot. Then, Gonzaga product Taylor Jones (2-for-4) punished an offering to right field. The two-run opposite field homer was his fifth since joining the Grizzlies.
Tacoma broke onto the scoreboard in the bottom of the sixth when Ian Miller smashed a solo clout to right field. His second big fly of the year made it 8-1 Fresno.
With a seven-run lead, the Grizzlies bullpen of Chris Devenski (MLB rehab) and Matt Ramsey shut down the Rainiers for the remainder of the night. Devenski struck out three in a clean seventh while Ramsey hurled two scoreless frames.
Starter Trent Thornton (9-8) relished the victory. He chucked six innings of one-run ball, scattering five hits, one walk and five punchouts. His nine wins are tied for the team-high with Cy Sneed. On the other hand, David Rollins (0-1) suffered the decision in his first outing with Tacoma in 2018. He tossed five and one-third frames, allowing 10 hits, eight runs (earned), walking one and fanning three.
With the victory, the magic number to clinch the division drops to nine. If the Grizzlies win tomorrow, they will reach their high-water mark of 2018 with 19 games over .500.
Both squads continue the series with game three of four Saturday evening from Cheney Stadium. First pitch is scheduled for 7:05 PT. Fresno RHP Josh James (6-4, 3.47) toes the rubber against fellow Tacoma righty Casey Lawrence (7-3, 2.75).