Riders among top 25 Minor League teams in 2016 merchandise sales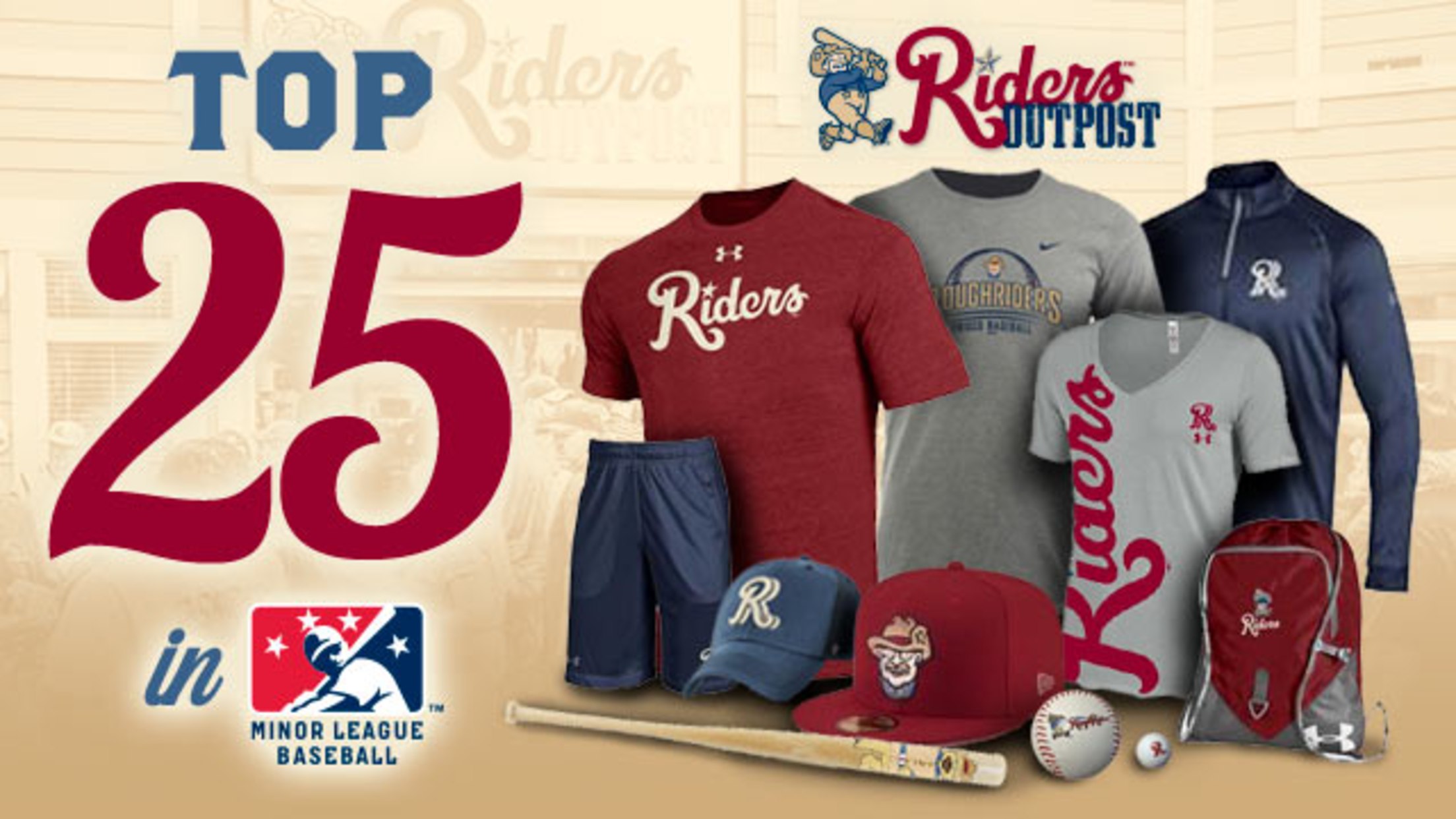 FRISCO, Texas (June 12, 2017) - The Frisco RoughRiders, the Double-A affiliate of the Texas Rangers, were among the top 25 teams in Minor League Baseball licensed merchandise sales for 2016, MiLB announced today. The combined totals of all 160 teams set a Minor League Baseball record with more than
FRISCO, Texas (June 12, 2017) - The Frisco RoughRiders, the Double-A affiliate of the Texas Rangers, were among the top 25 teams in Minor League Baseball licensed merchandise sales for 2016, MiLB announced today. The combined totals of all 160 teams set a Minor League Baseball record with more than $68.3 million in retail sales.
"Finishing in the top 25 in licensed merchandise for 2016 is a testament to the popularity of our logo and our brand identity," said Jason Dambach, RoughRiders Executive Vice President and General Manager. "When we rebranded the RoughRiders more than two years ago and opened the Riders Outpost Team Store, our hope was to create a consistent branding message that resonates with fans of our club and across Minor League Baseball."
The $68.3 million total marks a 5.06 percent increase over 2015's total of $65.1 million, which had been the highest total recorded since Minor League Baseball's licensing program began in 1992. The numbers are based on total licensed merchandise sales from January 1 - December 31, 2016, and include the 160 teams in the domestic-based leagues that charge admission to their games.
The Top 25 list includes (alphabetically, with Major League affiliate): Charlotte Knights (White Sox), Columbia Fireflies (Mets), Columbus Clippers (Indians), Corpus Christi Hooks (Astros), Dayton Dragons (Reds), Durham Bulls (Rays), El Paso Chihuahuas (Padres), Fresno Grizzlies (Astros), Frisco RoughRiders (Rangers), Indianapolis Indians (Pirates), Iowa Cubs, Lake Elsinore Storm (Padres), Lehigh Valley IronPigs (Phillies), Louisville Bats (Reds), Nashville Sounds (Athletics), Oklahoma City Dodgers, Omaha Storm Chasers (Royals), Portland SeaDogs (Red Sox), Richmond Flying Squirrels (Giants), Sacramento River Cats (Giants), Salt Lake Bees (Angels), South Bend Cubs, Tacoma Rainiers (Mariners), Toledo Mud Hens (Tigers) and Trenton Thunder (Yankees).
The Columbia Fireflies, Corpus Christi Hooks, Fresno Grizzlies, Iowa Cubs, Omaha Storm Chasers, Portland Sea Dogs and Richmond Flying Squirrels made the list for 2016 after not making the Top 25 in 2015.
Twenty different major league organizations were represented by teams on the list, with only the Chicago Cubs, Cincinnati Reds, Houston Astros, San Francisco Giants and San Diego Padres placing two affiliates in the Top 25. The only teams to make the list using the nickname of their major league affiliate were the Iowa Cubs, Oklahoma City Dodgers and the South Bend Cubs.
"Minor League Baseball team names and logos continue to be some of the most creative and fun in all of professional sports and are valuable marketing tools for their clubs," said Sandie Hebert, Minor League Baseball's Director of Licensing. "Each year a few teams choose to create new identities and it's always interesting to see the fan reaction and how that translates into merchandise sales."
In addition to strong online sales, Minor League Baseball has also expanded its retail line into stores across the country, featuring items from MiLB licensees such as New Era Cap, 47 Brand, Bimm Ridder, Original Retro Brand, Outdoor Cap, Gear for Sports' Under Armour line and Nike.
"In addition to buying merchandise at the ballpark or online, you can now find Minor League Baseball products in many popular retail locations around the country," added Hebert. "The ever-increasing popularity of Minor League Baseball has helped create another year of record-breaking sales and further solidifies the Minor League Baseball brand as a fan favorite."
About Minor League Baseball
Minor League Baseball, headquartered in St. Petersburg, Florida, is the governing body for all professional baseball teams in the United States, Canada, and the Dominican Republic that are affiliated with Major League Baseball® clubs through their farm systems. Fans are coming out in unprecedented numbers to this one-of-a-kind experience that can only be found at Minor League Baseball ballparks. In 2016, Minor League Baseball attracted 41.3 million fans to its ballparks to see the future stars of the sport hone their skills. From the electricity in the stands to the excitement on the field, Minor League Baseball has provided affordable family-friendly entertainment to people of all ages since its founding in 1901. For more information, visit www.MiLB.com.
About the RoughRiders
The Frisco RoughRiders are the Double-A affiliate of the Texas Rangers and play their games at beautiful Dr Pepper Ballpark in Frisco, Texas. The team was founded in 2003 and has finished first among all Double-A franchises in attendance in each of the last 12 seasons (2005-2016). In August 2014, the RoughRiders were purchased by an ownership group led by Chuck Greenberg. The new ownership group, together with the city of Frisco, has spearheaded numerous major franchise improvements over the past two seasons, investing nearly $8 million in a wide array of facility upgrades and improvements, including a new state-of-the-art HD video board, sound system, Bull Moose Saloon, InTouch Grille, Riders Outpost Team Store and the newest and biggest creation, the 174-foot Choctaw Lazy River. The upgrades made prior to the 2015 season earned the Riders and the City of Frisco "Best Ballpark Renovation" of 2015 by Ballpark Digest. The same publication also honored the Choctaw Lazy River as the best ballpark improvement over $1 million for the 2016 season. More than 140 former RoughRiders players have gone on to play Major League Baseball, including All-Stars Chris Davis, Adrián González, Ian Kinsler and Nelson Cruz, as well as current Rangers stars Elvis Andrus, Rougned Odor and Nomar Mazara. For more information on the Frisco RoughRiders and Dr Pepper Ballpark, please visit RidersBaseball.com or contact Art Garcia at [email protected] or Ryan Rouillard at [email protected].