Voyage to The Show: Brandon Brennan
Former Voyager Pitcher Debuted in Tokyo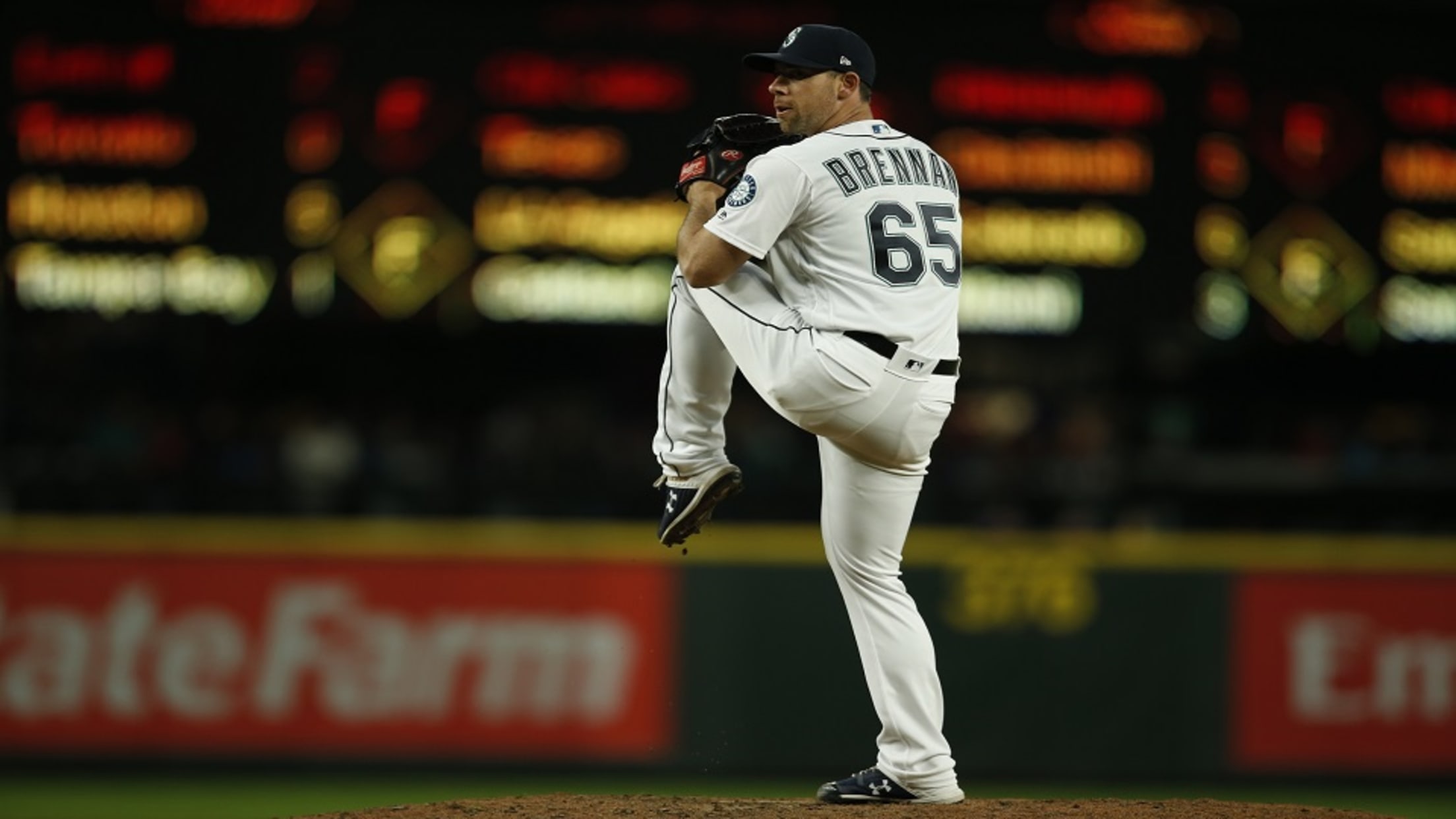 (Seattle Mariners Media Relations Department)
Great Falls, MT-One could argue it should be on the short list for the most memorable Major League debuts by a relief pitcher in the history of baseball. It featured all the elements, minus much of the in-game drama typically required for such a lofty statement. It forever linked former
Great Falls, MT-One could argue it should be on the short list for the most memorable Major League debuts by a relief pitcher in the history of baseball. It featured all the elements, minus much of the in-game drama typically required for such a lofty statement. It forever linked former Voyagers' pitcher Brandon Brennan to one of the greatest hitters the game has ever seen.
After all the ups and downs required for a good number of players who reach the pinnacle, Brandon Brennan made his big league debut on March 21st of this season. He pitched a scoreless eighth inning for the Seattle Mariners in a 5-4, 12-inning win over the Oakland A's. Brennan was one of seven pitchers used that night by Seattle. He walked one and gave up one hit, and helped lift the Mariners to a 2-0 start to the season. Seattle continued its winning ways early, going 13-2 through its first 15 games. There's a chance Brennan will remember very little of those statistics 30 years from now. That's because his debut in Tokyo, Japan came in front of a sold-out crowd that was there to witness the curtain closing on the career of Ichiro. Brennan, of course, hopes for staying power and a future in the big leagues that produces clutch performances on the mound in crucial games.
"It was definitely different," Brennan said of his debut. He was inserted from the Seattle bullpen with the game tied. Before he could gain his footing, though, the Mariners pulled Japan's favorite son out of right field before the inning began so the capacity crowd's adoration could wash down from the stands. "A lot of emotions rolled into it with the whole Ichiro thing. You have to take yourself out of that moment and embrace history to an extent. I'll never be able to witness something like that again. We were able to celebrate Ichiro and his career in his home country. It's probably one of the cooler moments I'll ever experience."
The 27-year-old right-hander was originally drafted by the Chicago White Sox in the fourth round of the 2012 draft out of Orange Coast College. Brennan made his professional debut with Great Falls that same summer. He also had a stint with the Voyagers in 2014. Brennan produced a 3-2 record with a 4.34 ERA in 14 appearances and seven starts his first pro season in the Electric City. He spent the 2017 and 2018 seasons in the White Sox system hopping between Double-A Birmingham and Triple-A Charlotte before free agency in the fall of 2018. Shortly after, Brennan signed a minor league contract with the Colorado Rockies.
The twisting nature of his career would throw another curve as Brennan was claimed off waivers by Seattle in the Rule 5 draft at the December winter meetings. "It was a little crazy," recalled Brennan. "I wasn't exactly expecting Rule 5. When it happened, I was a little surprised but in a good way. As soon as it happened, I was ready to get over to the spring training facility and get started."
The story goes that Seattle focused on Brennan in the Rule 5 when the club's analytics department spotted improvements in his changeup. The Mariner's decision has paid dividends to this point in the first half of the season. As of May 16th, Brennan has posted a 2-2 record with a 2.13 ERA in 19 appearances. He has five holds, and has struck out 26 batters in 23.1 innings pitched. Opponents are hitting just .185 against him.

"The only way I was making this club was through the Rule 5," said Brennan. The big part was I came in to camp pretty well-prepared and in good shape. The Mariners picked me up because of how my changeup played off my two-seam. That's pretty much what I've been doing since I've been here. I'm just attacking hitters the best I can. I'm confident with the stuff I have. I'm trying to be in the zone as much as possible and get hitters to swing."
Brennan credits a good part of his success in pro ball to his first pitching coach in Great Falls. Brian Drahman currently serves as the White Sox rehab pitching coach, but he spent a number of seasons fine-tuning Great Falls' hurlers like Brennan. "He worked a lot mechanically with me," stated Brennan. "When you're first coming into rookie ball, mechanics is what you learn in the very beginning stages. Drahman was the first real pitching coach I had in a long time. He was really easy to talk to and get along with. He was the perfect guy for me to have as my first pitching coach in pro ball."
Brennan hails from Mission Viejo, California, and had never been to Montana until the White Sox drafted him and assigned him to Great Falls. "I had a good time in Montana," Brennan said. "It's not a very long season, it's just getting your feet wet. Being from Southern California, I didn't know how I was going to like it. Montana has gorgeous summers. I did a decent amount of fishing."
While adjusting to new levels of minor league baseball from season to season, Brennan has maintained his fondness for the outdoors. He loves to be on the move and visit new places during the off-season. "I take my dog, Jäger, with me. I prefer to be out of the house," said Brennan. "I also try to take my off-season workouts outside sometimes."
Brennan has plenty of stories to tell about his voyage to the majors. His debut at the Tokyo Dome back in late March will likely be near the top of the list. But, he knows the difficult journey through the minors steeled him to what is expected of players who desire a long career in professional baseball. Brennan says "some of the most successful people day-in and day-out are good at focusing on their present situation. I feel like I've done pretty well with that, but it's not easy. By the time you come to the ballpark the next day, the previous game has to be out of your head before the next one starts. Just focus on the next one and build on that."
*This article was compiled with the assistance of the Seattle Mariners and Ryan Hueter in the team's media relations department.