Four Added to Front Office Staff
Two in the ticket department, with others joining sponsorships and ESPN 100.9-FM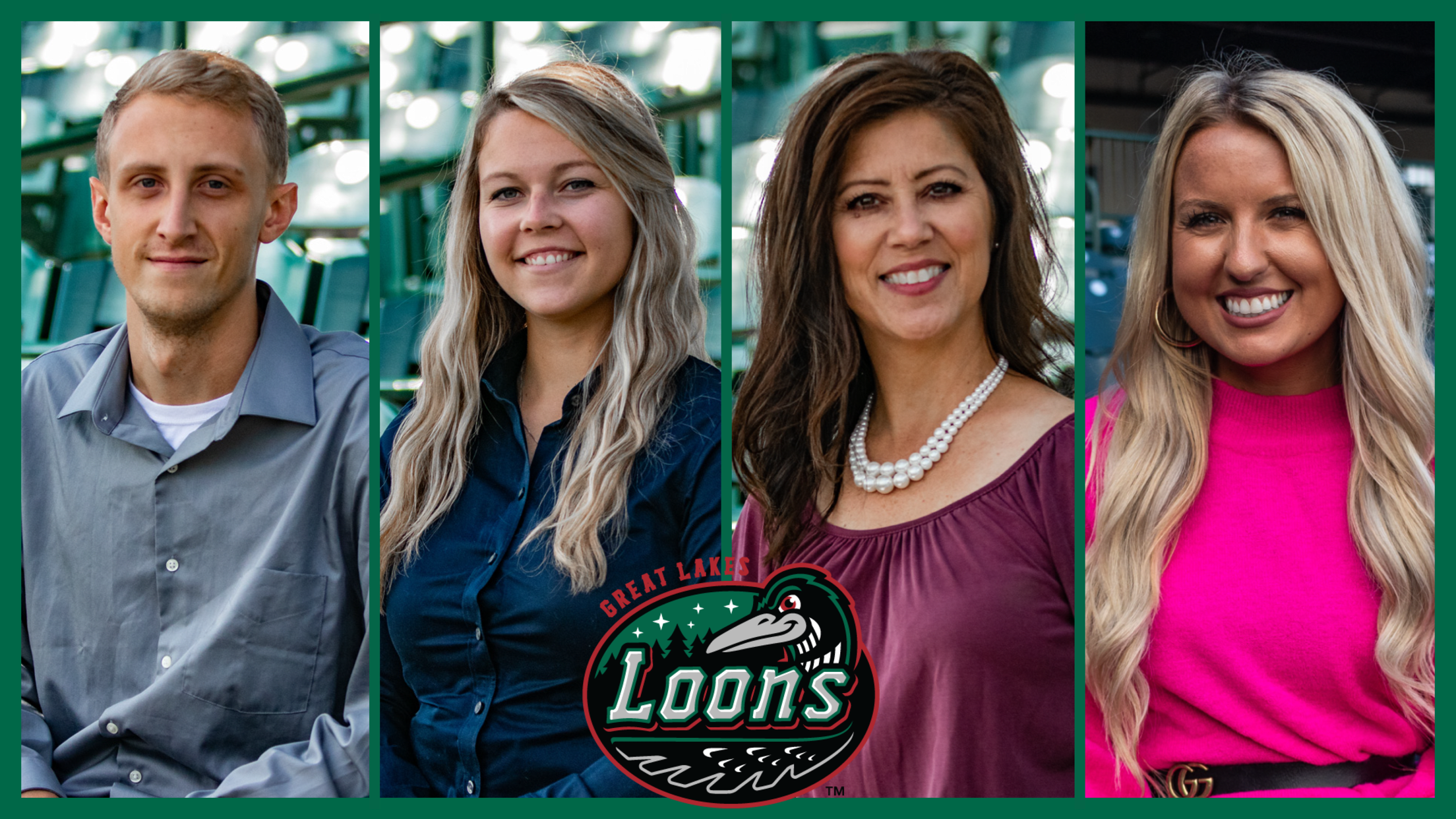 MIDLAND, Mich. - With this season already in the rearview mirror, the Great Lakes Loons are excited to welcome four new members to the front office staff.Glyn Hunt and Ivy Schaaf have both joined the Loons as Ticket Sales Associates. In this position, they work to generate ticket revenue by
MIDLAND, Mich. - With this season already in the rearview mirror, the Great Lakes Loons are excited to welcome four new members to the front office staff.
Glyn Hunt and Ivy Schaaf have both joined the Loons as Ticket Sales Associates. In this position, they work to generate ticket revenue by creating opportunities for new business and providing first-class customer service. They focus on relationship-building by conducting Dow Diamond ballpark tours and providing account management to Loons ticket holders.
Prior to joining the Loons full-time in September 2019, Glyn spent the summer working with the Loons in the box office on game days. He has spent time volunteering at Salvation Army, Tecumseh Area Little League, and Mount Pleasant High School. He is a native of Tecumseh, Michigan and majored in Sport Management with a minor in Advertising at Central Michigan University.
Ivy previously worked for C.H. Robinson as a Carrier Sales Representative and at Boulware Mission as a Director of Marketing & Development for a 501(c)3 non profit. She was an NCAA Division I softball athlete at Western Michigan University where she studied Marketing with a specialization in Sports Marketing. She was a First Team All-MAC selection as a sophomore and selected to the All-MAC Tournament Team in 2015 & 2017.
Kimberly Sylvester has joined ESPN 100.9-FM as the Radio Traffic Coordinator. Prior to joining the radio station, Kimberly worked for two non-profit agencies as well as The Dow Chemical Company. She grew up in the tri-city area and raised two children, one of which blessed her with a six-year-old grandson. Kimberly and her husband own Sylvester Construction and enjoy spending time together remodeling or building homes for others.
Ashley VanOchten is a familiar face to Loons fans has she served as the team's on-field host during the 2019 season. She has joined the Loons front office as the Partnership Activation and Digital Content Manager.
Ashley joins us after being a morning news reporter for 9&10 News in Cadillac. She is also in her third season with the Flint Firebirds of the Ontario Hockey League, serving as their In-Arena Host and Reporter. Ashley is a proud and fired up alum of Central Michigan University and spent her time there focused on Broadcasting and Communications. She served as a sports videographer and spent time hosting many CMU athletic team features.
Find out more about these awesome people by clicking here
From Loons & ESPN 100.9-FM President/General Manager Brad Tammen
"We're very fortunate to be able to add four quality people to our staff. We got to know Glyn throughout the season and he proved to be an exceptional game day employee for us. We're excited to have him join us full time. Ivy comes to us from outside professional sports, but her track record in sales speaks for itself and we're sure she'll thrive in her return to Michigan. Ashley brought incredible enthusiasm to the ballpark experience this past year and we're glad she's found the perfect fit interacting both with our clients and fans. Kimberly brings a wealth of experience to our radio operation. She will be a great asset for our entire organization."
The Great Lakes Loons have been the Single-A partner of the Los Angeles Dodgers since the team's inception in 2007. Dow Diamond serves as the team's home and also houses the Michigan Baseball Foundation, a 501(c)(3) non-profit public charity, and ESPN 100.9-FM. For tickets or information about the Loons, call 989-837-BALL or visit Loons.com.