Lugs Spoil Patriotic Party
Series shifts to Lansing for the 4th of July, Loons return home Saturday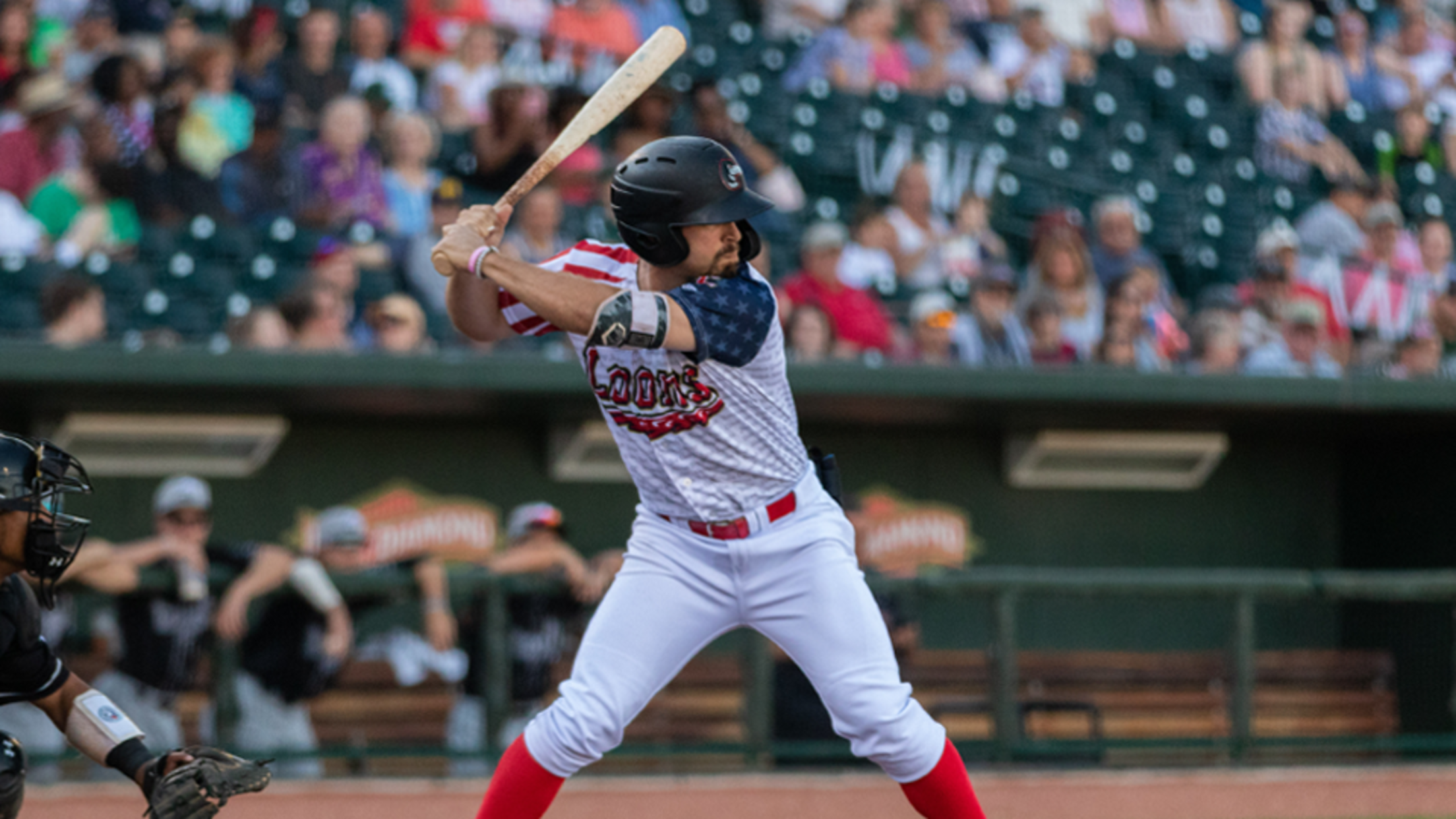 16 Luke Heyer (Alex Seder / Great Lakes Loons)
MIDLAND, Mich. -- Baseball sometimes just comes down to timely hitting. It's a game where just a few short minutes of action can decide the result. With the game hanging in the balance in the 8th inning, a bases-clearing double by the Lansing Lugnuts' LJ Talley pushed three runs across
MIDLAND, Mich. -- Baseball sometimes just comes down to timely hitting. It's a game where just a few short minutes of action can decide the result. With the game hanging in the balance in the 8th inning, a bases-clearing double by the Lansing Lugnuts' LJ Talley pushed three runs across to give the visitors the 6-4 win over the Great Lakes Loons.
As Loons fans do every Independence Day Eve at Dow Diamond, a sellout crowd of 5,642 was in attendance with patriotism abound throughout the ballpark. The team wore Stars & Stripes jerseys that featured over 70 names of local veterans included in the jersey design. Those uniforms were auctioned off during the game.
Cpl. Lee Haas, who was recognized during the Loons game held on the 75th anniversary of D-Day earlier this season for his service during World War II, returned to take part in the pregame festivities as he threw out one of the ceremonial first pitches.
There was plenty of offense to go around as both teams combined for 17 hits, including eight for the Loons (49-31) that featured two-hit performances from Jacob Amaya, Hunter Feduccia and Gersel Pitre.
Stephen Kolek started on the mound for Great Lakes and struck out five batters in 4.1 IP. Zach Willeman (L, 0-2), despite taking the loss, was very good in his piggyback relief appearance finishing the game with the final 4.2 IP issuing one walk and recording seven strikeouts.
The series now shifts to Lansing where the teams will play games on July 4-5. The Loons return to Dow Diamond on Saturday night to begin a three-game set with the Fort Wayne TinCaps.
Saturday: Field of the Dreams Night feat. Dwier Brown appearance
Sunday: Feats of Awesomeness Day feat. Tyler's Amazing Balancing Act
Monday: Outdoors Night feat. Mike Avery
July 17: Grand Slam Game
July 18: Christmas in July
July 19: Latino Night
The Great Lakes Loons have been the Single-A partner of the Los Angeles Dodgers since the team's inception in 2007. Dow Diamond serves as the team's home and also houses the Michigan Baseball Foundation, a 501(c)(3) non-profit public charity, and ESPN 100.9-FM. For tickets or information about the Loons, call 989-837-BALL or visit Loons.com.