Dodgers Announce Vargas, Choi as Minor League Players of the Year
2021 Branch Rickey Minor League Players of the Year rewards two 2021 Loons members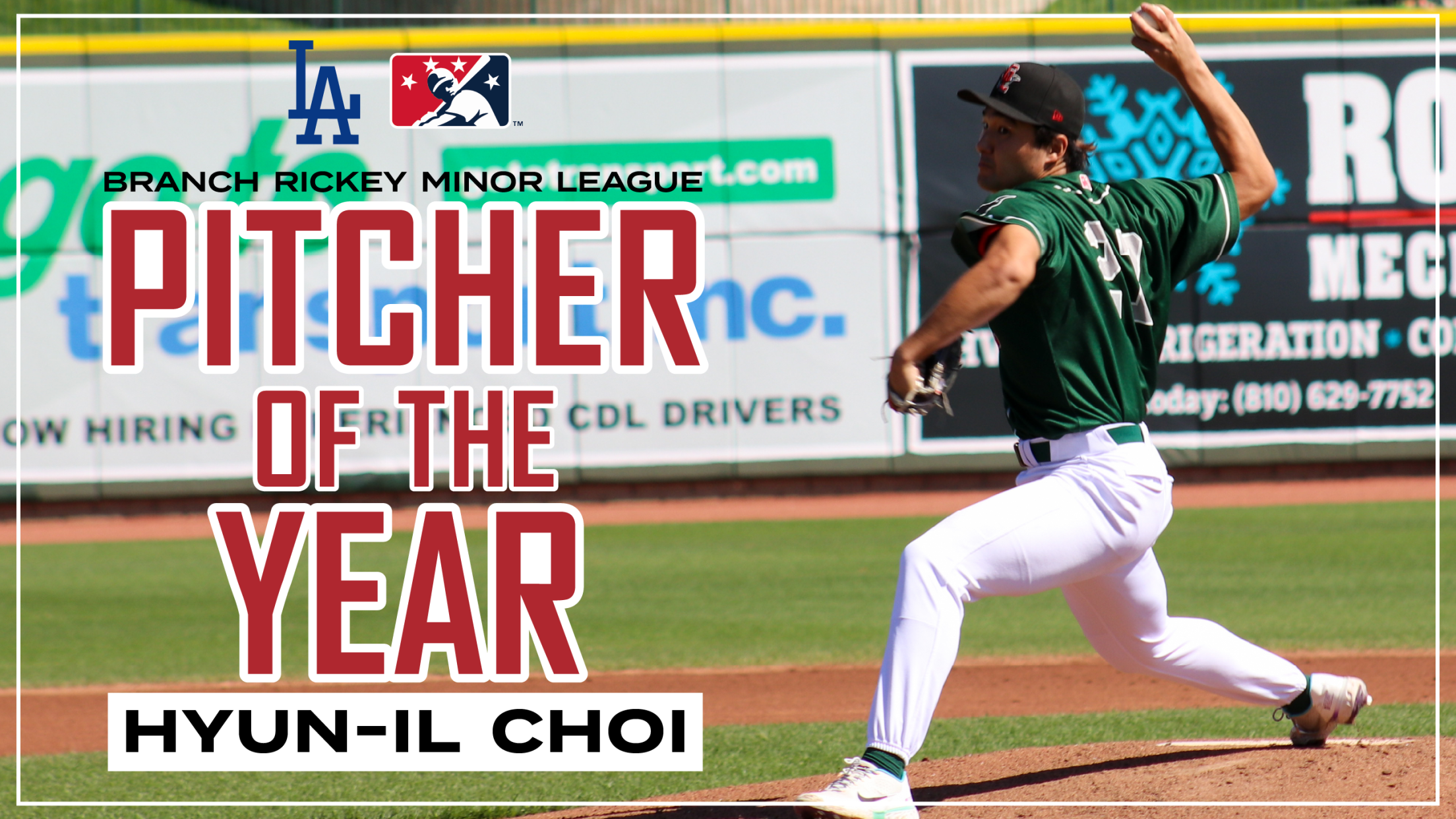 MIDLAND, MI – On Friday, October 1, the Los Angeles Dodgers awarded Miguel Vargas and Hyun-il Choi as the 2021 Branch Rickey Minor League Player and Pitcher of the Year for the system's organization. After making his High-A debut in Rancho Cucamonga in 2019, Miguel Vargas returned to Great Lakes
MIDLAND, MI – On Friday, October 1, the Los Angeles Dodgers awarded Miguel Vargas and Hyun-il Choi as the 2021 Branch Rickey Minor League Player and Pitcher of the Year for the system's organization.
After making his High-A debut in Rancho Cucamonga in 2019, Miguel Vargas returned to Great Lakes for his third season in 2021. Vargas, 21, recorded the longest hitting streak in professional baseball this season with a 26-game stretch from May 7 to June 5, receiving the promotion to Double-A Tulsa the next day.
Between Great Lakes and Tulsa, Vargas hit .319 on the season with 76 RBI and 23 homers. In 83 games with the Double-A Drillers, Vargas finished with a .321 batting average, an OPS of .909, and hit 16 home runs to help finish with 60 RBI.
After a .290 average in the month of July, Vargas turned a corner in Tulsa with a .410 average in 26 games in August. Ending the month with 13 hits in his last 8 games, Vargas tallied 62 total bases to be named the Double-A Central Player of the Month. Vargas also finished the season as a Double-A Central Postseason All-Star, along with current prospects Michael Busch and Ryan Noda.
Vargas has been a member of the Dodgers organization since signing as an international free agent in September 2017 and has recorded 297 games played in the minor league at four different levels of the organization.
Hyun-il Choi enjoyed an impressive debut full season in the Dodgers organization, beginning the year with Low-A Rancho Cucamonga. Also 21, Choi received the promotion to Great Lakes on July 31 following a strong 15 games with the Quakes. Across 65 1/3 innings of work, the Seoul, South Korea native held a 3.17 ERA and an 8-3 record in his 15 appearances.
Prior to his promotion to Great Lakes, Choi led the Dodgers system through July in strikeouts-to-walk (K/BB) with 75 strikeouts and just 7 walks, buckling batters to an 0.83 WHIP. The trend continued for Choi in his High-A debut on August 1 against Fort Wayne, striking out eight batters and walking none in a five-inning quality start, allowing one run.
Both Choi and Vargas were honored for their achievements this season at Dodger Stadium on October 1, prior to the Dodgers home game against Milwaukee.
The Great Lakes Loons have been the Single-A partner of the Los Angeles Dodgers since the team's inception in 2007. Dow Diamond serves as the team's home and also houses the Michigan Baseball Foundation, a 501(c)(3) non-profit public charity, and ESPN 100.9-FM. For tickets or information about the Loons, call 989-837-BALL or visit Loons.com.