Wardynski Nominated for MiLB Award
Rawlings Woman Executive of the Year announced in December at Winter Meetings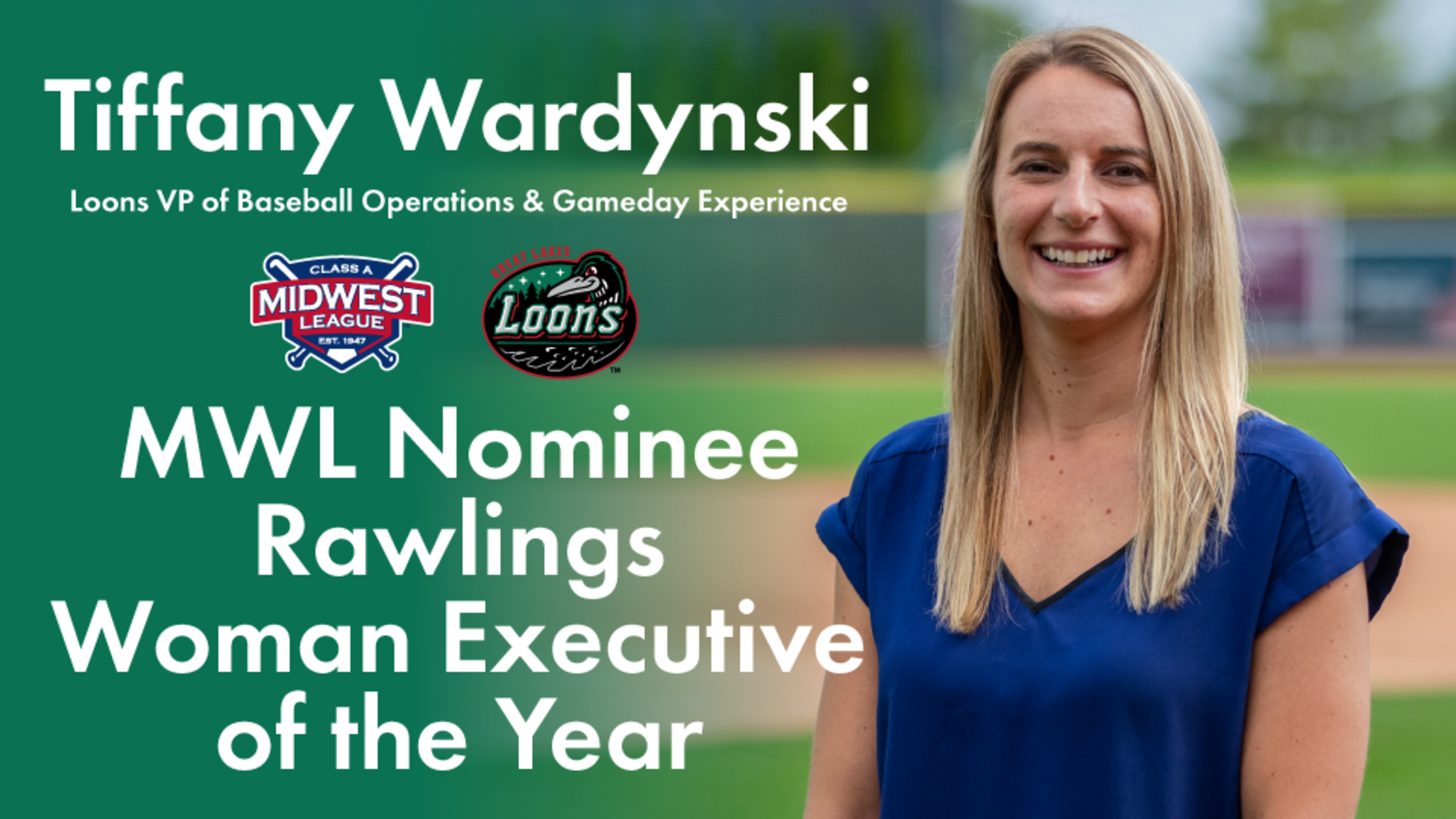 MIDLAND, Mich. - The Midwest League of Professional Baseball Clubs announced its nominees for Minor League Baseball's Post-Season Awards on Friday. Tiffany Wardynski, Vice President of Baseball Operations and Gameday Experience with the Great Lakes Loons, has been nominated for the Rawlings Woman Executive of the Year Award."It's a tremendous
MIDLAND, Mich. - The Midwest League of Professional Baseball Clubs announced its nominees for Minor League Baseball's Post-Season Awards on Friday. Tiffany Wardynski, Vice President of Baseball Operations and Gameday Experience with the Great Lakes Loons, has been nominated for the Rawlings Woman Executive of the Year Award.
"It's a tremendous honor to represent the Loons and the Midwest League alongside so many other deserving and hard-working women in baseball," Wardynski. "I've spent the last 11 years working with so many great friends here. None of us could do what we do without the love and support we have for each other."
Since 1976, the Rawlings Woman Executive of the Year Award has been presented annually to a woman who has made outstanding contributions to her club or league, or to baseball. This year's winner will be the 42nd recipient of the award.
"I continue to marvel at the creativity and dedication of our clubs in each of the areas these awards represent," MWL President Dick Nussbaum said. "This year's award nominees succeeded out of a very competitive group of clubs. I am very confident our MWL nominees should provide MiLB with great choices when making final decisions. Congratulations to our nominees and to all of our Clubs on a great 2018 season."
The four other MiLB Post-Season Awards include:
The Charles K. Murphy Patriot Award is presented to a club or individual employed by a club for outstanding support of and engagement with the United States Armed Forces and veterans, both at the ballpark and in the community.
The John Henry Moss Community Service Award is presented to a club that demonstrates an outstanding, on-going commitment to charitable service, support, and leadership within their local community and within the baseball industry.
The Larry MacPhail Promotional Award is presented to a club that demonstrated outstanding and creative marketing and promotional efforts within its community, its ballpark (including non-game day events), in media and other promotional materials.
The John H. Johnson President's Award honors a "complete" baseball franchise that has demonstrated franchise stability, and significant contributions to its community, league, and the baseball industry.
After nominees from all leagues are reviewed by the MiLB Awards Committee, recommendations are presented to the President and Executive Vice President of MiLB for the final decision. Winners will be announced and presented with awards at the Baseball Winter Meetings in December.
Other 2018 MWL Award Nominees:
Charles K. Murphy Patriot Award: Dayton Dragons
John Henry Moss Community Service Award: Kane County Cougars
Larry MacPhail Promotional Award: Fort Wayne TinCaps
John H. Johnson President's Award: Wisconsin Timber Rattlers
The Great Lakes Loons have been the Single-A partner of the Los Angeles Dodgers since the team's inception in 2007. Dow Diamond serves as the team's home and also houses the Michigan Baseball Foundation, a 501(c)(3) non-profit public charity, and ESPN 100.9-FM. For tickets or information about the Loons, call 989-837-BALL or visit Loons.com.