Cardinals Bats Explode Late, G-Reds Drop Opener
Cerda Homers, Bumpass Drives in Two in Loss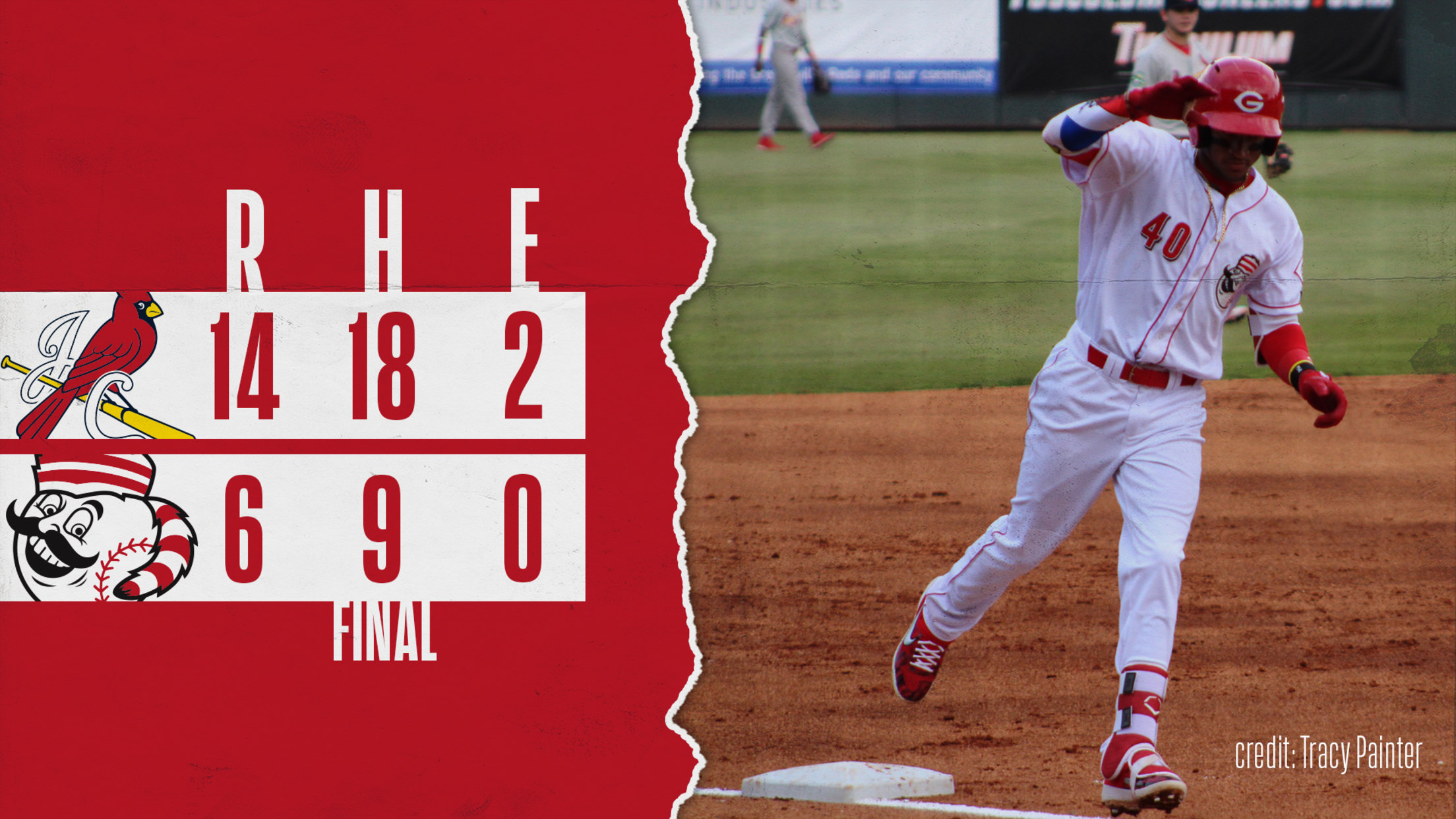 GREENEVILLE, TN - The Greeneville Reds (3-4) dropped the opener Tuesday night against the Johnson City Cardinals (4-2) 14-6 at Pioneer Park. The Cardinals scored 11-unanswered runs over the final five innings.After RHP Orlando Noriega struck out Terry Fuller for the first out of the game, Mateo Gil singled, and
GREENEVILLE, TN - The Greeneville Reds (3-4) dropped the opener Tuesday night against the Johnson City Cardinals (4-2) 14-6 at Pioneer Park. The Cardinals scored 11-unanswered runs over the final five innings.
After RHP Orlando Noriega struck out Terry Fuller for the first out of the game, Mateo Gil singled, and scored from first on Zach Jackson's RBI-double. Jackson scored on Chandler Redmond's two-run home run to left center field.
Greeneville sent 12 to the plate in the second and scored six runs. RHP Jose Moreno walked Cristian Olivo and Carlos Reina back-to-back to start the inning. Both scored on Allan Cerda's three run home run to left center field. Garrett Wolforth then doubled, and moved to third on Reyny Reyes' single. A.J. Bumpass' two-run triple scored both runners, and gave the Reds a 5-3 lead. Bumpass scored on Johnson's RBI-single.
In the fifth, David Vinsky hit a two-run home run off Noriega to cut the score to 6-5.
Johnson City sent ten to the plate, and scored five times in the sixth to take a 10-6 lead. Liam Sabino hit a two-run single in the inning, and Carlos Soler, Vinsky, and Brandon Purcell all added RBI-singles.
Sabino hit a one-out solo home run to left center field off RHP Anthony Zimmerman in the seventh. Purcell's two-out, two run double ran the Cardinals lead to 13-6. Johnson City rounded out the scoring in the eighth as Johnson scored on a ground out to first.
RHP Jake Sommers (W, 1-0) earned the win. He worked two scoreless innings with three strikeouts in relief. RHP Dan Serreino (L, 0-1) suffered the loss, he allowed five runs on five hits and a walk.
The Reds and Cardinals continue their series Wednesday night at Pioneer Park. RHP Juan Abril (0-1, 27.00) will start for the Reds against RHP Francisco Justo (1-0, 1.80).
Tomorrow night is All You Can Eat Wednesday. Fans can enjoy all you can eat hamburgers, hot dogs, nachos with cheese, chips, popcorn, ice cream sandwiches, and coke products for just $15. Wednesday is also Humane Society Adoption Night presented by Petsense. Items brought by fans that are needed by the Humane Society will allow fans to receive $1 off of a walk-up ticket.
ABOUT THE GREENEVILLE REDS
The Greeneville Reds are the Rookie affiliate of the Cincinnati Reds and a member of the ten-team Appalachian League. The Reds play at Pioneer Park on the campus of Tusculum University. To learn more about the Greeneville Reds, call 423- 609-7400 or visit www.greenevillereds.com.