Four-run ninth derails Reds in 7-3 loss to Jays
Ernesto Liberatore smashes a solo home run in Greeneville's defeat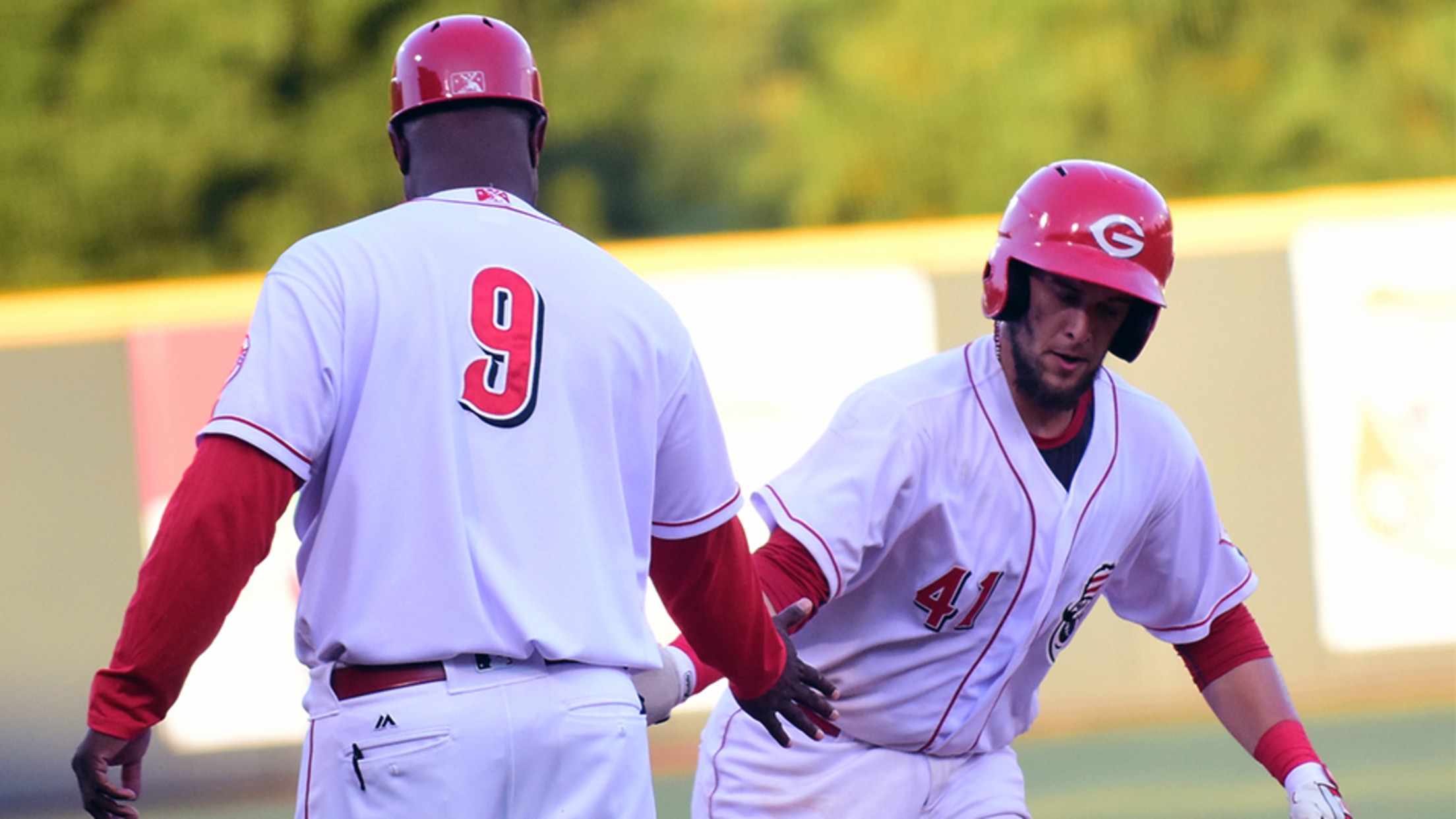 C Ernesto Liberatore slaps hands with third base coach Gookie Dawkins (9) following his third-inning solo home run. Greeneville would fall to Bluefield, 7-3, in front of 1,888 fans at Pioneer Park on Saturday night. (Tate Russell / The Greeneville Sun)
GREENEVILLE, Tenn. - In a back-and-forth affair, it was Bluefield's four-run ninth that sealed the contest, as the Blue Jays completed their first sweep in Greeneville since 2009 with a 7-3 victory over the Reds in front of 1,888 fans at Pioneer Park on Saturday night.With the defeat, the G-Reds have
GREENEVILLE, Tenn. - In a back-and-forth affair, it was Bluefield's four-run ninth that sealed the contest, as the Blue Jays completed their first sweep in Greeneville since 2009 with a 7-3 victory over the Reds in front of 1,888 fans at Pioneer Park on Saturday night.
With the defeat, the G-Reds have now lost five straight and dropped to 3-7 on the campaign. Bluefield's victory improved their mark to an Appalachian League-best 9-2.
Tied at three, Bluefield loaded the bases without a hit to start the ninth on a hit-by-pitch, a throwing error on a sacrifice bunt, and a walk. SS Otto Lopez (2-5, R, 2 RBI, SO) put the Blue Jays in front with a two-run single and DH D.J. Neal (3-4, 2B, 2 RBI, BB) followed with a two-run double to right, making it a 7-3 contest.
Greeneville would load the bases in the bottom of the ninth on a single and a pair of free passes, but RF Reniel Ozuna (0-4, BB, 3 SO) struck out looking to end the game.
For the eight time in ten games, the opposing team drew first blood, as the Jays struck first in the second. 2B Jose Theran (3-5, 2 R, 2B, RBI, SO) singled leading off the frame, moved to second on a hit batter and third on an infield single before crossing the dish on a fielding error to make it a 1-0 contest.
Greeneville evened the tide in the bottom of the frame, as 2B Cash Case (1-4, R, 2 SO) singled and scored on a two-out double to dead-center by DH Juan Martinez (2-4, 2B, RBI).
The see-saw early innings continued, as both teams traded tallies again in the third. 3B Davis Schneider (0-3, R, 2 BB, 2 SO) walked, stole second and then came home on a knock to center by Theran. Reds C Ernesto Liberatore (2-4, 2 R, HR, RBI, SO) smashed the second pitch in the bottom of the inning over the left-center field for a solo home run - his first of the year - to tie it at two.
In the sixth, Theran started Bluefield's half of the inning with a double and scooted to third on a throwing error. Following a strikeout, the second baseman scored on a sacrifice fly to left by C Andres Guerra (0-2, RBI).
After Liberatore singled and CF Brian Rey (4-5, 2 2B) doubled to ignite the bottom of the seventh, LF Satchel McElroy (0-1, 2 BB, SO) walked to load the bases. 3B Jonathan Willems ' (0-3, RBI, BB, SO) sacrifice fly to center tied the game at three, but Rey was thrown out trying to tag and advance to third. A strikeout would end the frame with the game still even.
Neither starter received a decision on Saturday. Cincinnati's second-round selection RHP Lyon Richardson (1.0 IP, 2 H, 2 BB, 2 SO) threw a 37-pitch first inning but held Bluefield off the scoreboard. RHP Nathanael Perez (5.0 IP, 7 H, 2 R, 2 ER, 2 BB, 7 SO) issued two runs in five innings for the Jays.
RHP Sean Rackoski (2.0 IP, H, 2 BB, 4 SO) bent in the ninth but escaped unscathed for his second win of the year. LHP Jerry D'Andrea (1.0 IP, 2 H, 4 R, 3 ER, BB, SO) suffered his first defeat for the G-Reds.
Greeneville will look the snap their skid on Sunday night, as the Johnson City Cardinals come to play a single game at Pioneer Park before the series moves to TVA Credit Union Ballpark on Monday. LHP Jacob Heatherly (0-2, 27.00 ERA) - Cincinnati's No. 15 prospect according to Baseball America - is expected to take the ball for Greeneville, while RHP Oneiver Diaz (0-0, 9.00 ERA) scheduled to start for the Cardinals.
The G-Reds Pre-Game Show will kick off the broadcast at 4:45 p.m. ET, leading up to the 5:00 p.m. ET start at Pioneer Park. Sunday night's contest can be heard on GreenevilleReds.com or via the TuneIn Radio and MiLB First Pitch apps.
Fans are encouraged to arrive early, as the first 500 fans through the gate will receive a special Johnny Bench T-Shirt Giveaway.
Season and single-game tickets are still available and can be purchased online at GreenevilleReds.com or by calling the Reds' Ticket Office at (423) 609-7400.