Late Home Run Lifts Pirates to Series Sweep
Cerda Hits League Leading Sixth Blast in Loss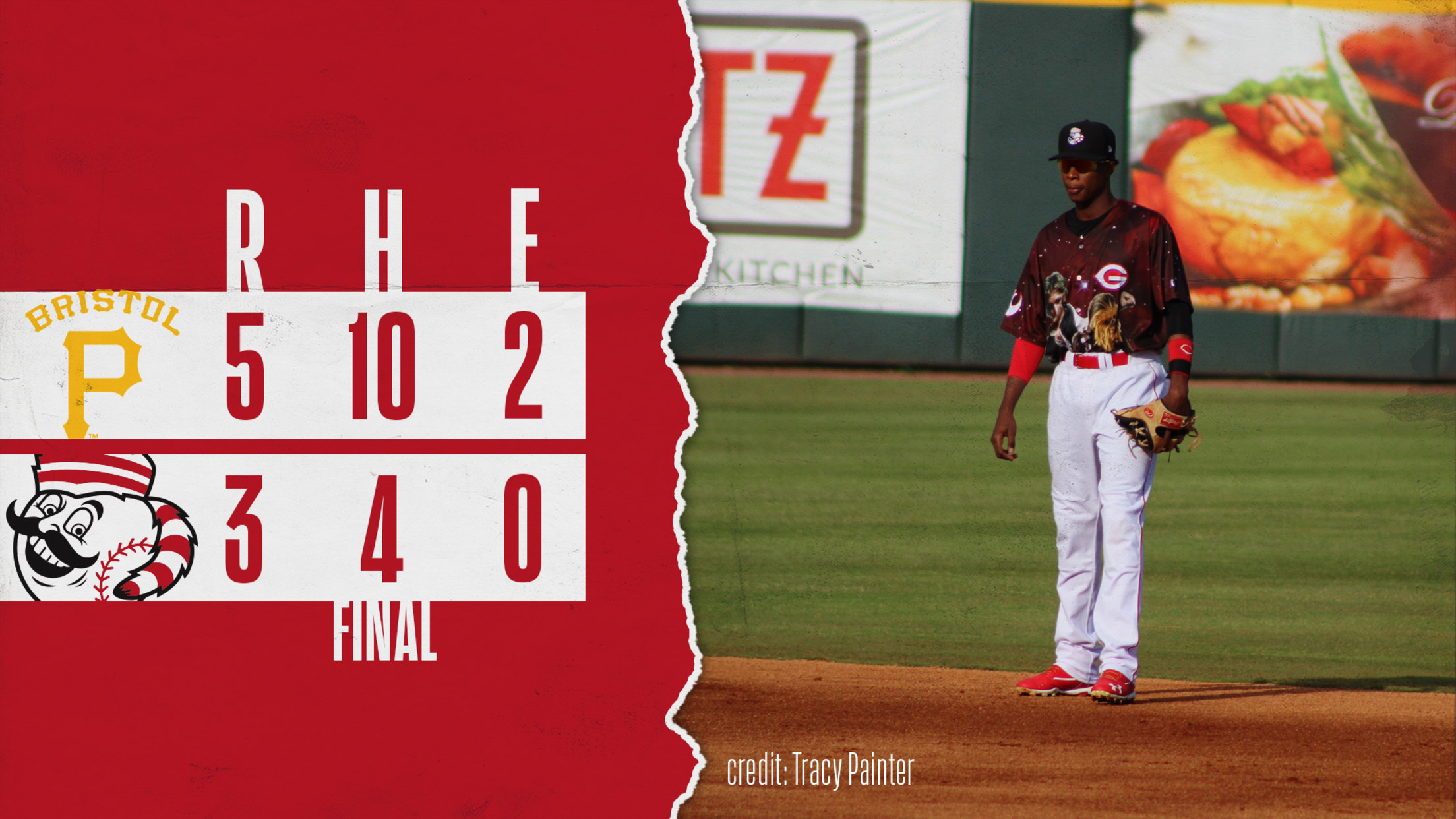 GREENEVILLE, TN - The Bristol Pirates (10-8) completed a three game sweep of the Greeneville Reds (6-12) with a 5-3 win at Pioneer Park. Brendt Citta's game winning three-run home run in the eighth inning was the difference Saturday night.After RHP Juan Abril picked off Jesus Valdez to end the
GREENEVILLE, TN - The Bristol Pirates (10-8) completed a three game sweep of the Greeneville Reds (6-12) with a 5-3 win at Pioneer Park. Brendt Citta's game winning three-run home run in the eighth inning was the difference Saturday night.
After RHP Juan Abril picked off Jesus Valdez to end the top of the first, Danielito Remy reached on an error to lead off the bottom half. With one-out, Allan Cerda hit a two-run home run to left center field off RHP Santiago Florez to put Greeneville up 2-0.
Aaron Shackleford led off the second with a solo home run to right field off Abril to put Bristol on the board. In the bottom half, Florez walked Carlos Reina with one out. Reina then stole second, and scored on Mike Spooner's two-out, RBI-single.
With two-outs in the top of the sixth inning, Samuel Inoa hit a solo home run to left field off RHP Tanner Cooper to cut the Reds lead to 3-2.
RHP Anthony Zimmerman (L, 0-1) came on to pitch the eighth. After getting Daniel Rivero to ground out, Jake Wright singled, and Shackleford doubled ahead of Citta. Citta hit the eighth pitch of the at bat over the left field wall to give Bristol the lead.
Garrett Wolforth led off the bottom of the ninth with a double, and moved to third on Raul Juarez's fly out. RHP Oliver Garcia (S, 1) struck out Reina and Robert Boselli to end the game.
LHP Yoelvis Reyes (W, 1-0) earned the win. He struck out three over three scoreless innings. Zimmerman took the loss, he allowed three runs on four hits in the eighth. Garcia earned his first save, he struck out two.
Abril allowed one run on two hits and three walks in four innings while striking out four. Cooper struck out three and allowed a run on three hits over three innings in relief.
The Reds will begin a two-game series at Pioneer Park Sunday with the Kingsport Mets. RHP Graham Ashcraft (1-2, 11.45) will start for Greeneville against RHP Ramon Guzman (1-0, 0.00), with first pitch scheduled for 5 PM.
Sunday's at Pioneer Park are Reds Rookie Sunday's presented by South State Contractors. Kids who sign up for our Reds Rookie Club will receive free admission on Sunday's.
ABOUT THE GREENEVILLE REDS
The Greeneville Reds are the Rookie affiliate of the Cincinnati Reds and a member of the ten-team Appalachian League. The Reds play at Pioneer Park on the campus of Tusculum University. To learn more about the Greeneville Reds, call 423- 609-7400 or visit www.greenevillereds.com.