Reds and Rays split twinbill
Princeton captures game one, 6-4; Reds rally to win game two, 8-7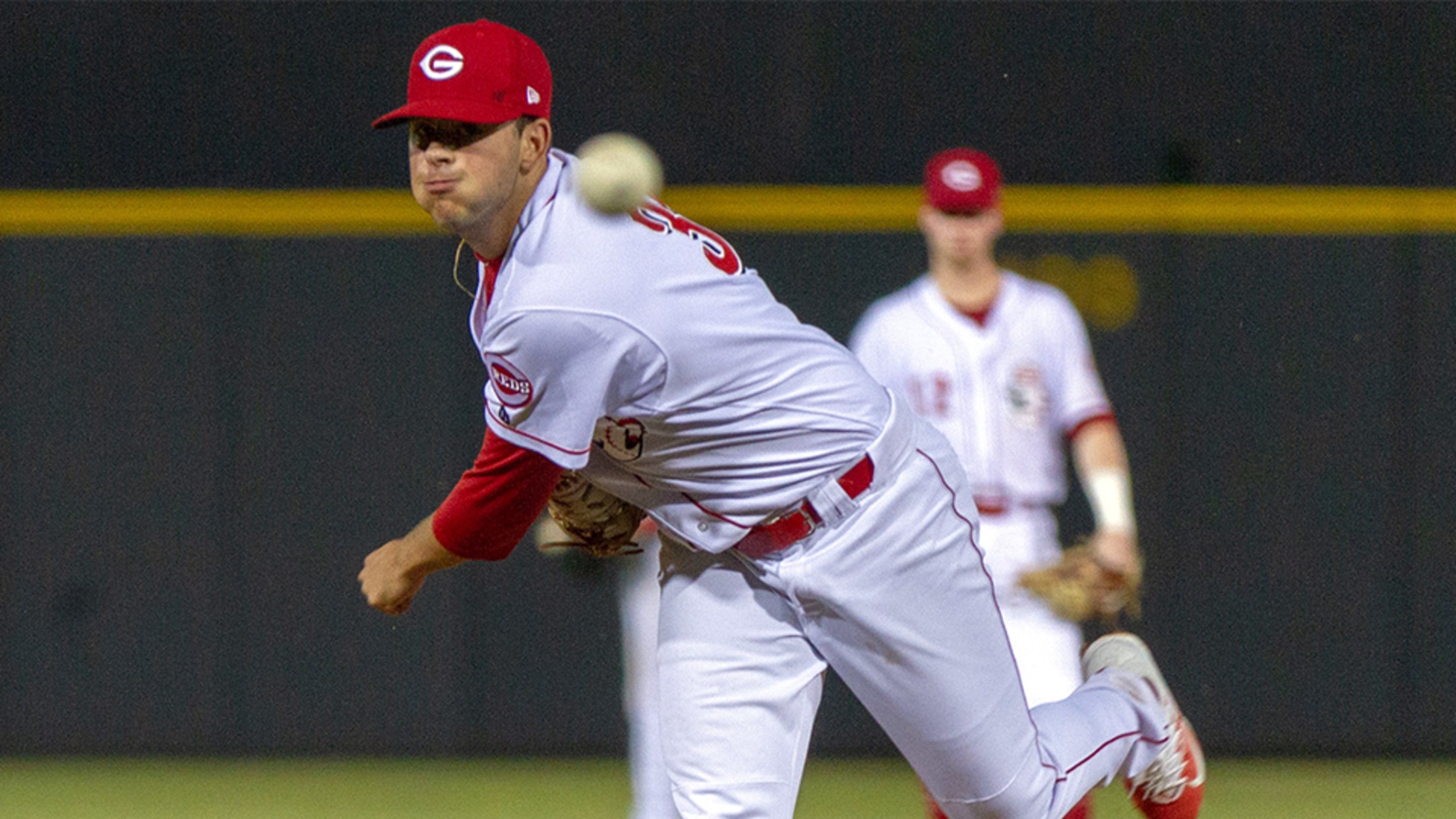 LHP Jerry D'Andrea escaped a crucial bases-loaded situation in the sixth and made a great defensive play in the seventh to help seal an 8-7 Greeneville Reds win over the Princeton Rays in game two of a doubleheader at Hunnicutt Field on Wednesday afternoon. Princeton captured game one, 6-4. (Doug Gray / RedsMinorLeagues.com)
PRINCETON, W.V. -- Despite rain and wind, the Rays and the Reds were finally able to play ball at Hunnicutt Field on Wednesday afternoon. Princeton led all the way in game one, coming away with a 6-4 win, while Greeneville was able to snag the nightcap in a back-and-forth affair, 8-7.Thanks
PRINCETON, W.V. -- Despite rain and wind, the Rays and the Reds were finally able to play ball at Hunnicutt Field on Wednesday afternoon. Princeton led all the way in game one, coming away with a 6-4 win, while Greeneville was able to snag the nightcap in a back-and-forth affair, 8-7.
Thanks to the doubleheader split, the Redlegs now sit at 14-19 on the season, while Rays are now 21-12.
Tied at seven in the seventh inning of game two, Greeneville grabbed the lead for good in a bizarre way. After a walk and a single put men at first and third with two outs, 2B Jonathan Willems (1-5, 2 R, 2B, 2 SO) struck out on three pitches. However, a throw needed to be made to first on a ball in the dirt. An errant toss went into right field, allowing pinch-runner Satchel McElroy to score from third and give the Reds the lead, 8-7.
After entering with the bases loaded and one out and getting out of a jam in the sixth, LHP Jerry D'Andrea (1.2 IP, BB, 2 SO) saved the day again in the bottom of the seventh. Following a leadoff walk, a sacrifice bunt was popped up by 2B Jake Palomaki (1-4, R, RBI). The 22-year-old made a great diving catch at the front of the mound and threw to first to double off the runner. D'Andrea would then get SS Wander Franco (0-4, R, BB) to fly out to left to end the game and seal his first professional win.
The Reds initially jumped out to an early 4-0 lead. CF Mike Siani (1-4, R, BB, SO) led off the game with a walk and 1B Rylan Thomas (2-4, R, 2B, RBI, BB) singled him to third. DH Reniel Ozuna (2-4, R, HR, 3 RBI, SO) then put the squad ahead, 1-0, on an RBI single to center.
Greeneville then utilized the long ball. LF Brandt Stallings (1-4, R, HR, RBI, SO) hammered a solo home run - his second of the year - to left-center in the second, while Ozuna added a two-run blast - his second dinger, as well - down the left-field line in the third to put the Reds ahead by four.
Princeton answered back and tied the game at four in the bottom of the third thanks to a sacrifice fly by 3B Osmy Gregorio (1-3, RBI) and a trio of wild pitches.
Both teams would trade runs in the fourth, as the Reds jumped ahead courtesy of a SS Miguel Hernandez (2-4, R, BB) single, a wild pitch, and a run-scoring double to right by Thomas. 1B Jean Ramirez (2-3, 3 R, 2B, HR, RBI, BB, SO) quickly evened the game for the Rays, jolting a solo home run - his first of the season - over the scoreboard in left to tie it at five.
Back-to-back RBI singles from C Jordyn Muffley (2-3, R, RBI, BB, SO) and Palomaki put the Rays in the driver's seat for the first time in the fifth, 7-5. The G-Reds managed to even the tide in the top of the sixth, as with first and second and two outs, RF Brian Rey (3-4, 2B, 2 RBI) laced a game-tying, two-run double into the right-center field alley.
Neither starter earned a decision in game number two. Greeneville RHP Alexis Diaz (4.0 IP, 6 H, 5 R, 5 ER, 2 BB, 5 SO) looked great through two but struggled in the third and fourth. His counterpart - RHP Wanderson Linares (2.1 IP, 6 H, 4 R, 4 ER, 2 BB, SO) - failed to make it out of the third for Princeton. RHP Heath Renz (1.1 IP, 2 H, 3 R, 2 ER, 2 BB, 2 SO) suffered his first blown save and second loss of the year in relief for the Rays.
Courtesy of a three-run opening inning, Princeton never trailed en route to a game one triumph. After loading the bases in the opening frame on singles from Franco (1-3, R) and CF Grant Witherspoon (1-2, 2 R, BB), as well as a free pass to RF Jordan Qsar (0-2, R, BB, 2 SO), a wild pitch brought home a run to give the P-Rays a 1-0 edge. Gregorio (1-3, 3 RBI, SO) added a two-run single to make it a 3-0 affair.
Thomas (1-1, 2 R, HR, RBI, 3 BB) led off the top of the second with a solo blast to right - his team-leading sixth of the year - to pull the Reds within two, but Princeton answered right back with a solo shot of their own from LF Pedro Diaz (2-3, R, 3B, HR, RBI) to right - the third of his campaign - to stretch the lead back up to four, 4-1.
After an RBI single by C Roberto Alvarez (2-3, R, 3B, RBI) put the Rays up 5-1 in the third, the Reds responded with three to make it a one-run game.
A walk to Thomas began the inning and C Hunter Oliver (1-4, R, 2B, 2 SO) immediately doubled to put men at second and third. Ozuna (1-4, R, 2B, 2 RBI, SO) then uncorked a two-bagger to left - scoring both runners - to trim the Reds deficit to 5-3. Following a single by LF Nate Scantlin (1-2, BB, SO) and a walk to DH Justin Bellinger (0-1, BB, SO) that loaded the bases, 3B Claudio Finol (1-2, RBI) made it 5-4 with a sacrifice fly to left.
That was as close as the Reds would get, however. The P-Rays got an insurance run in the bottom of the sixth thanks to an Alvarez triple and a wild pitch, while LHP Steffon Moore (2.0 IP, 2 H, BB, SO) induced pinch-hitter Rob Boselli to ground out to third in the top of the seventh with the tying runs on base to end the contest and seal his third save of the year.
RHP Lyon Richardson (1.1 IP, 3 H, 3 R, 3 ER, BB) struggled in the elements, surrendering three runs in a windy first and was removed after a 15-minute lightning delay in the second, suffering his third defeat.
It was a no-decision for Rays RHP Joel Peguero (3.0 IP+, 5 H, 4 R, 4 ER, 3 BB, 4 SO) who issued four runs in three-plus innings. RHP Christopher Gau (2.0 IP, 2 BB, 4 SO) struck out four over two scoreless frames to earn his second professional triumph.
The Reds will go for their fourth straight series victory on Thursday night, as RHP Ricky Karcher (0-1, 7.90 ERA) is expected to take the ball in the series finale. The P-Rays are expected to counter with RHP Miguel Lara (1-3, 4.50 ERA)
The G-Reds Pre-Game Show will kick off the broadcast at 6:45 p.m. ET, leading up to the 7:00 p.m. ET start at Hunnicutt Field. Thursday evening's contest can be heard on GreenevilleReds.com or via the TuneIn Radio and MiLB First Pitch apps.

Following the brief road trip, the Reds will return home on Friday, July 27 to open up a three-contest set against the Pulaski Yankees. It will be a Firework Friday at Pioneer Park, as following the final out fans will be treated to a spectacular fireworks display.

Season and single-game tickets are still available and can be purchased online at GreenevilleReds.com or by calling the Reds' Ticket Office at (423) 609-7400.