Burrows' dominant start leads Hoppers over Tourists
Michael Burrows strikes out 10, and Matt Fraizer extends hitting streak in win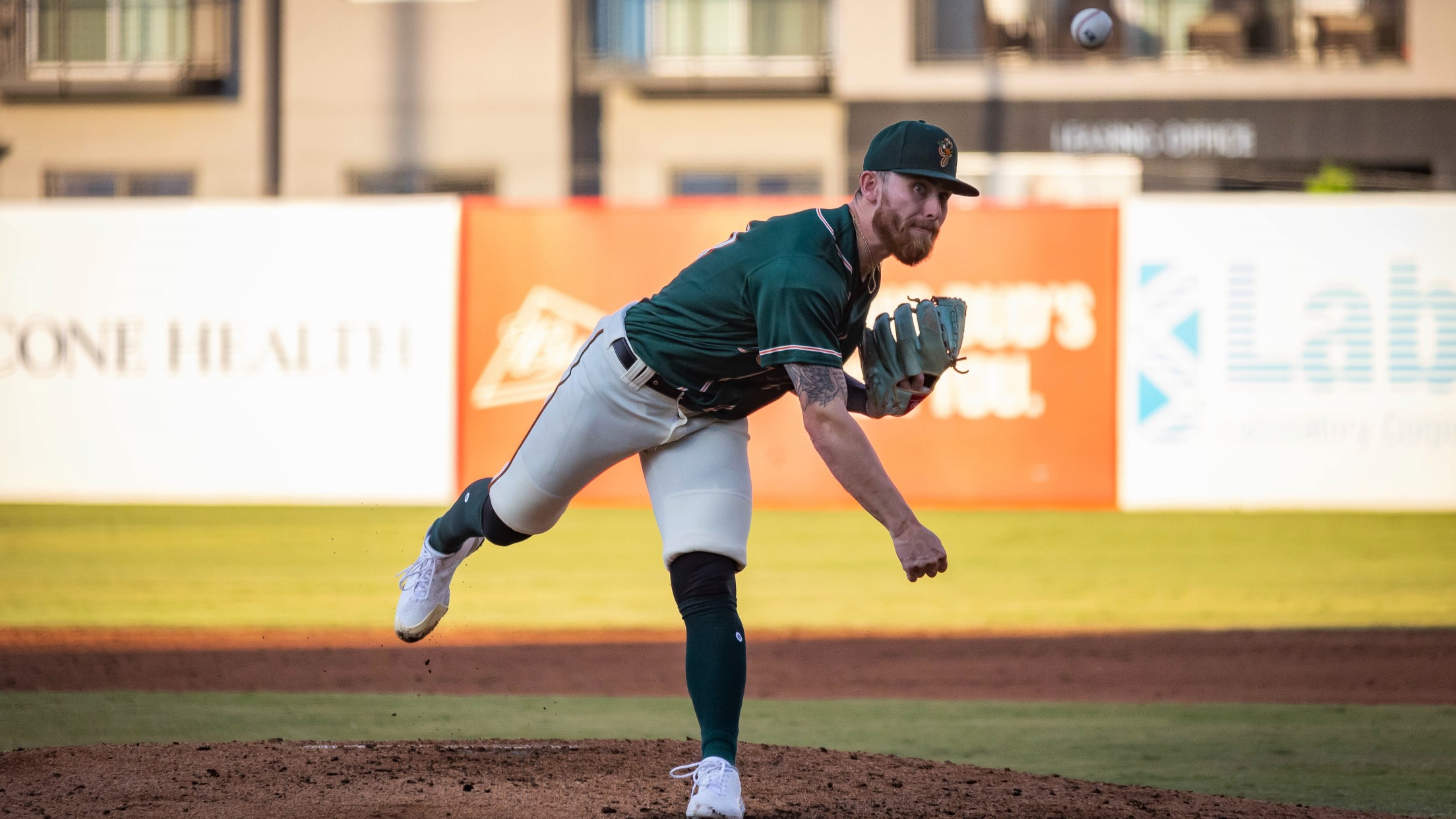 Greensboro Grasshoppers right-hander Michael Burrows has struck out 62 in 43 innings of work through 10 starts. (Jak Kerley/Greensboro Grasshoppers)
GREENSBORO ― Michael Burrows took a no-hitter into the sixth inning and struck out 10 batters, and Matthew Fraizer hit his 14th home run of the season to pull into a tie for the league lead, helping the Greensboro Grasshoppers to a 5-2 victory over the Asheville Tourists on a
GREENSBORO ― Michael Burrows took a no-hitter into the sixth inning and struck out 10 batters, and Matthew Fraizer hit his 14th home run of the season to pull into a tie for the league lead, helping the Greensboro Grasshoppers to a 5-2 victory over the Asheville Tourists on a sunny Wednesday afternoon at First National Bank Field.
Burrows, a 21-year-old right-hander rated by MLB Pipeline as the No. 27 prospect in Pittsburgh's farm system, was dominant from the get-go.
With his fastball touching 96 mph on the radar gun, Burrows (2-2, 2.30 ERA) struck out the first five hitters he faced and retired eight in a row until Deury Carrasco walked on a 3-2 pitch in the top of the third inning. Burrows set down the next seven hitters in a row before Cody Orr led off the sixth inning with a single to break up the no-hit bid.
Burrows got one more out, then left the game to a standing ovation, turning it over to the bullpen after throwing a season-high 86 pitches, 51 for strikes.
Orr, the inherited runner, eventually scored on a high pop-up lost in the sun, and Burrows finished the day allowing a run on one hit and two walks, striking out 10 in 5 1/3 innings.
Burrows leads the Hoppers and ranks fifth in the High-A East with 62 strikeouts. He has worked 43 innings in 10 starts this season, giving up just 21 hits and holding opposing hitters to a .142 batting average.
Fraizer, meanwhile, stayed red hot.
The Hoppers' lead-off hitter went 2-for-4 with a solo home run, a triple and two runs scored, extending his hitting streak to seven games ― all seven of them multi-hit games. Fraizer leads the High-A East in batting average (.327), hits (71), home runs (14) and runs scored (41). His OPS of .992 ranks fourth in the league.
Fraizer led off the first inning with a triple to deep center field, and he scored on the play when the relay throw from the outfield went wild. He hit a long home run in the fifth inning to give the Hoppers a 5-0 lead.
Liover Peguero and Blake Sabol hit home runs for the Hoppers, with Sabol's solo shot coming in his first plate appearance with Greensboro since getting a promotion from Low-A Bradenton on Tuesday.
Jared Triolo also scored a manufactured run in the fourth inning. Triolo beat out an infield hit, stole second, stole third and came home when catcher Cesar Salazar's throw sailed into left field.
Colin Selby closed out the game, striking out two in two scoreless innings to earn his first save.
The Hoppers (33-23) have won four in a row and pulled within 2 1/2 games of first-place Bowling Green in the South Division standings.
In his career at the News & Record, journalist Jeff Mills won 10 national and 12 state writing awards from the Associated Press Sports Editors, the Society for Features Journalism, and the N.C. Press Association.