Hoppers lose pitchers' duel in 10 innings
Greenville wins on ground-rule double, spoiling strong pitching performances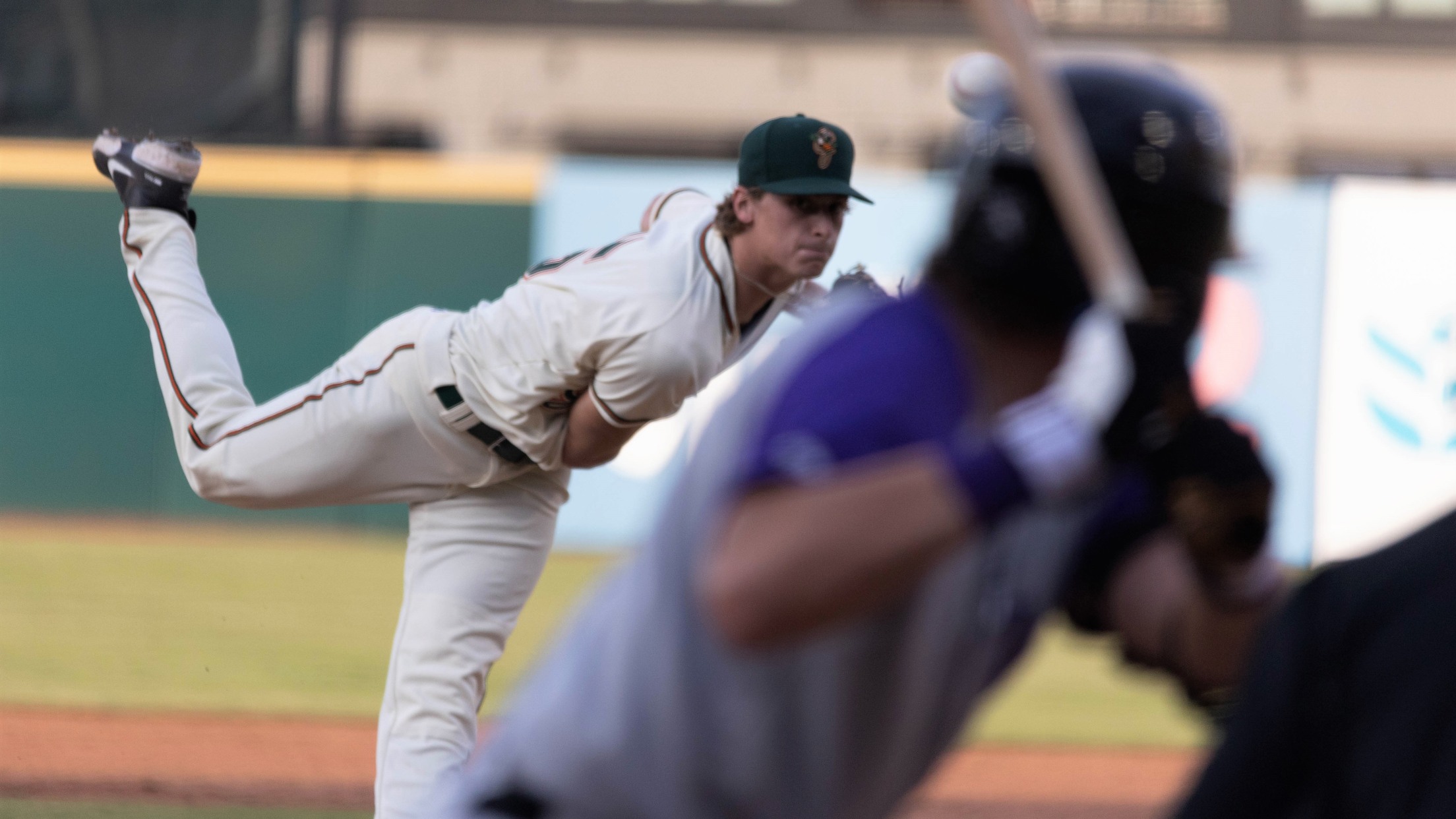 Greensboro starter Quinn Priester struck out four in six strong innings at Greenville. (Jak Kerley/Greensboro Grasshoppers)
GREENVILLE, S.C. ― Kole Cottam hit a ground-rule double off Oliver Garcia in the bottom of the 10th inning, driving home pinch-runner Jake MacKenzie from second base with the winning run as the Greenville Drive edged the Greensboro Grasshoppers 3-2 on Friday night at Fluor Field. The unearned run off
GREENVILLE, S.C. ― Kole Cottam hit a ground-rule double off Oliver Garcia in the bottom of the 10th inning, driving home pinch-runner Jake MacKenzie from second base with the winning run as the Greenville Drive edged the Greensboro Grasshoppers 3-2 on Friday night at Fluor Field.
The unearned run off Hoppers closer Garcia (3-2, 2.32 ERA) spoiled a fine night by Greensboro pitchers. Garcia had pitched a scoreless ninth inning, but there was no margin for error in the 10th with a runner placed at second base to start the inning under minor league rules.
Cottam hit the first pitch of the 10th deep into the gap in right-center field, and the ball bounced over the fence to win the game.
Greensboro missed its own chance to score after loading the bases in the top of the 10th. With Blake Sabol placed at second, Matthew Fraizer and Nick Gonzales drew back-to-back one-out walks off reliever Cody Scroggins (1-0, 1.80 ERA). Liover Peguero followed with a sharp ground ball to third baseman Brandon Howlett, who stepped on the bag then threw across the diamond to turn a double play.
The Hoppers went 0-for-9 with runners in scoring position, and they stranded eight baserunners.
Hoppers starting pitcher Quinn Priester, a right-hander rated by MLB Pipeline as the No. 2 prospect in Pittsburgh's farm system, allowed one earned run on two hits in six strong innings, striking out four. Reliever Colin Selby retired all six batters he faced in two scoreless innings, striking out two.
Trailing 2-1, the Hoppers tied the game in the seventh inning when Sabol hit a solo home run. Sabol has hit home runs in back-to-back games, and he has a six-game hitting streak. He's 8-for-19 (.421) with three homers during the streak.
Jared Triolo drove in Greensboro's first run with a bases-loaded sacrifice fly in the first inning. Triolo finished 0-for-3, snapping an eight-game hitting streak.
NOTES: Greensboro (42-28) has won 13 of its last 18 games. The Hoppers are in second place in the High-A East's South Division standings. First-place Bowling Green (49-21) is on an 11-game winning streak. ... Fraizer went 1-for-4 with a stolen base and has hit safely in 21 of his last 25 games, going 35-for-104 (.337) in that stretch. ... Fraizer leads the league in hits (85), runs (51), home runs (17) and batting average (.318). He's third in walks (36) and on-base percentage (.400), and fifth in RBIs (45). ... Triolo has hit safely in 14 of his last 17 games, going 25-for-71 (.352) and raising his season batting average to .286. His 15 doubles rank third and 43 RBIs sixth in the league. ... Second baseman Gonzales, rated by MLB Pipeline as Pittsburgh's top prospect, is 11-for-28 (.393) in his last seven games. ... Peguero, a shortstop rated as the Pirates' No. 4 prospect, has a five-game hitting streak.
In his career at the News & Record, journalist Jeff Mills won 10 national and 12 state writing awards from the Associated Press Sports Editors, the Society for Features Journalism, and the N.C. Press Association.