Hoppers lose back-to-back one-run games at Bowling Green
Matt Fraizer and Liover Peguero finish with two hits apiece for Hoppers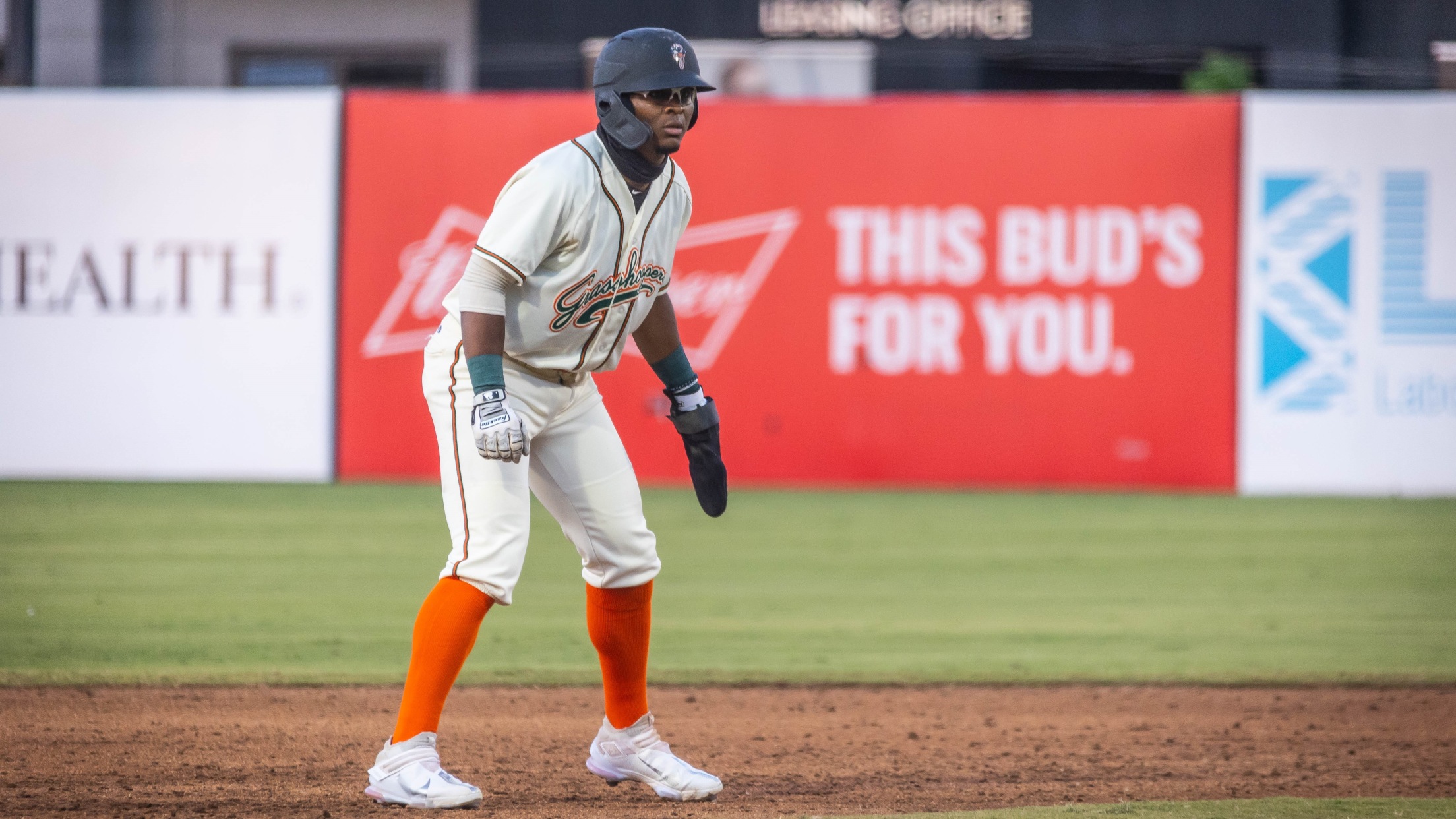 Greensboro outfielder Matt Fraizer has settled in as the Grasshoppers' lead-off hitter. (Jak Kerley/Greensboro Grasshoppers)
BOWLING GREEN, Ky. ― Evan Edwards hit the second pitch thrown by reliever Garrett Leonard for a solo home run, breaking a 2-2 tie, and the Hot Rods held off the Greensboro Grasshoppers for a 3-2 victory Wednesday at Bowling Green Stadium. Greensboro (28-22) put its lead-off hitter on base
BOWLING GREEN, Ky. ― Evan Edwards hit the second pitch thrown by reliever Garrett Leonard for a solo home run, breaking a 2-2 tie, and the Hot Rods held off the Greensboro Grasshoppers for a 3-2 victory Wednesday at Bowling Green Stadium.
Greensboro (28-22) put its lead-off hitter on base in the seventh, eighth and ninth innings but could not score, and the Hoppers fell six games behind first-place Bowling Green (33-15) in the High-A East's South Division standings.
Lead-off batter Matthew Fraizer went 2-for-4 and hit his 11th home run of the season on the third pitch of the game to give Greensboro a 1-0 lead in the first inning.
Liover Peguero, the shortstop rated by MLB Pipeline as the No. 4 prospect in Pittsburgh's farm system, went 2-for-4 with a double and two stolen bases. He scored on Aaron Shackelford's RBI double in the third inning to give the Hoppers a 2-0 lead.
Starting pitcher Michael Burrows gave up one earned run in four innings of work, walking two and striking out seven. Leonard (0-2, 4.68 ERA) took the loss in relief, while right-hander Austin Roberts finished the game with 2 1/3 scoreless innings.
Edwards drove in two runs for the Hot Rods with a sacrifice fly and his home run. Luis Trevino hit an RBI double in the fourth inning to tie the score.
Winning pitcher Tanner Dodson (2-0, 3.16 ERA) retired all six batters he faced two innings of relief.
Bowling Green's Colby White notched his first save, pitching around a lead-off walk to Shackelford to start the ninth. Shackelford took second on a wild pitch, but he was thrown out at third on Jared Triolo's one-out grounder to shortstop.
The Hoppers have lost back-to-back one-run games after going 16-5 in their previous 21 games.
In his career at the News & Record, journalist Jeff Mills won 10 national and 12 state writing awards from the Associated Press Sports Editors, the Society for Features Journalism, and the N.C. Press Association.