Hoppers singing the 'Extra-Inning Blues'
Greensboro hard-luck reliever Wandi Montout loses third extra-inning game in seven days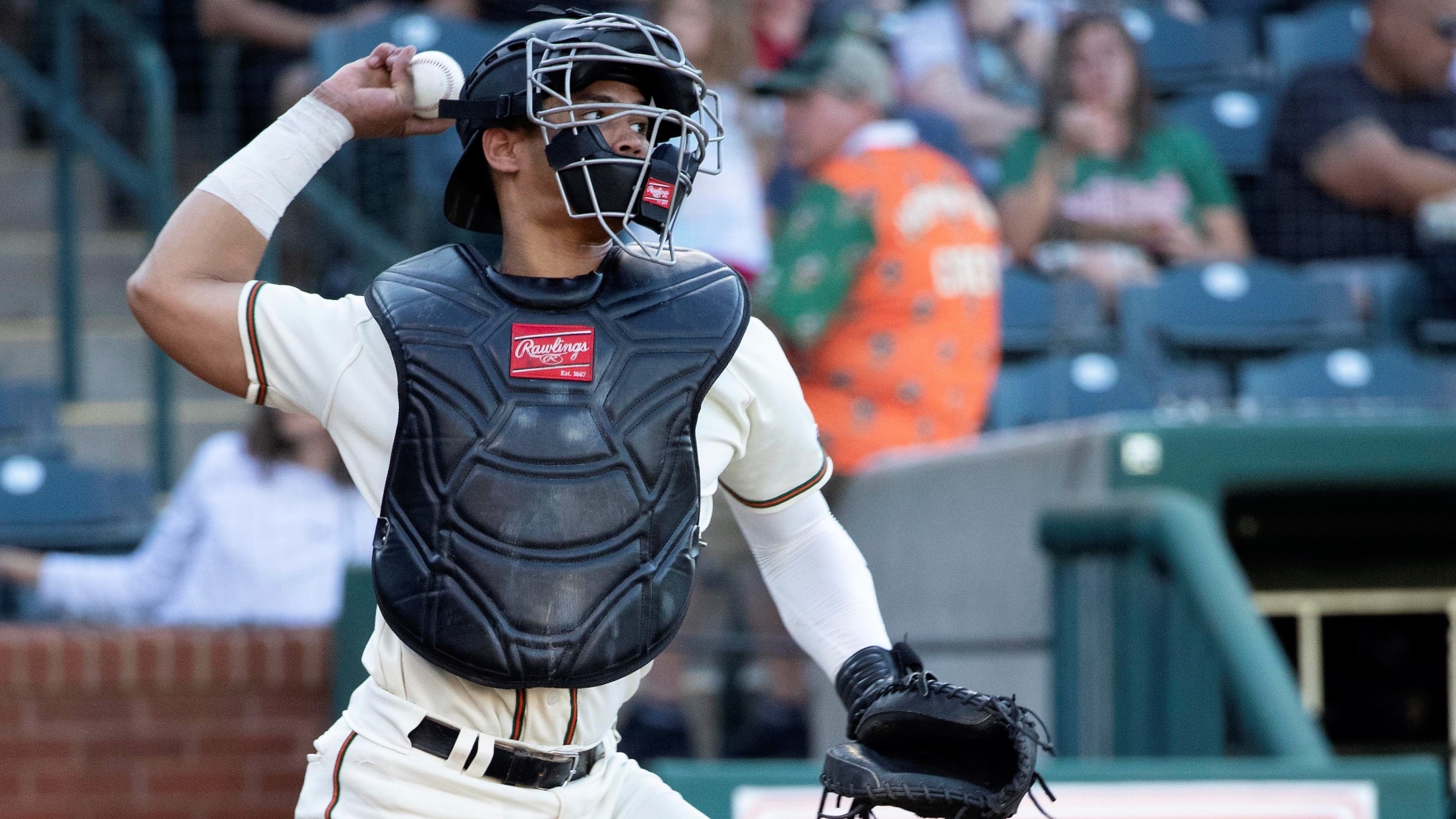 Grasshoppers catcher Endy Rodriguez went 2-for-4 with a double and two RBIs on Tuesday, and he forced extra innings with a sacrifice fly. (Derrick Brady/bcookmedia)
GREENSBORO ― For the third time in a week, the Greensboro Grasshoppers ended nine innings locked in a tie score. And for the third time in a week, the Hoppers lost in extra innings. Kennedy Corona hit a two-run single in the 10th inning, and A.J. Lee added a two-run
GREENSBORO ― For the third time in a week, the Greensboro Grasshoppers ended nine innings locked in a tie score.
And for the third time in a week, the Hoppers lost in extra innings.
Kennedy Corona hit a two-run single in the 10th inning, and A.J. Lee added a two-run double as the Asheville Tourists rallied to beat Greensboro 12-6 at First National Bank Field on Tuesday night.
Corona finished 2-for-4 with three RBIs to lead the Tourists, who coughed up a three-run lead in the ninth inning before winning in the 10th.
Incredibly, Hoppers reliever Wandi Montout (3-4) has taken the loss in all three of those extra-inning games. The right-hander faced just three batters in the 10th Tuesday and allowed four runs ― including the runner placed at second to start extra innings ― on a walk, a hit batsman and Corona's two-run single.
Right-hander Garrett Leonard took over for Montout and gave up the rest of the runs.
In the three extra-inning games, Montout has allowed 13 runs ― 10 earned ― on seven hits, four walks and two hit batsmen in a combined 1 ⅔ innings. Montout's ERA jumped from 3.70 to 7.00 in his last four outings.
The Hoppers didn't go quietly, scoring a run in the eighth inning and three in the ninth to tie the score 5-5.
Versatile catcher Endy Rodriguez went 2-for-4 with a double and two RBIs, and his sacrifice fly with one out in the ninth tied it.
Dariel Lopez went 2-for-5 with a solo home run. Yoyner Fajardo, Fabricio Macias and Francisco Acuna all had two hits apiece for the Hoppers.
NOTES
First baseman Jacob Gonzalez went 1-for-5 with an RBI single in the 10th. He has been one of the South Atlantic League's best players since his promotion from Class-A Bradenton on May 10. He has hit safely in 26 of 32 games since then, with 11 multi-hit games. Gonzalez is 40-for-124 (.323) with seven doubles, a triple, five home runs and 17 RBIs.
Since June 1, utility player Ernny Ordoñez has hit safely in seven of 10 games, with four home runs, two doubles and 13 RBIs in that span
Center fielder Hudson Head, a 21-year-old rated by MLB Pipeline as the No. 20 prospect in Pittsburgh's farm system, went 0-for-3 with a walk, a run scored and a stolen base. He has reached base in 34 of his last 39 games.
In his career at the News & Record, journalist Jeff Mills won 10 national and 12 state writing awards from the Associated Press Sports Editors, the Society for Features Journalism, and the N.C. Press Association.