Hoppers take advantage of 5 Rome errors in win
Jared Triolo and Grant Koch finish with two hits apiece; Matt Fraizer extends hitting streak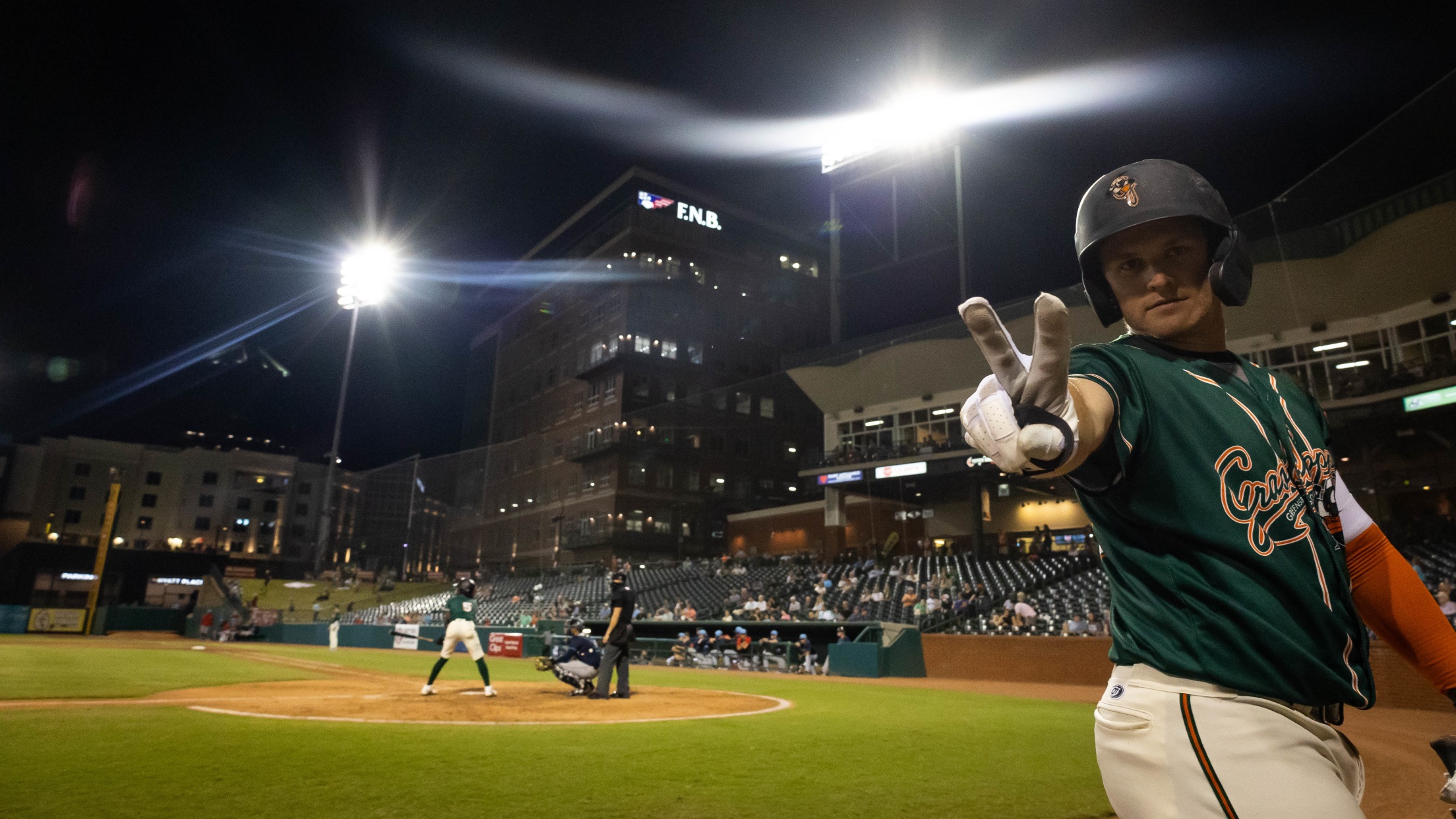 Greensboro catcher Grant Koch hit a grand slam in Wednesday's loss to the Winston-Salem Dash. (Jak Kerley/Greensboro Grasshoppers)
ROME, Ga. ― Jared Triolo went 2-for-4 with a double and scored the tie-breaking run on two errors in the eighth inning, as the Greensboro Grasshoppers beat the mistake-prone Rome Braves 4-3 on Wednesday at State Mutual Stadium. Grant Koch doubled twice for the Hoppers, Matthew Fraizer was 1-for-5 with
ROME, Ga. ― Jared Triolo went 2-for-4 with a double and scored the tie-breaking run on two errors in the eighth inning, as the Greensboro Grasshoppers beat the mistake-prone Rome Braves 4-3 on Wednesday at State Mutual Stadium.
Grant Koch doubled twice for the Hoppers, Matthew Fraizer was 1-for-5 with an RBI to extend his hitting streak to 12 games, and Greensboro took advantage of five Rome errors in the game.
Right-hander Grant Ford (4-1, 5.12 ERA) struck out five in three innings of relief to pick up the win. Oliver Garcia stranded runners in scoreless eighth and ninth innings to earn his seventh save.
The Hoppers (37-25) kept their hold on second place in the High-A East's South Division standings, four games behind the Bowling Green Hot Rods (41-21). Greensboro has won eight of its last 10 games.
With the score tied 3-3, Triolo led off the top of the eighth and hit the first pitch from reliever Zach Daniels (2-2, 1.32 ERA) into left field for a single. Triolo runs well, and Daniels attempted a pick-off but threw the ball away. Triolo never stopped and went from first to third on the errant throw, scoring when right fielder Michael Harris made a bad throw of his own, the second error on the same play.
In all, Greensboro scored three unearned runs in the game.
Garcia pitched around a lead-off double in the bottom of the eighth inning and lead-off walk in the ninth.
Fraizer hit an RBI single in the top of the third inning, driving home Blake Sabol with Greensboro's first run. It was Fraizer's 38th RBI of the season, tying him for the team lead with Aaron Shackelford and Fabricio Macias, and for sixth in the league.
The Hoppers took a 3-2 lead in the fifth inning. Sabol led off with a walk and scored when Koch's double was misplayed by left fielder Andrew Moritz for an error. Koch scored the tying run with two outs when Liover Peguero's grounder to second baseman Cody Milligan was booted for another error.
Peguero, a shortstop rated by MLB Pipeline as the No. 4 prospect in Pittsburgh's farm system, went 1-for-5 with a triple.
NOTES: Fraizer is 21-for-47 (.447) during his 12-game hitting streak, and he has hit safely in 16 of his last 17 games. Fraizer had a 16-game hitting streak in early June. ... Fraizer leads the High-A East in batting average (.328), hits (76), runs scored (44) and OPS (1.005). He ranks second in home runs (15) and on-base percentage (.410). ... The Hoppers left nine men on base in the game, going 1-for-16 with runners in scoring position. ... Starting pitcher Braxton Ashcraft, a 21-year-old right-hander rated by MLB Pipeline as Pittsburgh's No. 21 prospect, allowed two earned runs in four innings of work, throwing 68 pitches.
In his career at the News & Record, journalist Jeff Mills won 10 national and 12 state writing awards from the Associated Press Sports Editors, the Society for Features Journalism, and the N.C. Press Association.