Matthiessen doubles twice, homers to lead Hoppers over Hot Rods
Alvarez goes 4-for-5 in return from IL; Jennings shuts door in relief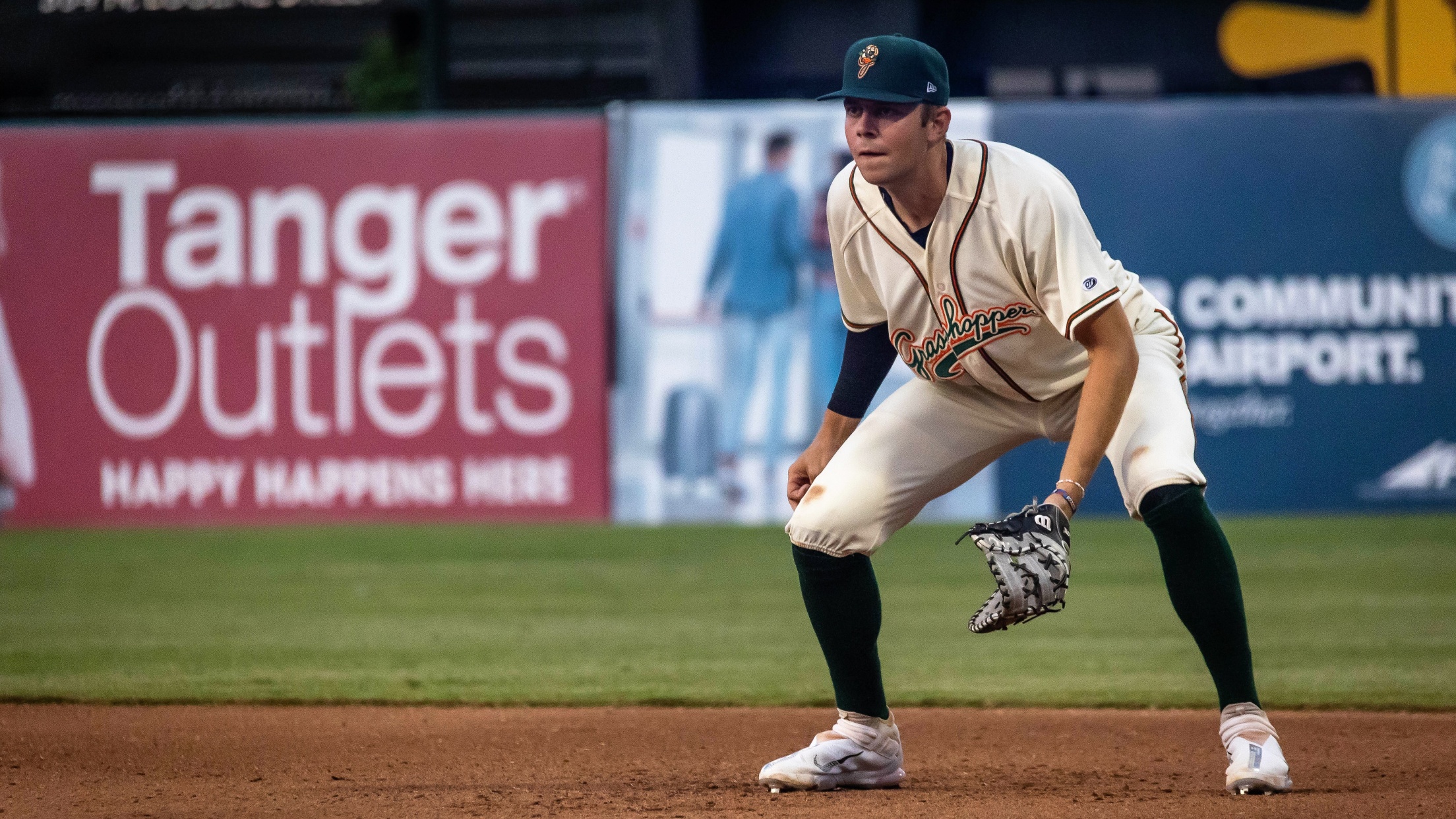 Grasshoppers first baseman Will Matthiessen (Jak Kerley/Greensboro Grasshoppers)
BOWLING GREEN, Ky. ― Greensboro first baseman Will Matthiessen went 3-for-5 with two doubles, a home run and three RBIs, leading the Grasshoppers to a 7-3 victory over the Hot Rods at Bowling Green Stadium on Thursday night. Matthiessen, who was promoted from Class-A Bradenton on May 21, had his
BOWLING GREEN, Ky. ― Greensboro first baseman Will Matthiessen went 3-for-5 with two doubles, a home run and three RBIs, leading the Grasshoppers to a 7-3 victory over the Hot Rods at Bowling Green Stadium on Thursday night.
Matthiessen, who was promoted from Class-A Bradenton on May 21, had his best day as a Hopper, and his two-run double in the fourth inning put Greensboro ahead. Matthiessen hit a solo home run ― his second of the season ― in the eighth inning.
Backup infielder Andres Alvarez, who went on the injured list May 4, was activated at the start of this week's series at Bowling Green. In his first game back, Alvarez went 4-for-5 with two RBIs on Thursday.
Hoppers lead-off hitter Matthew Fraizer went 2-for-4 with an RBI, and Chase Murray doubled and scored as Greensboro's offense pounded out 11 hits.
Right-hander Steven Jennings (3-0, 2.55 ERA) picked up the win in relief. Jennings finished the game with four scoreless innings, allowing no hits and facing just one batter over the minimum.
Starting pitcher Braxton Ashcraft struck out four in four innings.
The Hoppers beat Bowling Green's best starting pitcher. Right-hander Jayden Murray (6-1, 1.70 ERA in 10 starts) walked none and struck out eight in five innings, but Greensboro scored four unearned runs on five hits and two errors.
Trailing 2-0, Greensboro scored four runs off Murray in the top of the fourth. Liover Peguero beat out an infield single, and Matt Gorski reached on a two-out error by second baseman Osmy Gregorio. Murray reached on another error, this one by shortstop Pedro Martinez, and Matthiessen followed with his two-run double. Alvarez capped the rally with a run-scoring single.
With the win, Greensboro (29-22) cut Bowling Green's (33-16) lead in the High-A East's South Division standings to five games.
In his career at the News & Record, journalist Jeff Mills won 10 national and 12 state writing awards from the Associated Press Sports Editors, the Society for Features Journalism, and the N.C. Press Association.