Hoppers ace Quinn Priester pitches in Futures Game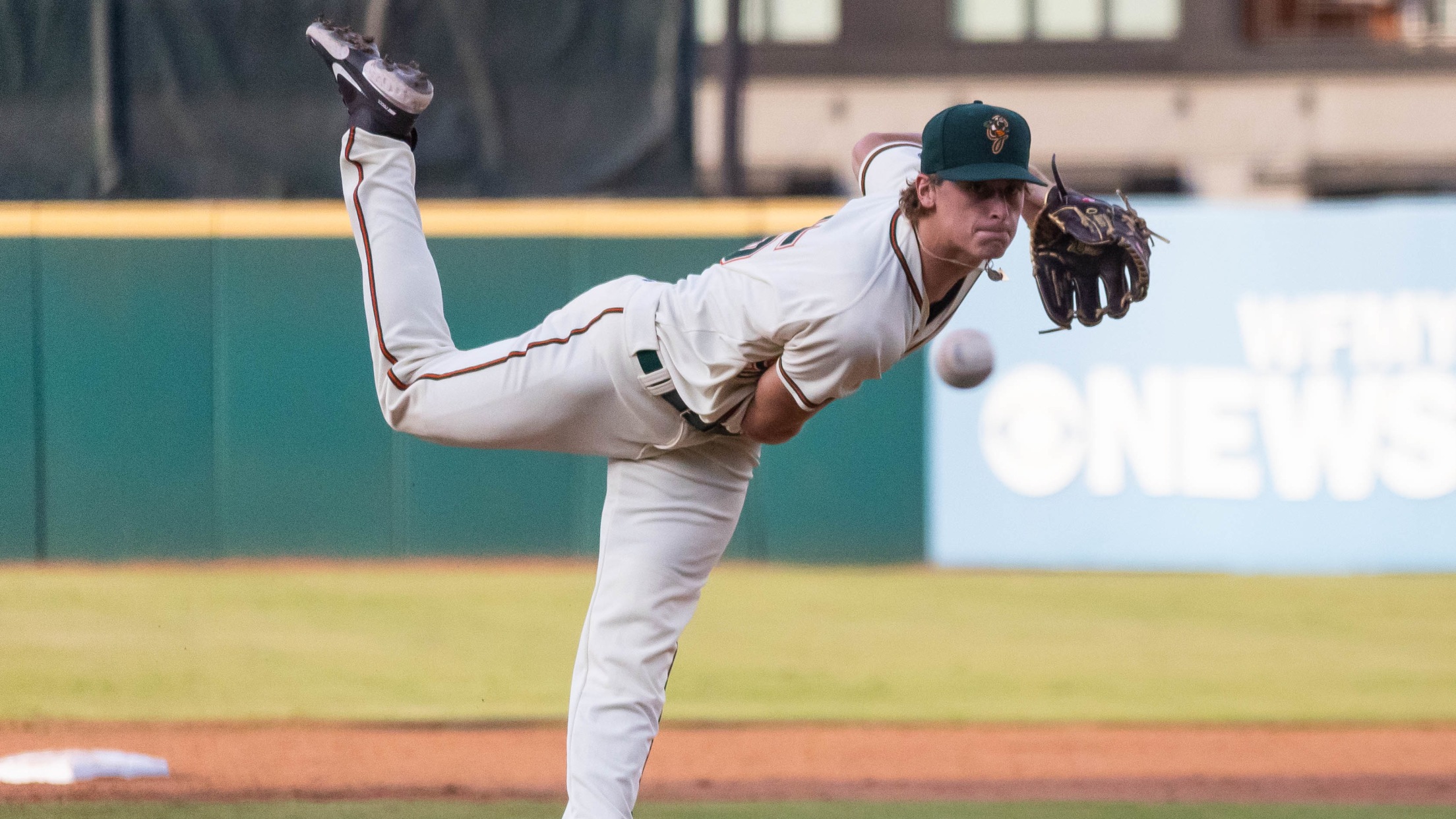 Right-hander Quinn Priester is 3-3 with a 3.35 ERA in 10 starts with Greensboro so far this season. (Jak Kerley/Greensboro Grasshoppers)
DENVER, Colo. ― Greensboro Grasshoppers right-hander Quinn Priester pitched to three batters in his appearance in the All-Star Futures Game on Sunday at Coors Field, closing out the fourth inning for the National League team on the way to an 8-3 victory over the American League prospects. The Futures Game
*DENVER, Colo. ― *Greensboro Grasshoppers right-hander Quinn Priester pitched to three batters in his appearance in the All-Star Futures Game on Sunday at Coors Field, closing out the fourth inning for the National League team on the way to an 8-3 victory over the American League prospects.
The Futures Game is part of Major League Baseball's All-Star Game festivities, and it showcases 50 of the top minor-league prospects in all of baseball.
Priester, a 20-year-old starting pitcher, was the 18th overall pick in the 2019 draft and he is rated by MLB Pipeline as the No. 2 prospect in Pittsburgh's farm system and the No. 37 overall prospect in the minor leagues.
In Denver on Sunday, Priester worked two-thirds of an inning in the Futures Game, throwing a total of 13 pitches. He walked Baltimore's Adley Rutschman on four pitches, then got Kansas City's Nick Pratto to ground into a force play. Priester struck out White Sox prospect Yoelqui Cespedes swinging to end the inning.
Priester planned to rejoin the Hoppers in Rome, Ga., this week in time for Greensboro's road series against the Braves.
Priester is 3-3 with a 3.35 ERA in 10 starts for Greensboro so far. He was the Hoppers' opening-night starter, and he anchors a pitching staff that features six starters ranked among the Pirates' top-30 prospects. He didn't pitch at all last season, when the minor leagues were shut down by the coronavirus pandemic.
"Early on, there was definitely a learning curve getting back into playing baseball games," Priester says. "I know that must sound dumb, but it was just getting used to playing the sport again. It had been a year since I'd pitched in bad situations, good situations ― any situations ― and worked through those … to learn from those experiences and be better for it."
Priester has classic starter's stuff. He throws a riding four-seam fastball that touches 98 mph and is consistently in the mid-90s. His low-80s curveball is arguably the best in the Pirates' farm system.
His secondary pitches include a two-seam sinker, a developing changeup and a slider he learned last summer during the shutdown.
In his career at the News & Record, journalist Jeff Mills won 10 national and 12 state writing awards from the Associated Press Sports Editors, the Society for Features Journalism, and the N.C. Press Association.