Tourists hit 5 home runs in 13-7 win over Hoppers
Aaron Shackelford goes 2-for-5 with an RBI in return to Hoppers lineup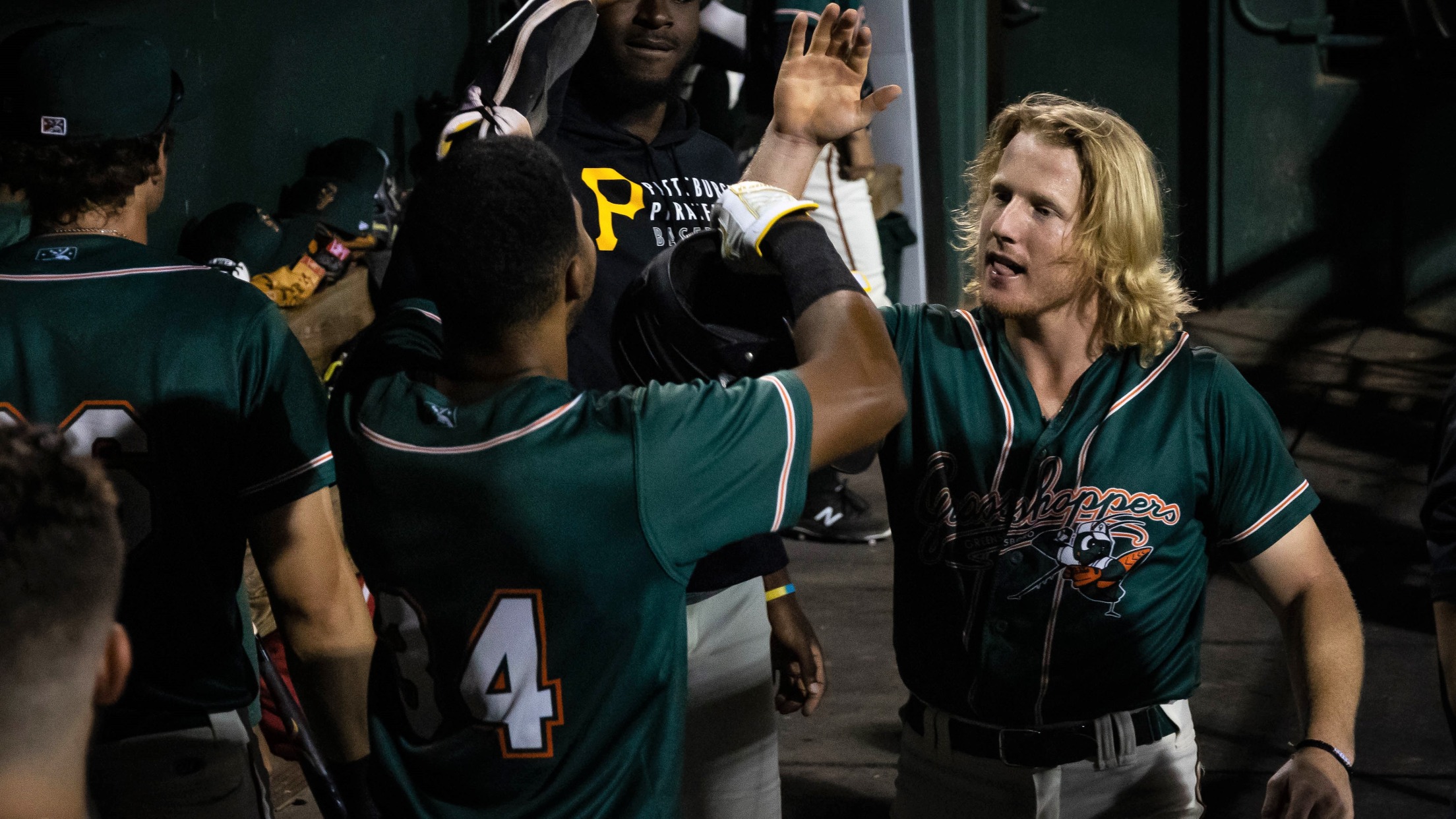 Aaron Shackelford (right) had two hits and an RBI in his return to Greensboro's lineup. Shackelford was on the temporary inactive list for a week for the birth of his first child. (Jak Kerley/Greensboro Grasshoppers)
GREENSBORO ― Alex Holderbach hit two of Asheville's five home runs, and the Tourists pounded out 17 hits on the way to a 13-7 victory over the Greensboro Grasshoppers at First National Bank Field on Thursday night. Holderbach, the ninth hitter in Ashville's lineup, went 4-for-5 with three runs scored
GREENSBORO ― Alex Holderbach hit two of Asheville's five home runs, and the Tourists pounded out 17 hits on the way to a 13-7 victory over the Greensboro Grasshoppers at First National Bank Field on Thursday night.
Holderbach, the ninth hitter in Ashville's lineup, went 4-for-5 with three runs scored and four RBIs to lead the Tourists. First baseman Cesar Salazar was also 4-for-5 with a home run, two doubles and three RBIs.
Grant Koch and Will Matthiessen both hit solo home runs for Greensboro, and Jared Triolo hit a two-run single hit a two-run single in the third inning that gave the Hoppers a 4-1 lead.
New dad Aaron Shackelford returned to Greensboro's lineup after missing six games for the birth of his first child. Shackelford went 2-for-5 with a broken-bat RBI single.
On a night when the two teams combined to draw 16 walks, used seven pitchers and threw 382 pitches, Asheville reliever Jose Bravo was the only pitcher to not allow a run. Bravo closed the game for the Tourists with five scoreless innings, striking out seven.
Alex Manasa (0-1, 5.76 ERA) took the loss in relief for Greensboro. Four Hoppers pitchers combined to strike out 16, but they also walked nine.
The Hoppers are 5-2 since July 1, but the loss snapped their four-game winning streak.
The two teams play again at 6:30 p.m. Friday. It's Princess Night at the ballpark, and a fireworks show will follow the game.
In his career at the News & Record, journalist Jeff Mills won 10 national and 12 state writing awards from the Associated Press Sports Editors, the Society for Features Journalism, and the N.C. Press Association.