A Look Back at Gwinnett's "Alternate" Role in 2020
With no Triple-A games last year, the Stripers adapted Coolray Field into the Atlanta Braves Alternate Training Site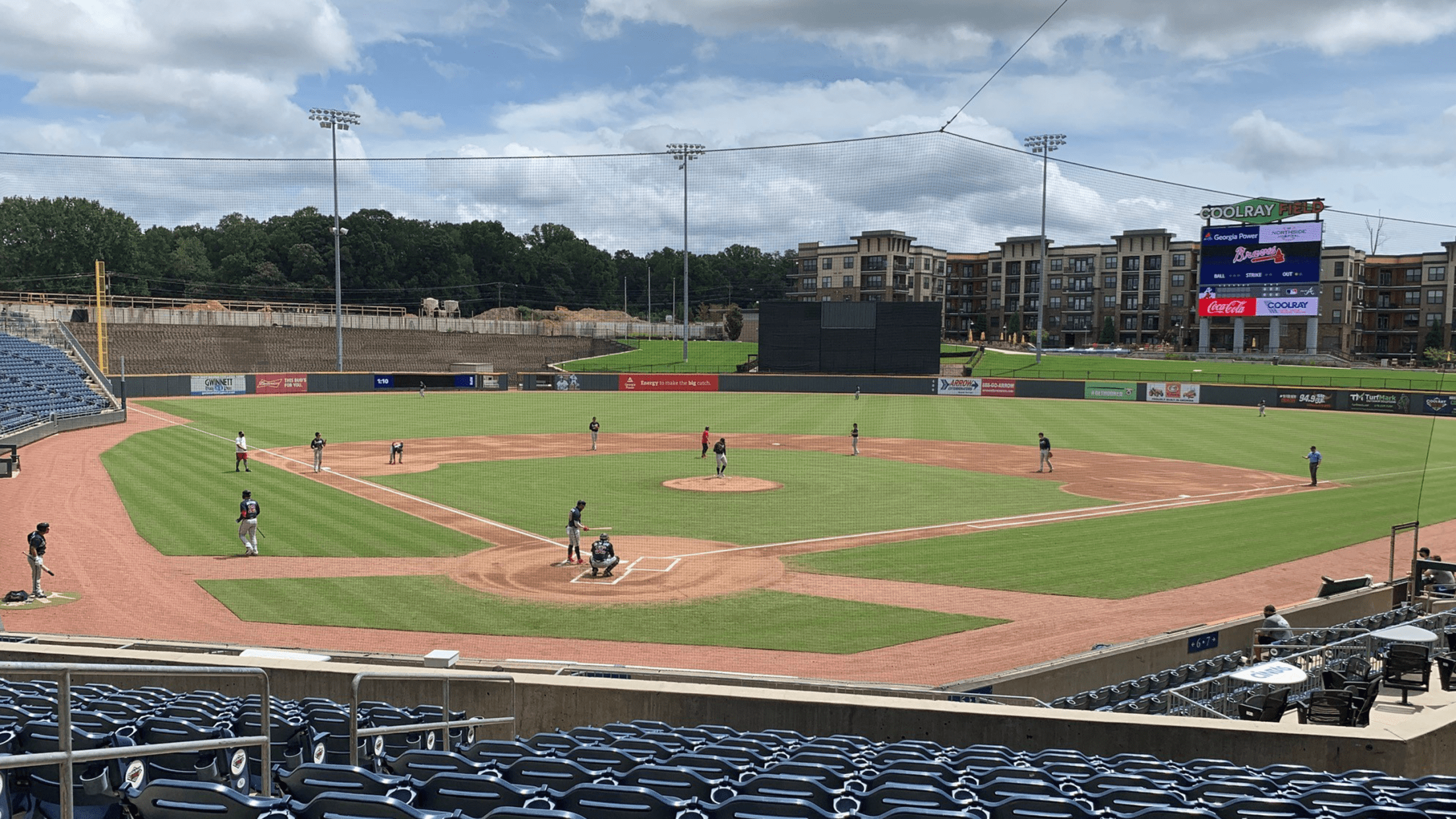 An intrasquad game takes place at Coolray Field, the Atlanta Braves Alternate Training Site in 2020. (Dave Lezotte)
The afternoon sun radiates off a sea of blue seats and concrete aisles. The grass is a vibrant green, but worn thin in several spots from the repetitive dragging of cleats. The smack, smack of baseballs meeting leather glove pockets cuts the humid air, a familiar sound for a late-summer
The afternoon sun radiates off a sea of blue seats and concrete aisles. The grass is a vibrant green, but worn thin in several spots from the repetitive dragging of cleats. The smack, smack of baseballs meeting leather glove pockets cuts the humid air, a familiar sound for a late-summer day at the ballpark. But little else can be considered normal here in the summer of 2020. There are no fans lining up eagerly to peek through the gates, no concession workers turning hot dogs on the grill, no opponent players sliding bats into the visiting dugout rack.
Coolray Field, quieted by the COVID-19 pandemic, temporarily ceases to be the home of the Gwinnett Stripers. In 2020, this strangest of years, it is the Atlanta Braves Alternate Training Site.
When Major League Baseball announced its abbreviated 60-game campaign last June, it simultaneously confirmed what many across Minor League Baseball had feared: there would be no season "down on the farm." MLB teams, however, still needed a way to keep veteran back-ups ready and provide instruction to prized prospects that would otherwise miss a full year of development. Each team was allowed a 60-man pool comprised of 30 active and 30 inactive players. As an extra measure of prevention against a COVID-19 outbreak, the two groups trained separately.
Thus, the "Alternate Training Site" was born. In short order, empty MiLB facilities across the country were given new purpose as a place to house the surplus players of their MLB parent clubs.
A New Role for Coolray Field
For the Braves, putting their Alternate Training Site in Gwinnett was a no-brainer. Coolray Field, host of Atlanta's Triple-A affiliate since 2009, is located just 35 miles northeast of Truist Park. That proximity makes it one of the closest MiLB ballparks to its MLB affiliate in all of baseball.
For Ben Sestanovich, Assistant General Manager of Player Development for the Braves, a short commute was just one several factors that made Coolray Field the perfect spot.
"I think having two large clubhouses, we were able to spread our players out and follow all the protocols that were necessary," said Sestanovich. "All sorts of little things, everything from as small has having (Stripers Clubhouse Manager) Nick Dixon there, who does a terrific job in the clubhouse, to having kitchen space that a caterer could use so that we could eat outside, to multiple batting tunnels for our guys to use when we needed them inside."
In June, Sestanovich and the Braves connected with Stripers Vice President and General Manager Adam English to begin preparing Coolray Field for conversion into the Alternate Training Site. From the time the MiLB season was officially canceled on June 30, the Stripers staff had under a week to get the ballpark ready for player intake on July 4.
Fortunately, English was a member of the Braves Health and Preparedness Taskforce that had been formed the previous winter in the wake of COVID-19's emergence and was already preparing for the challenge.
"When we found out the Alternate Training Site was becoming a reality, we weren't starting from square one," said English. "When we shut down our office in March, the first thing that I asked of our Operations team was to put together a health and safety protocol for when our season would begin. As it became much clearer that our season would not begin, we utilized a lot of those protocols as we moved forward into the Alternate Training Site."
Stripers Staff Stepping Up
Key members of the Stripers staff got to work immediately, applying MLB's strict health and safety regulations to all areas of the facility.
Director of Stadium Operations Ryan Stoltenberg and his team, including Stadium Operations Coordinator Rick Fultz and Facilities Engineer Gary Hoopaugh, implemented the cleaning protocol to disinfect the clubhouses, dugouts, bullpens, and dining area after each day. Dixon oversaw the use of both clubhouses and enforced social distancing policies for lockers, coach offices, training rooms, weight rooms, and batting cages.
On the field, Sports Turf Manager McClain Murphy and Sports Turf Assistant Kiley Coursey readied the playing surface for whatever the Braves needed every day from July through early October, from fielding drills to bullpen sessions, batting practice to intrasquad games. Rarely did the players get a day off, and no two days were the same, putting the field under a tremendous stress it had never endured before.
"We just did our best," said Murphy about limiting wear and tear. "We broke the field up into three quadrants, you had left field, center field, and right field. Every week we would change. One week they would stretch and work out in left, one week they would stretch and work out in center, the next week they'd stretch and work out in right. The (advice) that came from our Spring Training groundskeeper was 'break your field up and try to mimic what we do at Spring Training with one facility'."
To make the plans work, the Alternate Training Site needed people-power. That's where the rest of the Stripers front office came in. Members of all departments made mostly idle by the lack of a season were utilized on both the cleaning team and the grounds crew.
On grounds, most had barely picked up a rake, let alone worked on a professional baseball field before. Over the next three months, Murphy had trained them all like members of his regular crew.
"We had marketing, media relations, ticket sales, you name it, they were grounds crew for the whole summer," said Murphy. "It was cool to see everyone come all the way around from entry-level to pretty much seasoned groundskeeping gameday staff. Without their help, I'm not sure what we would have done. We would have been giving the players rakes and hoses and uniforms, just not the ones their used to wearing (laughs)."
There's no such thing as 'holiday weekends' in baseball. Still on the grind here at the alternate training site. pic.twitter.com/yzO6q1M9Iu

— Gwinnett Stripers (@GoStripers) September 6, 2020
Each day, the Stripers staff cleaned and prepared Coolray Field for safe use. Surfaces were sprayed with sanitizer, lockers were fogged with disinfectant, the grass was cut and watered, and the mounds and batter's box were patched with clay. Some days, the work was completed early in the morning before a mid-day workout. Other days stretched into late nights as the players participated in simulated games under the lights.
Aside from some battles with the rain that required the Stripers staff to team up with the coaches to put the tarp on the field, the day-to-day routine at the Alternate Training Site went on seamlessly.
"Really, it's the spirit of Minor League Baseball, let's band together and accomplish a goal," said English. "It was our entire staff top to bottom. Myself included, our Assistant General Manager Erin O'Donnell included, we were on grounds, we were working clean team, we were doing it all together. That's the number one thing I'm most proud of our staff over the last year was their willingness to pivot, learn quickly, drop what their normal jobs are and pick up these other important jobs from the standpoint of keeping our players healthy throughout a pandemic."
A Unique Team on the Field
With both immediate and long-term needs in mind, the Braves populated the Alternate Training Site with a mix of players unlike any minor league roster ever assembled. Players of all skill levels toiled together, whether they were serving as qualified big-league back-ups or gaining valuable instruction for the future. A typical infield drill might include seven-year Major Leaguer Pete Kozma turning double plays with 19-year-old 2019 draft pick Vaughn Grissom. A bullpen session could pair 2018 National League All-Star Mike Foltynewicz with No. 6-ranked prospect Kyle Muller.
Sestanovich viewed the uniquely-constructed roster as an opportunity for younger players to learn and grow in ways they wouldn't have in a normal season.
"We had young guys a year out of the draft who were getting at-bats against big-league pitching on a regular basis," said Sestanovich. "So yes, they weren't playing real games with fans in the stands, but from a competition standpoint and from exposure to a high level of baseball, I think our guys got exposed to a lot that hopefully we'll see pay off down the road. Having that mix, the balance of the more big-league veteran types with some of the young guys we wanted to get some development time with, I think turned out to be a pretty cool mix."
To oversee the activity of these players, Atlanta called on many of its minor league coaches, coordinators, and staff that were displaced with the cancellation of the MiLB season. Braves Field Coordinator Doug Mansolino led the group, which among others included five members of Gwinnett's anticipated 2020 staff: pitching coach Mike Maroth, hitting coach Carlos Mendez, coach Alfredo Amezaga, athletic trainer T.J. Saunders, and strength coach Paul Howey. The Stripers' new manager for 2021, Matt Tuiasosopo, was also a vital figure.
"Our whole group there did a great job, and I think it was an opportunity for growth for all of us," said Sestanovich. "We didn't have (real) games, we were sort of in full-on development mode all the time. Our staff did a great job bringing energy every day and I think the players feed off that. I think we did our best to create a competitive environment there in Gwinnett for what was sort of a strange three-month season."
Having a "Major" Impact
As summer turned to fall and Atlanta's quest for a third straight National League East Division championship was realized, the Alternate Training Site's importance to the Braves' success became undeniable. From July 24 through September 27, 15 players had been selected or recalled from the Alternate Training Site, including pitchers Ian Anderson, Tucker Davidson, Jasseel De La Cruz, Sean Newcomb, Chris Rusin, Chad Sobotka, Touki Toussaint, Patrick Weigel, Bryse Wilson, Kyle Wright, and Huascar Ynoa, catchers William Contreras and Alex Jackson, infielder Pablo Sandoval, and outfielder Cristian Pache. Of that group, Anderson, Contreras, Davidson, Pache, and Weigel all made their big-league debuts.
"We were thrilled to see how some of the guys at the Alternate Training Site were able to translate their work from Gwinnett to the big leagues," said Sestanovich. "It's a huge jump even in a normal season when you're going from Triple-A to the big leagues. Probably that was only accentuated more by the fact that it wasn't normal baseball in Gwinnett. I think the approach our guys took at Gwinnett, the way they went about their work, took care of a lot of that. They made every day count down there."
The 22-year-old Anderson became the breakout star of the bunch, growing from the Braves' No. 3 prospect into a legitimate top-of-the-rotation starter. When the right-hander one-hit the New York Yankees over 6.0 innings for the win in his MLB debut on August 26, the rest of the Alternate Training Site players watched excitedly as the game played on the Coolray Field video board.
"Ian's talent is undeniable, we were really proud that he did that," said English. "But the thing I was most proud of was the coaches and players during his debut said, 'can we please have the game on the video board?' To see those guys who are here every day grinding, to see how happy they were and how hard they were cheering for Ian when he made his debut, speaks to the culture of the Braves organization. These guys wanted to see him have success and they understood that the work they're putting in here leads to that success once they get over to Truist Park."
Anderson went on to a 3-2 record, 1.95 ERA, and .172 opponent batting average in six impressive regular-season starts, earning him a spot on the Braves' Postseason roster. He made four more starts during Atlanta's deep October run, going 2-0 with a microscopic 0.96 ERA and .164 opponent batting average.
Wilson, Wright, Ynoa, and Pache joined Anderson in ascending from the Alternate Training Site to make their Postseason debuts. Pache, the Braves' top-ranked prospect, logged only four at-bats during the regular season but emerged to start all seven games of the National League Championship Series. The 20-year-old tallied his first career RBI with a key double in Atlanta's 8-7 win in Game 2, then cracked his first career home run in an otherwise forgettable 15-3 loss in Game 3. Pache also showed off his top-rated defensive skills to the world, leaping against the center field fence to rob Max Muncy of a homer in Game 5.
In the eyes of Sestanovich, the rookies who powered the Braves to within one win of the World Series were only the most visible part of the Alternate Training Site's impact on the organization.
"I think some of the stuff more under the radar, the guys that weren't going to go up to the big leagues," said Sestanovich about some of the players he thinks benefited the most. "The Shea Langeliers's, the Braden Shewmake's, the Michael Harris's, the Grissom's, all these guys put in a ton of hard work over the course of the summer and obviously didn't see that pay off on the biggest stage in October. Nonetheless they made real strides in their development, got to spend a ton of time around our coordinators, whether it was Mansolino, J.D. Closser, or Mike Brumley on the offensive side, or Paul Davis on the pitching side. A lot of these guys made strides that don't really show up anywhere. There were no box scores, there were no stat lines put up by these guys. And they didn't contribute in the big leagues. But I think those guys still did really take some big positives away from 2020."
A Different Kind of Success
In any ordinary year, the Stripers staff would be proud of Gwinnett's role in Atlanta's on-field achievements, but would measure their own success in things like attendance and revenue. In a season without those metrics to evaluate, the team can instead hang its hat on having provided a safe environment for the depth of the Braves' 60-man roster to train and develop. Following the initial intake on July 4, amazingly, no player or coach at the Alternate Training Site tested positive for COVID-19.
"I think Adam English and the group in Gwinnett, along with our medical staff, everybody stepped in and did a whole lot to make sure that when the Alternate Training Site started there, we really didn't have any issues," said Sestanovich. "A lot of hard work by a lot of people really made it relatively easy to adjust to a whole new world of baseball. I give a ton of credit to all the people involved planning from a facilities standpoint, from a COVID testing standpoint, that we were able to have our baseball staff get there and focus on working with the players."
English believes the players also deserve credit in keeping the Alternate Training Site free of COVID-19.
"I was incredibly proud of our team, but it's more than just us," said English. "The players had to follow the protocols too. Had the players broken the protocols and gone out to restaurants or seen people they weren't supposed to see (…) they followed the protocols on their end. From my standpoint, if they are going to follow the protocols, we are too. And we're going to do everything we can to keep people healthy. We were really fortunate to not have any positives, but it's also a testament to preparation and hard work."