G-Braves Drop Opener 6-2 to Durham
Gwinnett leaves 10 men on base in loss to Bulls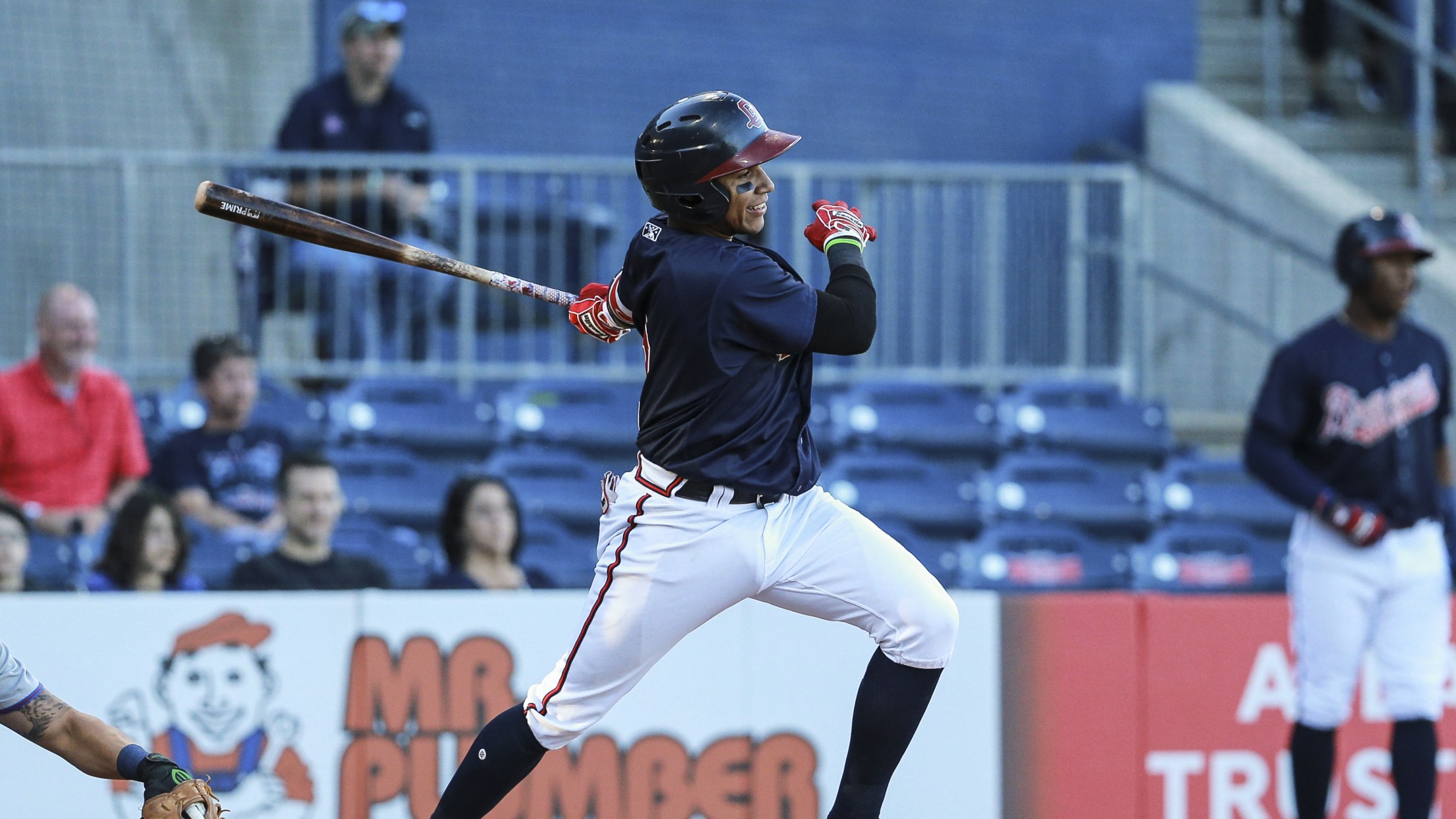 Johan Camargo produced three hits in Gwinnett's loss on Tuesday. (Chris Roughgarden)
After scoring a pair of runs in the first inning, the Gwinnett Braves' offense struggled for the final eight innings as they fell 6-2 to the Durham Bulls in the opening game of their three-game series at Coolray Field on Tuesday night.Making his first home start for Gwinnett, Luke Jackson
After scoring a pair of runs in the first inning, the Gwinnett Braves' offense struggled for the final eight innings as they fell 6-2 to the Durham Bulls in the opening game of their three-game series at Coolray Field on Tuesday night.
Making his first home start for Gwinnett, Luke Jackson (L, 0-2) got off on the wrong foot. Former G-Brave Mallex Smith led off the game with a single for Durham, and then stole second and third base. Later, Jake Bauers drove Smith home with a double to left. Durham made it a 2-0 lead as Mike Marjama singled to score Bauers.
Gwinnett was quick to answer in the bottom of the first against Durham starter Ryan Yarbrough (W, 2-2). On Yarbrough's third pitch of the game, leadoff hitter Ozzie Albies cranked a solo home run an estimated 397 feet to left-center, his first of the season, to cut the deficit to 2-1. Johan Camargo and Mel Rojas Jr. followed with singles to give the G-Braves three straight hits to start the inning. Three batters later, Rio Ruiz hit a sacrifice fly to center field, scoring Camargo from third to even the score at 2-2.
In the third, the Bulls regained the lead at 3-2 as Marjama's second single of the night scored Willy Adames, who doubled earlier in the inning. In the bottom half, Yarbrough gave up a single to Camargo but struck out the next three hitters he faced to keep the Bulls ahead. Between the second and third innings, Yarbrough recorded all six of his outs via strikeout.
Gwinnett nearly tied the game in the fourth. After Yarbrough walked the bases loaded with one out, Albies stepped to the plate. The Gwinnett second baseman hit a fly ball to center, which Smith was able to catch for the second out. On the play, Ruiz tagged up from third and tried to score. Smith threw home, and Ruiz was called out at the plate on a close play, ending the inning with the Bulls still ahead by a run.
Jackson worked into a jam in the fifth with a pair of walks and a single to load the bases with two outs. Rhiner Cruz then entered for the G-Braves and gave up a two-run single to Curt Casali, increasing the Bulls' lead to 5-2. Jackson finished his start with five earned runs on seven hits, four walks and four strikeouts over 4.2 innings.
Following 1.1 scoreless innings from Cruz, Atlanta Braves' right-hander Mauricio Cabrera came on in the seventh for his first rehab appearance with Gwinnett. Cabrera walked one and struck out one in a scoreless frame, keeping the deficit at 5-2.
The Bulls added another run in the ninth on a wild pitch by Caleb Dirks, allowing Leonard to score for a 6-2 final.
For Durham, Yarbrough yielded two runs on six hits over 5.0 innings, walked five and struck out seven. Yoel Espinal (H, 1), Ryan Garton (H, 2), Adam Kolarek (H, 4) and Diego Moreno combined to allow just two hits over the final 4.0 innings.
Gwinnett was led offensively by Johan Camargo, who went 3-for-5 with a run scored. Albies finished 1-for-5 with the homer and one RBI.
Smith went 3-for-5 with two runs scored and three stolen bases for Durham, and Marjama and Casali each had two-RBI efforts.
The G-Braves and Bulls play game two of the series on Wednesday night at Coolray Field, first pitch scheduled for 7:05 p.m. Right-hander Lucas Sims (2-0, 2.66) is scheduled to start for Gwinnett, while Durham will counter with right-hander Yonny Chirinos (0-0, 0.00). Tony Schiavone has the play-by-play call on 97.7 FM The Other Side of the River beginning at 6:35 p.m.
For tickets, call 678-277-0340 or visit GwinnettBraves.com/tickets.