Louisville Walks Off To Top Gwinnett 3-2
G-Braves squander 2-0 lead, lose third in a row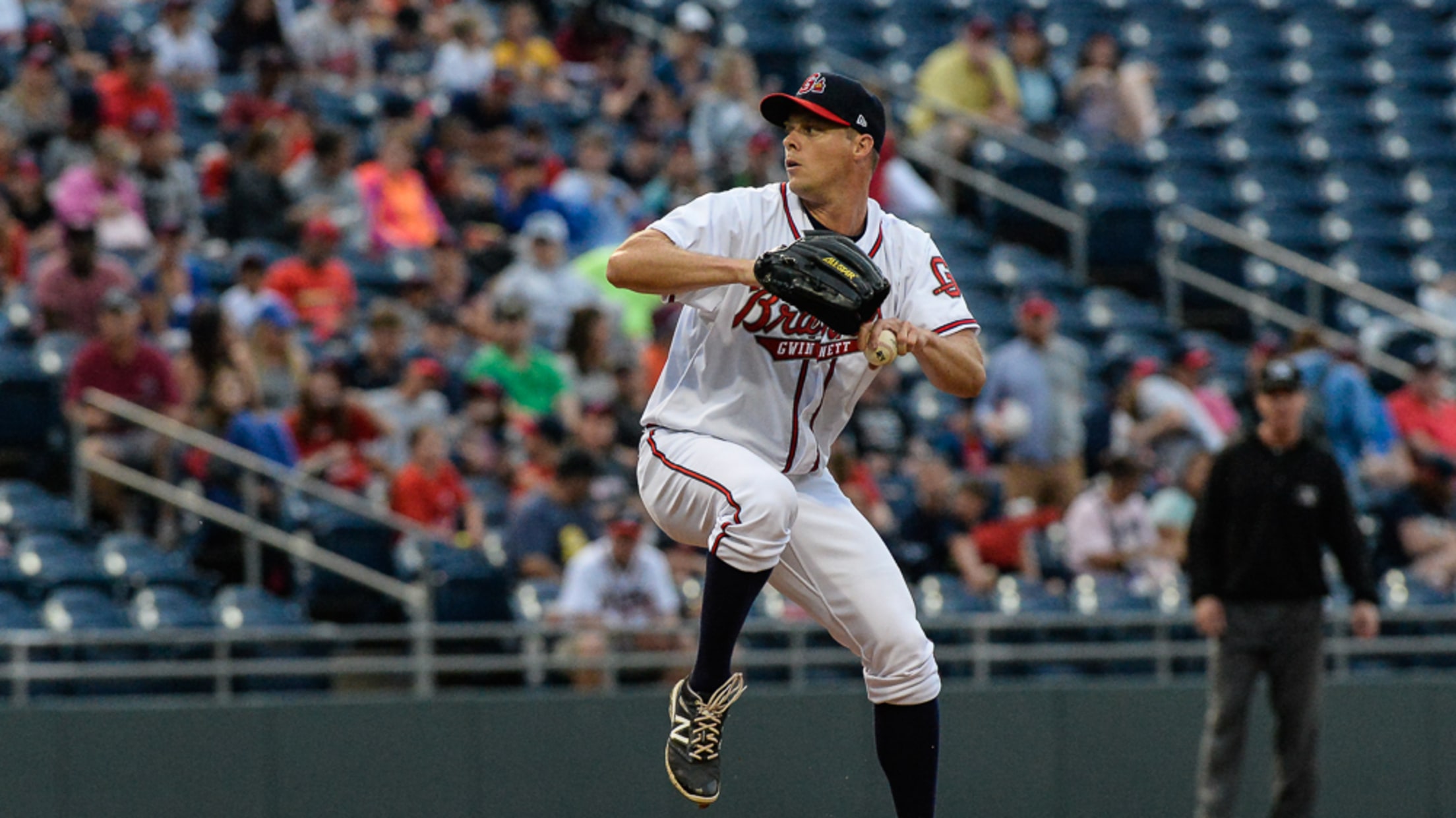 Andrew Albers struck out nine over 6.0 scoreless innings in Thursday's loss. (Chuck Pitts)
LOUISVILLE, KY- A bloop single to left field by Sebastian Elizalde in the bottom of the 11th inning gave the Louisville Bats (19-33) a come-from-behind 3-2 win over the Gwinnett Braves (27-25) on Thursday night in the final game of their three-game series at Louisville Slugger Field. The G-Braves were swept
LOUISVILLE, KY- A bloop single to left field by Sebastian Elizalde in the bottom of the 11th inning gave the Louisville Bats (19-33) a come-from-behind 3-2 win over the Gwinnett Braves (27-25) on Thursday night in the final game of their three-game series at Louisville Slugger Field.

The G-Braves were swept by the Bats in the three games in Louisville and have now dropped to five games in back of first place Durham in the International League South division. Durham won its third in a row Thursday night, a 6-3 victory over Rochester.

Gwinnett scored the first run of the game as Mel Rojas Jr. (6) led off the top of the fourth with a solo home to left off Louisville starting pitcher Ismael Guillòn. The G-Braves added a run an inning later as reliever Nick Christiani walked Ozzie Albies and then allowed him to move to second on a wild pitch. Sean Kazmar Jr. Jr. plated Albies with a single to right for a 2-0 lead.

Behind the pitching of starter Andrew Albers , the lead stood for most of the game, but the Bats rallied to tie the game in the bottom of the eighth. With David Peterson in his second inning of work out of the Gwinnett bullpen, Dilson Herrera drilled a one out single to right. Zach Vincej then doubled off the wall in left, putting runners on second and third. Phillip Ervin crushed a ground rule double to center, scoring both Herrera and Vincej to tie the game 2-2.

The game remained tied until the bottom of the 11th. With Evan Phillips now pitching for Gwinnett, Beau Amaral pegged a one out single to left, stole second base and scored the game winning run when the ball struck by Elizalde dropped in shallow left inside the foul line.

Albers pitched 6.0 scoreless innings with three hits, no walks and tied a season-high with nine strikeouts. Peterson (BS, 3) went 2.0 innings with four hits, two earned runs and one strikeout. Rhiner Cruz worked one inning with one hit and one strikeout. Enrique Burgos pitched one inning with one strikeout. Phillips (L, 0-1) went one third of an inning with two hits and one earned run to suffer his first career Triple-A loss.

Guillon worked 4.0 innings with two hits, one earned run, three walks and three strikeouts. Christiani pitched 1.0 inning with two hits, one earned run, one walk and two strikeouts. Cincinnati's Tony Cingrani, on an MLB rehab assignment, went 1.0 inning with one walk and one strikeout. Alejandro Chacin worked 2.0 innings with one hit and three strikeouts. Louis Coleman (W, 1-1) pitched the final 3.0 innings with three hits and two strikeouts to earn the win.

At the plate, Gwinnett was led by Rojas Jr. who was 2-for-4 with a solo homer and his team-leading 31st RBI.

Stuart Turner was 2-for-4 for Louisville while Ervin drove in two of the Bats' three runs.

The G-Braves six-game road trip moves to Indianapolis on Friday night for game one of a three-game series against the Indians. Southpaw Sean Newcomb (3-2, 2.96) will get the start for the G-Braves. The Indians will send rehabbing Pittsburgh Pirates right-hander Jameson Taillon to the mound. First pitch from Victory Field is set for 7:15 p.m. Tony Schiavone has the play-by-play call on 97.7 FM "The Other Side of the River" beginning at 6:45 p.m.

The G-Braves return to Coolray Field for a seven-game homestand starting on Monday, June 5. Game one of a three-game series vs. the Norfolk Tides begins at 7:05 p.m. For tickets, call 678-277-0340 or visit GwinnettBraves.com/tickets.