Pache Homers Twice in Stripers' 11-0 Win at Memphis
Cristian Pache homers twice as six Gwinnett pitchers combine for shutout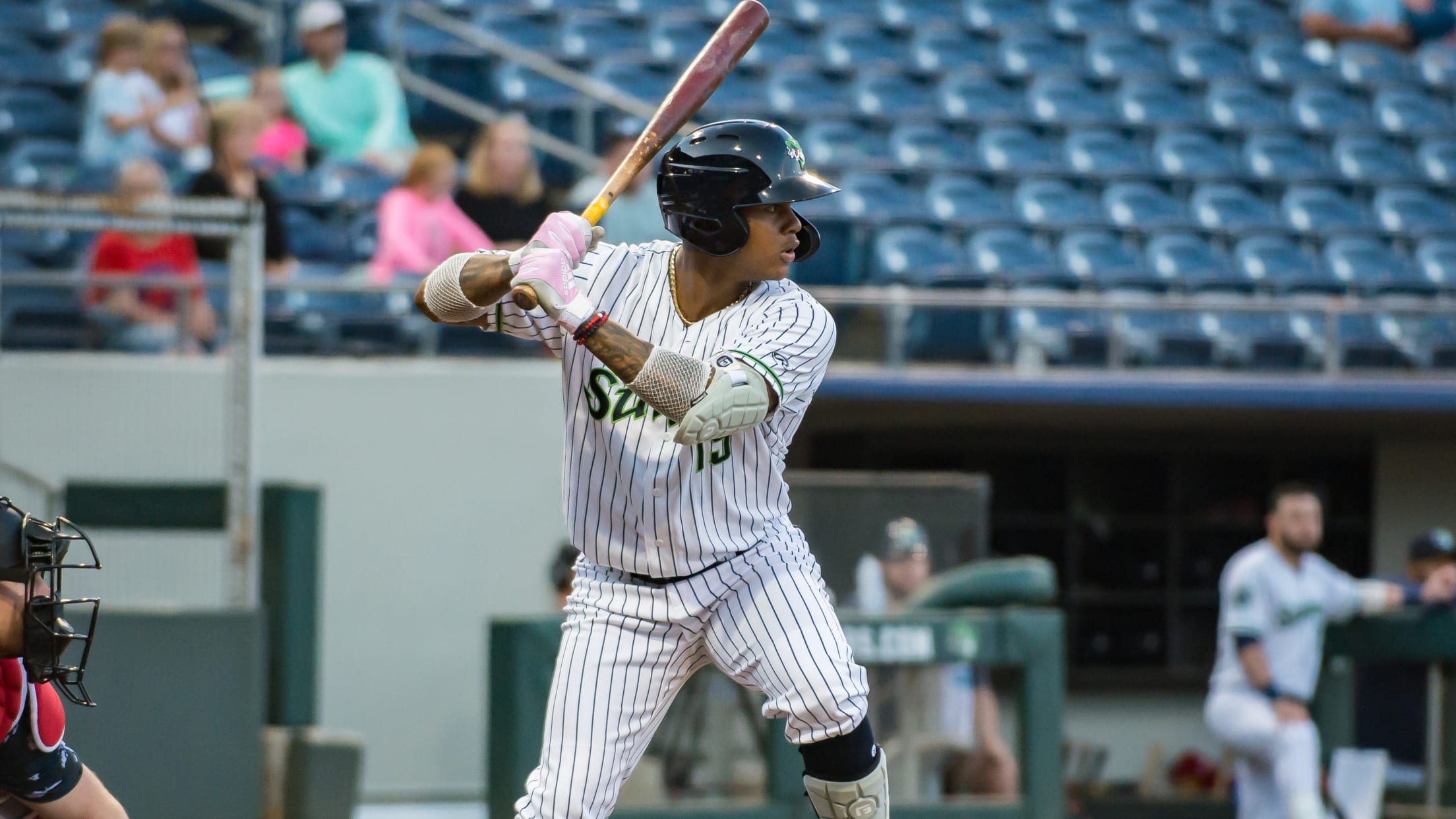 Cristian Pache hit two home runs in Gwinnett's 11-0 victory over Memphis on Thursday night. It was Pache's first-ever multi-homer game in his professional career. (Will Fagan/Gwinnett Stripers)
MEMPHIS, Tenn. – Cristian Pache homered twice and drove in four runs, and six pitchers combined on a two-hit shutout as the Gwinnett Stripers (18-15) routed the Memphis Redbirds (12-21) 11-0 on Thursday night at AutoZone Park. Decisive Play: Jason Kipnis lined an RBI single off Thomas Parsons (L, 1-2)
MEMPHIS, Tenn. – Cristian Pache homered twice and drove in four runs, and six pitchers combined on a two-hit shutout as the Gwinnett Stripers (18-15) routed the Memphis Redbirds (12-21) 11-0 on Thursday night at AutoZone Park.
Decisive Play: Jason Kipnis lined an RBI single off Thomas Parsons (L, 1-2) in the first inning to give the Stripers a 1-0 lead. The next batter, Johan Camargo, crushed a two-run home run (4) to make it 3-0 and the Stripers were off and rolling.
Key Contributors: Pache lifted a solo homer (1) to make it 4-0 in the third and capped the scoring with a two-run shot (2) in the eighth. Jonathan Lucroy added a three-run blast (2) in the seventh. Connor Johnstone, Tanner Roark (W, 1-1), Jesse Biddle, Ty Tice, Chasen Bradford, and Victor Arano combined to throw 9.0 scoreless innings for Gwinnett's fourth shutout of 2021.
Noteworthy: Pache's two-homer night was his first professional multi-homer game. Camargo and Orlando Arcia each turned in four-hit performances. Bradford extended his team-best scoreless innings streak to 15.0 over nine appearances.
Next Game (Friday, June 11): Gwinnett at Memphis, 8:10 p.m. at AutoZone Park. RHP Kyle Wright (1-2, 4.26 ERA) for the Stripers vs. LHP Connor Thomas (1-0, 4.63 ERA) for the Redbirds. Radio Broadcast: 7:55 p.m. on MyCountry993.com.
Next Home Game (Tuesday, June 15): Gwinnett vs. Nashville, 7:05 p.m. at Coolray Field (Family Value Tuesday, $2 hot dogs and $1 desserts, presented by Coolray Heating & Cooling).