Stripers Open Series With 6-5 Win vs. Nashville
Ryan Goins, Jason Kipnis homer as Gwinnett wins sixth of last seven games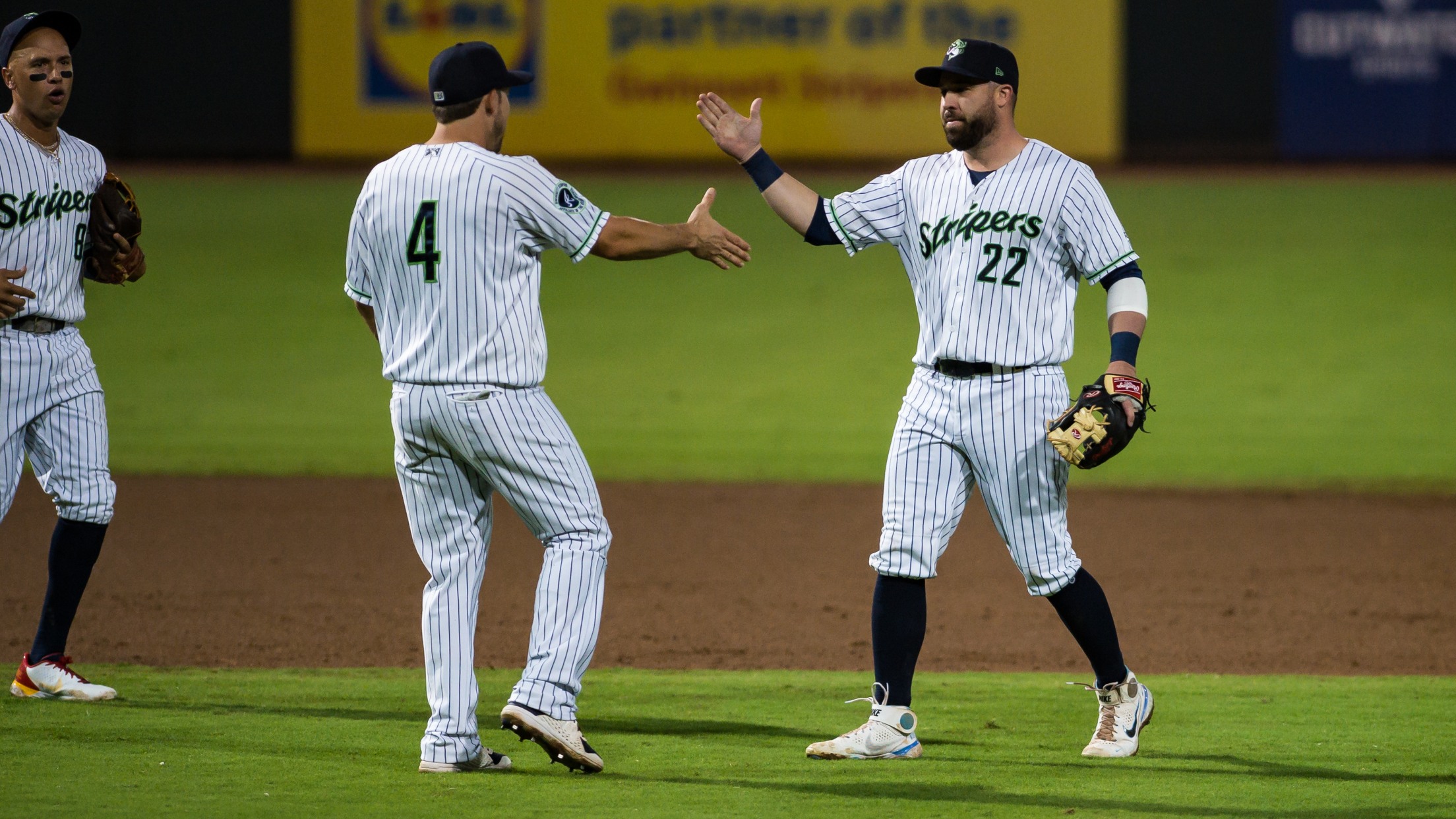 Jason Kipnis and Sean Kazmar Jr. celebrate after turning a double play that gave Gwinnett a 6-5 win over Nashville on Tuesday night. (Will Fagan/Gwinnett Stripers)
LAWRENCEVILLE, Ga. – The Gwinnett Stripers (67-48) turned a 5-4-3 double play to escape a ninth inning jam, preserving a 6-5 win over the Nashville Sounds (60-55) on Tuesday night at Coolray Field. Decisive Plays: Jason Kipnis blasted a two-run home run (10) off Josh Lindblom (L, 5-4) in the
LAWRENCEVILLE, Ga. – The Gwinnett Stripers (67-48) turned a 5-4-3 double play to escape a ninth inning jam, preserving a 6-5 win over the Nashville Sounds (60-55) on Tuesday night at Coolray Field.
Decisive Play**s:** Jason Kipnis blasted a two-run home run (10) off Josh Lindblom (L, 5-4) in the fifth inning to give Gwinnett their first lead at 5-4. Johan Camargo tripled to score Kipnis in the seventh inning, giving the Stripers a 6-4 advantage. Nashville's Matt Lipka grounded into a double play with runners at the corners to end the game in the ninth.
Key Contributors: Kipnis finished 2-for-3 with a double, homer, three runs, and three RBIs. Ryan Goins lined a solo shot (6) to right field in the second inning. Camargo went 2-for-4 with a triple and a pair of RBIs. Kyle Wright (W, 8-5) allowed four earned runs over 6.0 innings for his team-leading eighth victory. Chris Martin tossed a hitless seventh inning in his first rehab appearance with the Stripers. Brooks Wilson (S, 1) recorded a save in his Triple-A debut.
Noteworthy: Kipnis is batting .480 (12-for-25) with three doubles, four homers, eight runs, and 10 RBIs in 10 September games. Gwinnett has now won eight consecutive series openers, including their last two against Nashville. Despite the victory, Gwinnett was mathematically eliminated from winning the Triple-A East Southeast Division as Durham (73-42) beat Charlotte 6-2 on Tuesday night.
Next Game (Wednesday, September 15): Gwinnett vs. Nashville, 7:05 p.m. at Coolray Field (Wet Nose Wednesday, free admission for dog with paid owner on The Bank, presented by New Country 101.5). RHP Bryce Elder (2-1, 2.78 ERA) for the Stripers vs. RHP Colin Rea (2-2, 3.04 ERA) for the Sounds. Radio Broadcast: 6:50 p.m. on MyCountry993.com.