Top Five: Governors' Cup Playoff Performances
Gwinnett's best efforts in postseason contests since 2009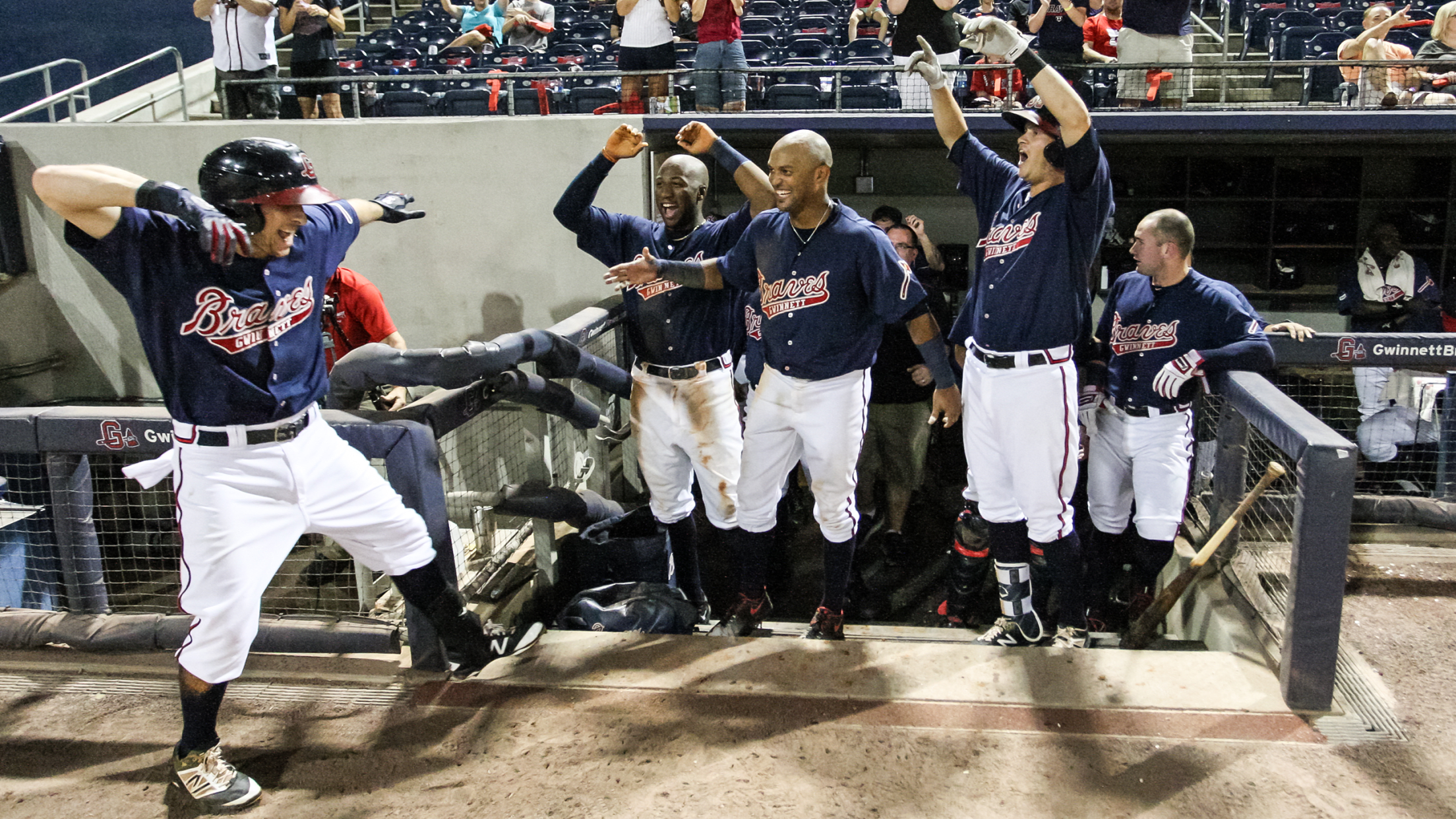 Sean Kazmar Jr. (left) celebrates with teammates after slugging a clutch home run in Game 4 of the 2016 Semifinals vs. Columbus. (Karl L. Moore)
September is playoff time for Minor League Baseball, when Division champions and Wild Card qualifiers alike shift their focus from a grueling five-month regular season to a two-week sprint for their league's respective title. The International League's version of the postseason – the Governors' Cup Playoffs – would have started
September is playoff time for Minor League Baseball, when Division champions and Wild Card qualifiers alike shift their focus from a grueling five-month regular season to a two-week sprint for their league's respective title. The International League's version of the postseason – the Governors' Cup Playoffs – would have started on September 9 with a best-of-five Semifinals series and culminated with the best-of-five Finals from September 15-19. The winner of the Governors' Cup would have represented the IL and faced the Pacific Coast League champion in the Triple-A National Championship Game on September 22 in Las Vegas.
Had the 2020 season happened, the Stripers would have fought for the fourth postseason berth in team history, giving them a shot at winning Gwinnett's first Governors' Cup and National Championship. The team's three previous playoff runs have all fallen short of a title, as the G-Braves and Stripers combined to go 6-10 in 16 games spanning four series.
Gwinnett's Postseason Appearances:
2009: IL Wild Card, lost 3-1 to Scranton/Wilkes-Barre in Semifinals
2016: IL South Champions, beat Columbus 3-1 in Semifinals, lost 3-1 to Scranton/Wilkes-Barre in Finals
2019: IL South Champions, lost 3-1 to Columbus in Semifinals
-
Though Gwinnett has yet to hoist the Cup, the team has provided many memorable playoff moments over the last 11 seasons. This edition of the "Top Five" ranks the best postseason games played so far.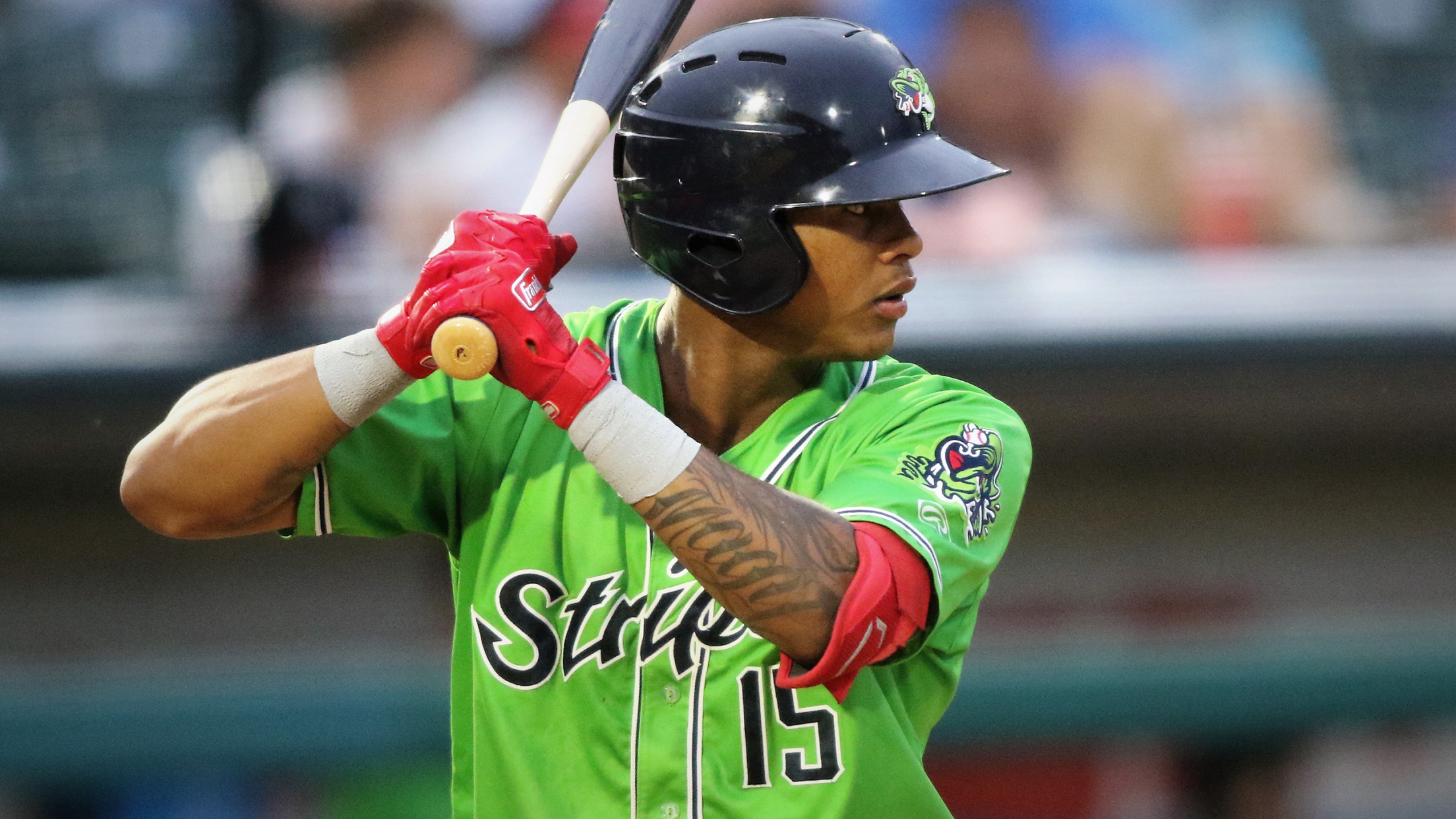 5. Pache Keeps Stripers Alive in Semifinals at Columbus (September 6, 2019)
The 80-59 Stripers, the winningest team in Gwinnett history, had the unfortunate fate of meeting the only team with a better record – the 81-59 Columbus Clippers – in the 2019 Semifinals. The Stripers did have the benefit of opening the series at home, but faced a Clippers team that went a league-best 46-24 on the road during the regular season.
The Clippers won both games at Coolray Field, 5-4 and 7-3, defeating top Braves pitching prospects Ian Anderson and Tucker Davidson to build a 2-0 series lead. To make matters worse for Gwinnett, their two best sluggers – Adam Duvall and Austin Riley – were both called up to Atlanta before the series shifted to Columbus. For the Stripers to stave off a sweep and ensure a Game 4, they'd need someone else to step up.
Enter Cristian Pache, the 20-year-old center fielder and top-ranked prospect in the Braves organization. Pache had homered just once in 26 games during his late-season stint with Gwinnett, batting .274/.337/.411 with eight RBIs. He nearly equaled those numbers in one playoff game as he went 1-for-4 with a grand slam and five RBIs to lead the Stripers to a 10-6 win over the Clippers.
Pache's first at-bat of the night in the second inning resulted in a sacrifice fly scoring Sean Kazmar Jr. for a 2-0 Stripers lead. Two batters later, John Ryan Murphy launched a three-run homer to center off right-hander Shao-Ching Chiang to make it 5-0.
In the third, a walk to Jack Lopez, single by Pedro Florimon, and RBI double by Kazmar made it 6-0 and forced Chiang out of the game. Right-hander Jared Robinson came on from the bullpen and hit Andres Blanco with a pitch, loading the bases for Pache. He drilled Robinson's 1-1 offering out to left for his first career grand slam, just the second slam in Gwinnett postseason history. When the ball landed in the fifth row of Huntington Park's bleachers, it gave the Stripers an insurmountable 10-0 lead.
Pache's first postseason homer caps a 2nd straight 5-run frame for @GoStripers.

The #Braves' top prospect is #MLB's only prospect with more than one 70-grade tool (he has 3), and while power isn't one of them, he did hit a career-high 12 HR this year: https://t.co/v0mZPDU6po pic.twitter.com/YYbTTmErVT

— MLB Pipeline (@MLBPipeline) September 7, 2019
Starter Kyle Wright, the IL's wins leader with 11 during the regular season, held the vaunted Clippers offense to three runs – two earned – on six hits over 6.0 innings for the victory. Grant Dayton was touched up for three runs in the seventh as Columbus closed to within 10-6, but Patrick Weigel fired 2.1 hitless innings to finish the game.
On the strength of Pache's career-high-tying five RBIs, Gwinnett did indeed extend the series to Game 4, but the next night saw a 4-3 lead slip away in a series-ending 5-4 loss to the Clippers. Columbus advanced to the Finals, where they swept Durham 3-0 to win their 11th Governors' Cup title.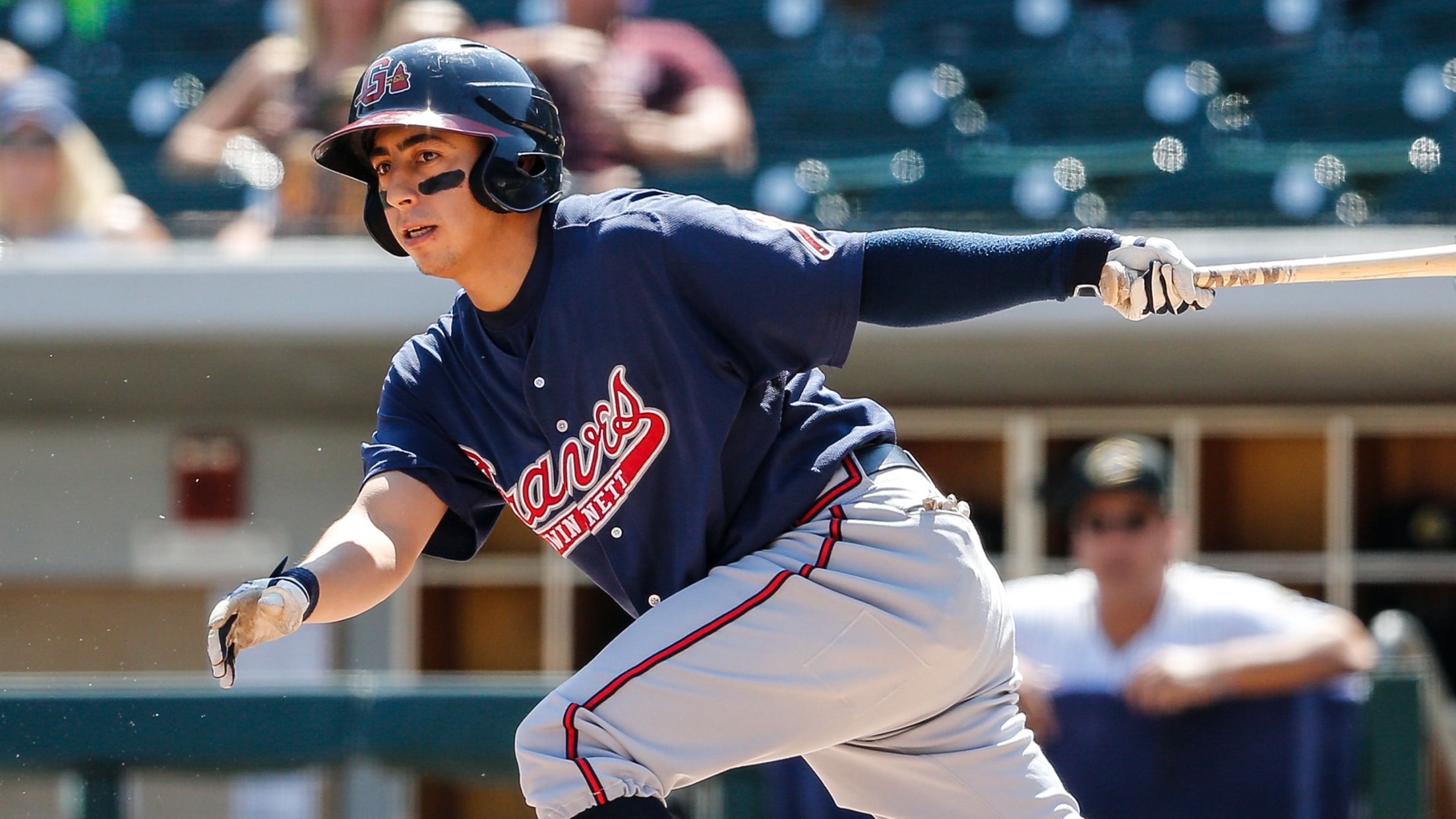 4. First Postseason Homers Highlight Semifinals Opener at Columbus (September 7, 2016)
To say the 2016 G-Braves were an underdog in their Semifinals series vs. Columbus is a massive understatement. Gwinnett, winners of the IL South Division on the final day of the regular season, entered the playoffs with a 65-78 record, the worst ever by a full-season division winner in recorded MiLB history. The Clippers, conversely, had rolled to an 82-62 mark to clinch the IL West, all while shouldering the weight of being the defending Governors' Cup champions.
Adding to the G-Braves' challenge in Game 1 at Huntington Park was an unproven starting pitcher. The pitching-strapped club called upon Cuban right-hander Carlos Portuondo, who had started just once in 17 outings during his MiLB debut that year. His lone start wasn't even at the Triple-A level, it came with the Advanced-A Carolina Mudcats on August 30.
Portuondo was shaky with two runs on three hits and three walks over 2.2 innings, but a strong showing from the bullpen coupled with the first two postseason homers in Gwinnett history – two-run shots by Daniel Castro and Reid Brignac – led the G-Braves to a thrilling 5-4 triumph over the Clippers.
Columbus started right-hander Adam Plutko, who went 6-5 with a 4.10 ERA in 15 starts during his Triple-A debut that year. The G-Braves jumped on him in the second inning as Castro sent a laser down the left-field line for a two-run homer. Castro's clout barely cleared the 325 mark, but gave him the distinction of being Gwinnett's first player to go deep in a playoff game.
The Clippers tied it up at 2-2 in the third, and that score held until the eighth as Bradley Roney (3.1 IP, 1 H, 0 R, 8 SO) and Madison Younginer (1.2 IP, 3 H, 0 R, 1 SO) were each stellar out of the bullpen. Plutko was replaced after 7.0 two-run frames by reliever Austin Adams, who promptly yielded a bunt single to speedster Emilio Bonifacio. Next to the plate was Brignac, a well-traveled Major League utility-man who had homered eight times in 102 games with Gwinnett during the regular season. Brignac drilled a pitch from Adams out to the short porch in left, suddenly putting the G-Braves in the driver's seat with a 4-2 lead.
Castro added insurance with a sacrifice fly in the ninth, and that fifth run would end up being the difference. Closer Maikel Cleto served up a two-run homer to Guillermo Quiroz to make it a 5-4 game in the ninth. The tying run came to the plate in the form of two-time Triple-A All-Star Jesus Aguilar, a 30-homer hitter in 137 games that year. Aguilar nearly tied it up with a towering fly ball to left field, but Matt Lipka had just enough space to make a game-ending catch.
The G-Braves' shocking 5-4 win changed the balance of the Semifinals, immediately putting the Clippers on their heels.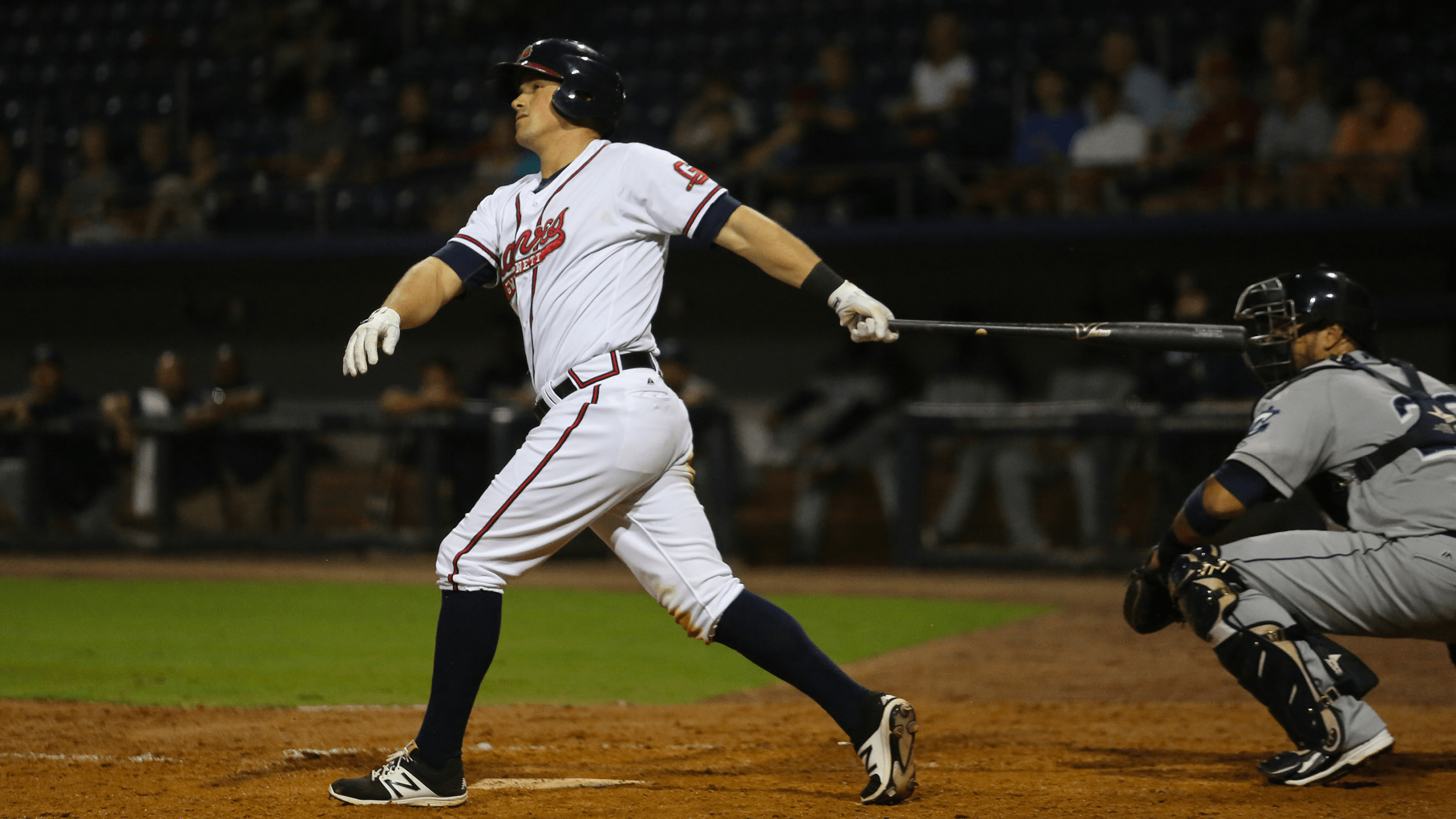 3. Moore's Slam Leads Rout of Columbus in Semifinals Game 3 (September 9, 2016)
Following Gwinnett's slim Game 1 victory, Columbus responded with a 6-4 win in Game 2. Bradley Zimmer's grand slam off Rob Wooten broke a 2-2 tie in the seventh, and the Clippers withstood a late G-Braves' rally to even the series at 1-1. Game 3 at Coolray Field would determine if Game 1 was a fluke, or if Gwinnett could really take out the defending Governors' Cup champs.
In the first playoff game at Coolray Field since September 10, 2009, the G-Braves piled up 11 runs on 12 hits in a series-defining 11-1 thrashing of the Clippers. Mel Rojas Jr. fell a home run shy of the cycle as he went 4-for-5 with two RBIs and Brignac blasted his second homer of the series, but it was Tyler Moore's fifth-inning grand slam that served as the indelible hit of the blowout.
Columbus started left-hander Shawn Morimando, who had gone 5-2 with a 3.51 ERA in 11 impressive starts during his Triple-A debut that year. The G-Braves wasted no time in getting to him, scoring twice in the first inning on a Kazmar Jr. sacrifice fly and run-scoring wild pitch. Three more runs followed in the second as Rojas Jr. smoked a two-run double and scored on a two-out single by 2016 Triple-A All-Star Ronnier Mustelier.
Gwinnett's 5-0 edge was already decisive, but the offense wasn't finished teeing off against Morimando. The G-Braves tacked on six more runs in the fifth to take a commanding 11-0 lead. Rojas Jr. ignited the rally with a one-out triple to center, then scored on another Mustelier single. A two-out single by Kazmar Jr. and walk by Rio Ruiz loaded the bases for Moore, who sent Morimando's final pitch of the night deep to the berm in left-center for the first grand slam in Gwinnett postseason history. Reliever T.J. House replaced the Columbus starter and immediately served up another historic homer as Brignac sent a solo shot to right for the first back-to-back homers in Gwinnett postseason history.
When the dust settled in the fifth, the G-Braves had scored 10 runs on nine hits over 4.2 innings against Morimando. Overshadowed by his offense, Gwinnett right-hander Chris Ellis was brilliant as he fired 7.0 scoreless, three-hit innings, walked none, and struck out eight for the win. Australian southpaw Steven Kent pitched the final two innings, yielding one run on three hits while striking out four.
Gwinnett took a 2-1 Semifinals lead with the 11-1 result, setting several single-game postseason records in the process: largest margin of victory (10), most runs scored (11), fewest runs allowed (1), most hits by an individual player (Rojas Jr.'s four), and most RBIs by an individual player (Moore's four, would be broken by Pache in 2019).
The G-Braves went on to win the series the very next night in Game 4, which shows up later on this list.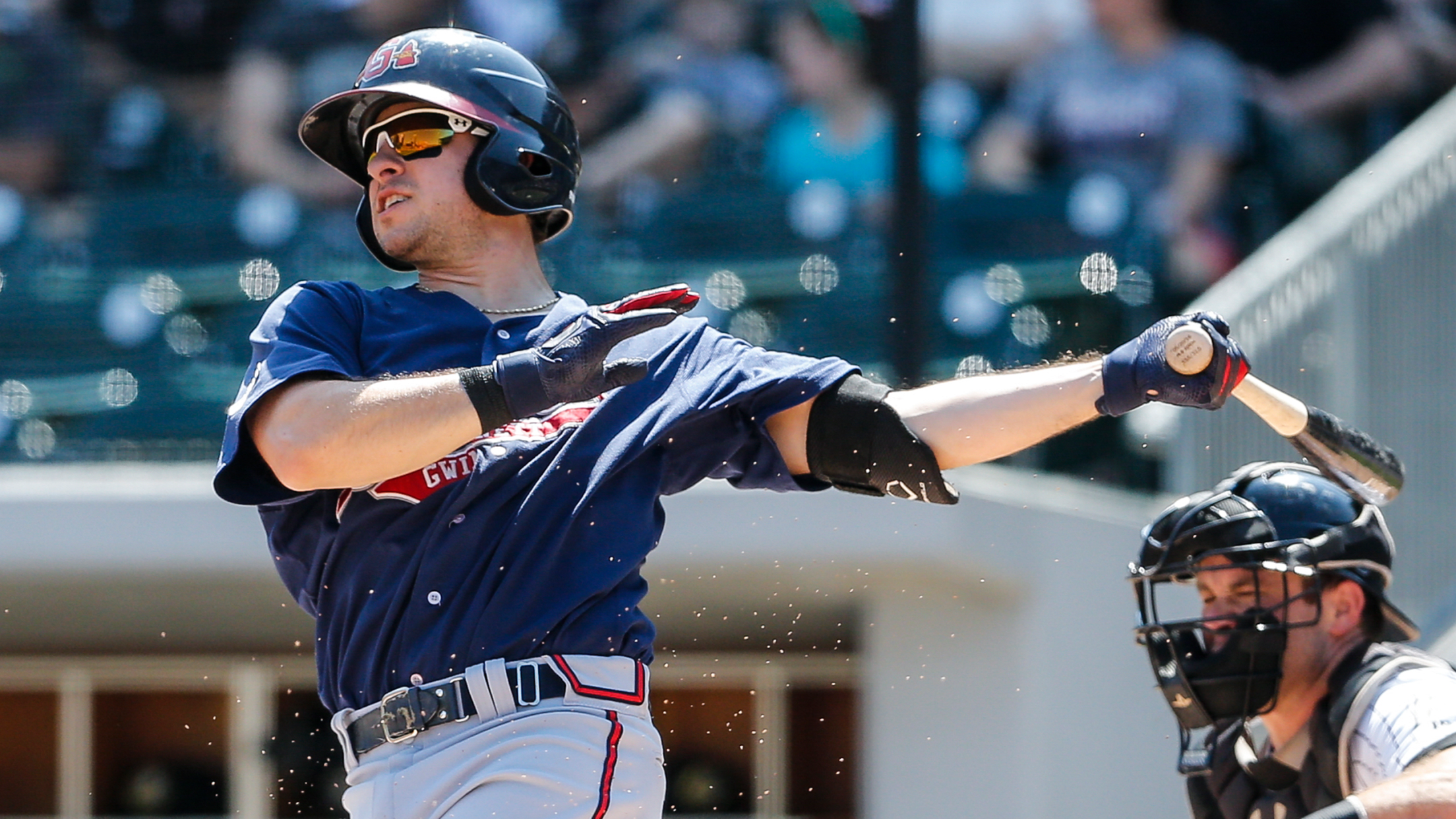 2. G-Braves Stun Scranton/WB in Finals Opener (September 13, 2016)
After taking out Columbus in the Semifinals, Gwinnett advanced to the Governors' Cup Finals for the first time in history. Standing in the way of the G-Braves' first championship was the team with the best regular-season record in the IL, the 91-52 Scranton/Wilkes-Barre RailRiders.
The G-Braves were yet again an enormous underdog, and they were also short one of their veteran clubhouse leaders. Catcher Blake Lalli, who provided key hits in the IL South Division clincher on September 5 at Charlotte and Semifinals Game 4 victory on September 10 vs. Columbus, had his contract selected by the Atlanta Braves. Lalli, who led the IL with a .350 average after the Triple-A All-Star Break, was more than deserving of his first call-up to the Majors since 2013.
The Lalli-less offense looked to be a poor match for Scranton left-hander Jordan Montgomery, who combined to go 14-5 with a 2.13 ERA in 25 starts between the Double-A and Triple-A levels that year. However, much like Game 1 of the Columbus series, the G-Braves found a way to flip the script. Gwinnett ambushed Montgomery with a six-run first inning, riding that outburst to a stunning 7-4 triumph at PNC Field.
Bonifacio drew a walk to start the game and Mustelier reached on a one-out single, setting the stage for Kazmar Jr. Though he seemed ill-fitted for the cleanup spot with just five homers in 93 regular-season games, "Kaz" had rediscovered his power in the postseason. He hammered a pitch from Montgomery out to left-center field for a three-run clout, giving the G-Braves a sudden 3-0 lead.
Later in the first, singles by Rojas Jr. and Moore and a fielding error by RailRiders' second baseman Cito Culver loaded the bases for Lalli's replacement, little-used backup Braeden Schlehuber. Batting in the nine hole, Schlehuber lifted a pop-up to exactly the right spot on the diamond, just out of the reach of shortstop Pete Kozma for a two-run single. Bonifacio followed with an RBI single to make it 6-0, knocking Montgomery out of the game.
With a six-run cushion before he even stepped on the mound, G-Braves' starter Aaron Blair was comfortable and in control. Blair, who opened the season with Gwinnett, rejoined the team on a rehab assignment after going 2-7 with a 7.59 ERA in 15 starts with Atlanta. Looking more like the pitcher who went 3-0 with a 1.42 ERA in three Triple-A starts in April, Blair breezed through 7.0 one-run innings. He yielded a pair of singles and a walk in the eighth, but maintained a 6-1 lead when he exited. Reliever Jason Hursh allowed all three inherited runs to score, trimming the lead to 6-4 and giving Blair a final line of 7.1 innings, six hits, four runs, three walks, and five strikeouts.
Hursh completed the eighth without any further damage, and the G-Braves tacked on an insurance run in the ninth with Moore's RBI double off Johnny Barbato. In the bottom of the ninth, Cleto worked around a hit and a walk for the save as the G-Braves held on, 7-4.
The win, Gwinnett's first in the Governors' Cup Finals, would unfortunately be their last. The G-Braves saw a 1-0 series lead slip away with a disastrous last-at-bat 2-1 loss in Game 2, then never scored again when the series shifted to Coolray Field as Scranton won the Cup with consecutive 3-0 shutouts.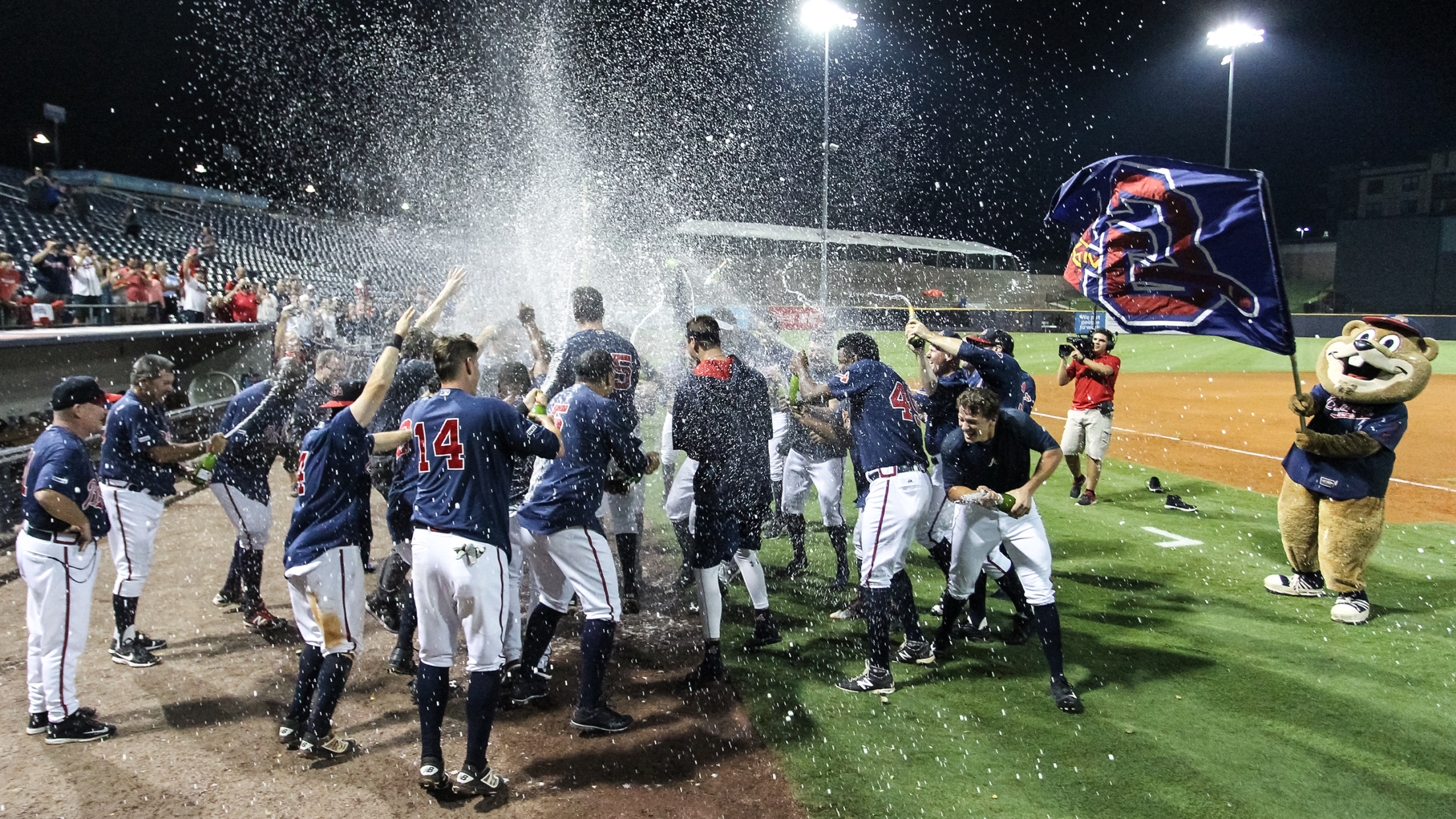 1. G-Braves Clip Columbus to Win Semifinals (September 10, 2016)
The best playoff game in Gwinnett history is the team's only series-clincher to date, a back-and-forth, last-at-bat 5-4 win in Game 4 of the 2016 Semifinals vs. Columbus. The G-Braves overcame an early 3-0 deficit and survived allowing the tying run to score in the top of the eighth, winning on Lalli's sacrifice fly in the bottom of the eighth.
The starting pitching match-up for Game 4 was the strongest of the series, featuring a pair of nine-game winners. Right-hander Tyrell Jenkins, owner of a 9-3 record and 2.47 ERA in 17 games with Gwinnett, went up against Columbus righty Toru Murata, who went 9-4 with a 3.78 ERA in 33 games.
Both pitchers, however, were touched up early. Jenkins yielded three runs over the first two innings on RBI singles by Gio Urshela, Yandy Diaz, and Yhoxian Medina. Murata pitched two scoreless frames before serving up RBI singles to Lalli and Kazmar Jr. in a two-run third. In the fourth, Kyle Kubitza doubled off Murata and scored the tying run on a single by Rojas Jr.
A 3-3 score held until the fifth, when Murata made his biggest mistake of the night. He left a 2-2 fastball out over the plate for the red-hot Kazmar Jr., who belted it out to left-center for a solo home run. Kaz's second round-tripper of the playoffs gave the G-Braves their first lead of the night at 4-3.
Jenkins exited in line to win after 5.0 innings with three runs – two earned – on six hits, four walks, and three strikeouts. Stephen Janas, the man who had closed Gwinnett's IL South Division-clinching win at Charlotte on September 5, put zeroes on the board in the sixth and seventh. He wasn't as fortunate in the eighth as Urshela led off with a double and scored on a double by Michael Choice, tying the game once more at 4-4. Younginer replaced Janas with two on and one out in the inning and issued a walk to load the bases, but escaped the jam with a strikeout of Zimmer and a groundout from Colin Cowgill.
The resilient G-Braves wasted no time getting their lead back in the bottom of the eighth. Facing reliever Jeff Johnson, Rojas Jr. coaxed a leadoff walk and raced to third on a Mustelier single that was misplayed by Cowgill in right field. Next up was the left-handed hitting Lalli, who calmly swung at Johnson's first pitch and drove it the opposite way to left field. Joey Butler made a backpedaling catch short of the warning track, giving him no chance to throw out Rojas Jr. as he tagged and scored.
Tasked with holding the 5-4 lead in the ninth was Roney, who had struck out eight over 3.1 one-hit innings in a dominant Game 1 performance. Though facing the dangerous top of the order for the Clippers, he retired all three in short order, striking out Diaz and getting consecutive groundouts to short from Medina and Urshela. Brignac made the series-clinching play, throwing on target to Kubitza at first and setting off the on-field champagne celebration.
Lalli finished the game 2-for-3 with two RBIs, Kazmar Jr. went 4-for-4 with a homer and two RBIs, and the bullpen trio of Janas, Younginer (win), and Roney (save) combined on 4.0 one-run innings to give Gwinnett its' first playoff series victory.