Wilson Tosses Gem in Gwinnett's 12-1 Rout of Rochester
Bryse Wilson works 7.0 scoreless, four-hit innings as Stripers complete sweep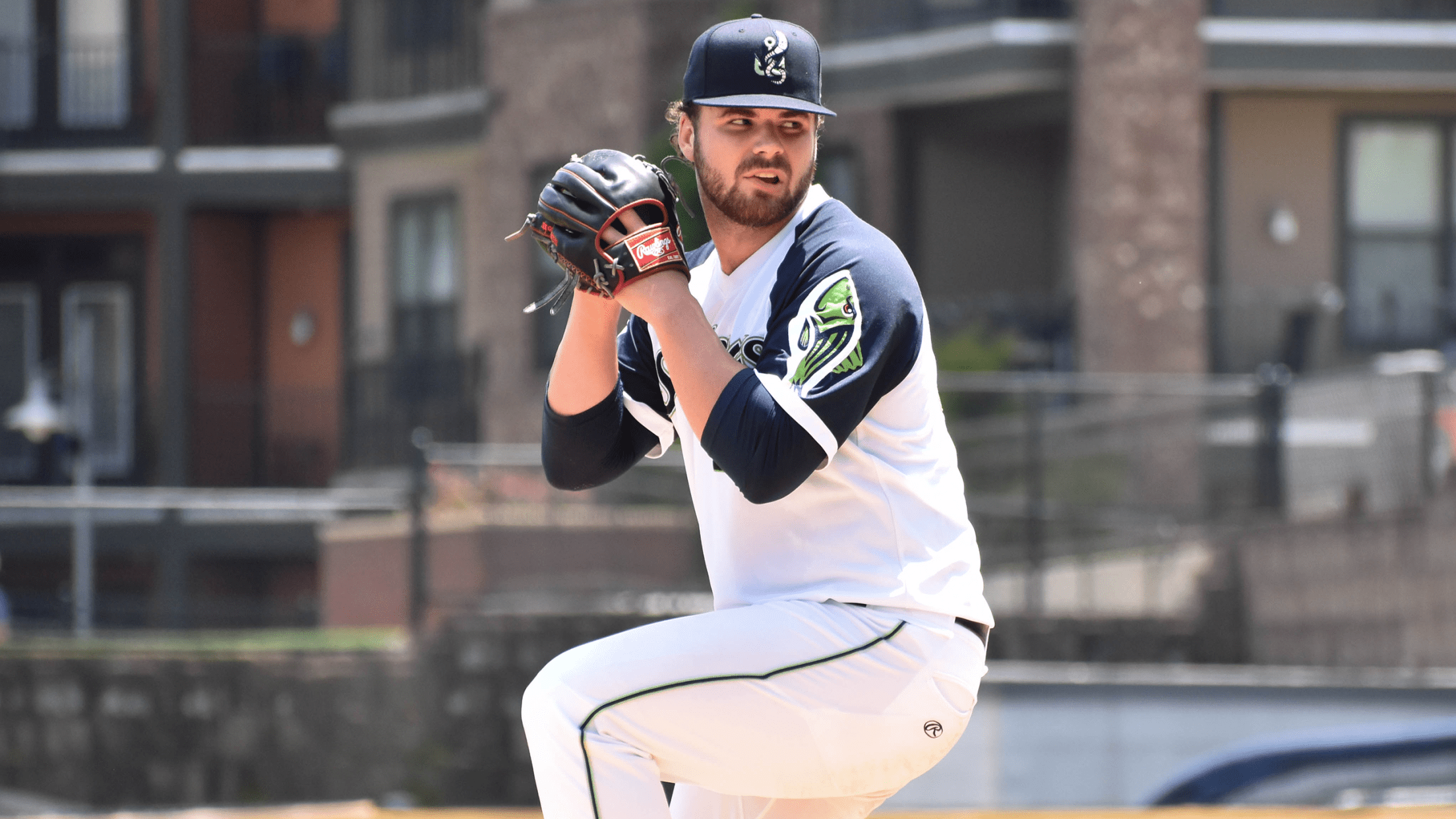 Wilson tossed 7.0 scoreless innings in the win. (Josh Conner/Gwinnett Stripers)
LAWRENCEVILLE, Ga. - Bryse Wilson pitched 7.0 scoreless innings and the Gwinnett offense tallied 13 hits as the Stripers (59-41) routed the Rochester Red Wings (48-52) 12-1 on Sunday afternoon at Coolray Field. The Stripers swept the three-game series and moved a half-game ahead of Durham (59-42) for first place
LAWRENCEVILLE, Ga. - Bryse Wilson pitched 7.0 scoreless innings and the Gwinnett offense tallied 13 hits as the Stripers (59-41) routed the Rochester Red Wings (48-52) 12-1 on Sunday afternoon at Coolray Field. The Stripers swept the three-game series and moved a half-game ahead of Durham (59-42) for first place in the International League South Division.
Scoring Recap: Gwinnett took a 2-0 lead in the bottom of the third inning on an RBI double by Ryan LaMarre and a sacrifice fly by Rafael Ortega. The Stripers broke it open at 9-0 with a seven-run fourth, highlighted by a two-run single from Luis Marté and a two-run double by Ortega. The lead grew to 12-0 as Gwinnett scored once in the fifth and twice in the sixth. Rochester ended the shutout in the eighth on a sacrifice fly from Brian Schales, making it 12-1.
StripersStats: Wilson (W, 5-7) scattered four hits, walked none, and struck out four in 7.0 innings for his first win with Gwinnett since June 22. Ben Rowen worked 1.0 inning and allowed a run on two hits. Dan Winkler tossed a scoreless ninth. Ortega went 3-for-3 with two doubles and three RBIs, Marte went 4-for-4 with two RBIs, and LaMarre went 1-for-3 with a double and two RBIs.
Red Wings Stats: Sean Poppen (L, 5-1) pitched 3.1 innings and yielded eight runs on six hits. Zander Wiel went 2-for-4 with two doubles and a run scored.
Quote: "I came in, established the fastball and attacked the zone," Wilson said. "I was comfortable throughout the game and my velocity was where I wanted it to be."
Postgame Notes: Marte went 7-for-7 with a double, three runs, and four RBIs in two games during the series. Ortega leads the IL in runs (75), doubles (30), extra-base hits (51), and total bases (198). Wilson's 7.0-inning effort marked his longest scoreless outing of the year. Gwinnett recorded its second sweep of Rochester in club history, first since sweeping a four-game series at Coolray Field from July 27-30, 2010.
Next Game (Tuesday, July 23): Gwinnett at Louisville, 7:00 p.m. at Louisville Slugger Field. RHP Huascar Ynoa (2-2, 5.20 ERA) for the Stripers vs. TBD for the Bats. Radio Broadcast: 6:45 p.m. on 97.7 and 93.5 FM "The Other Side of the River."