Five-Run Inning Eliminates Suns
Hagerstown falls to Kannapolis 5-4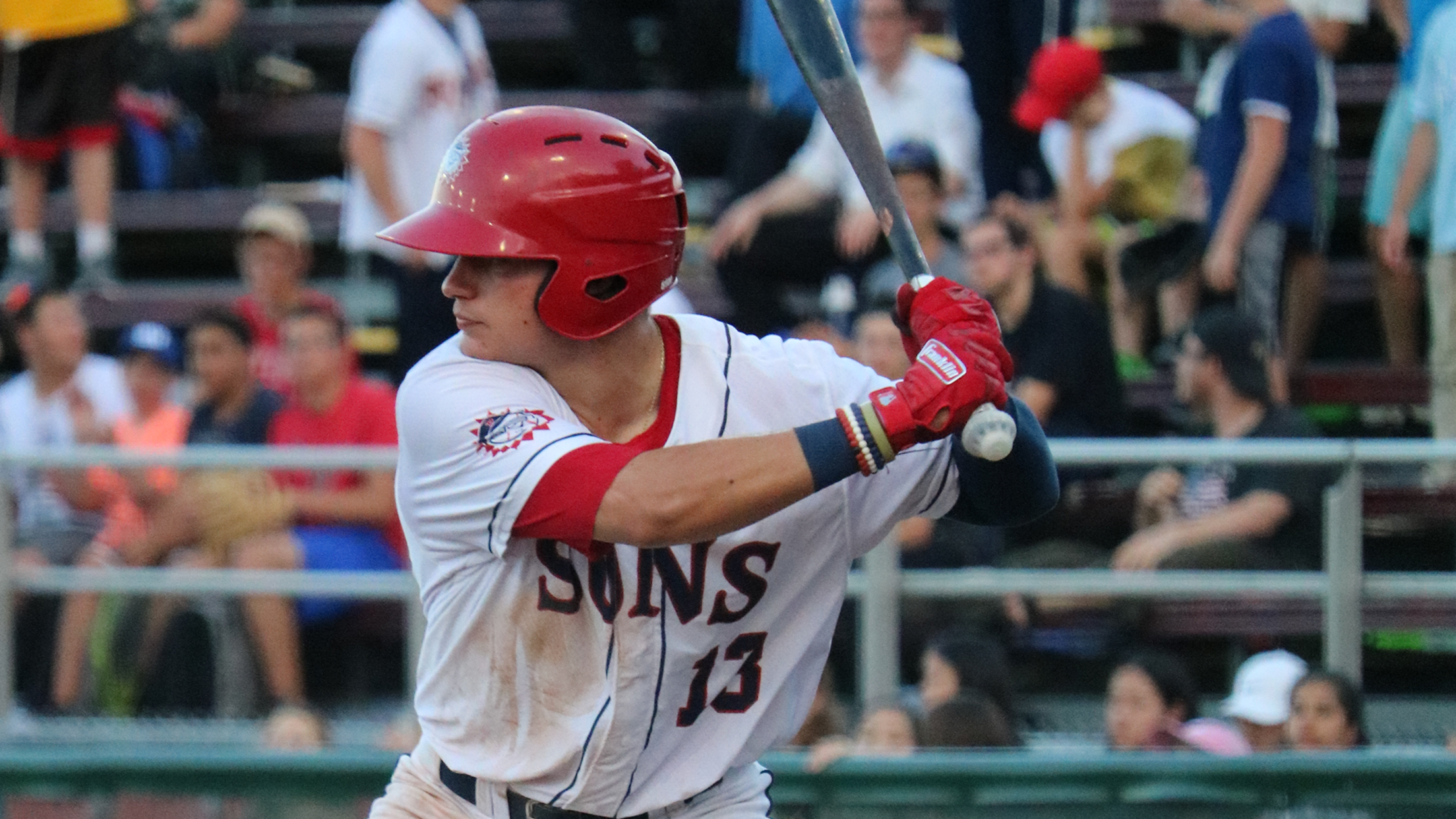 Jacob Rhinesmith drove in three runs in Hagerstown's loss to Kannapolis Tuesday. (Abby Choi/Hagerstown Suns)
HAGERSTOWN, MD (August 27, 2019) - The Suns were not able to overcome a five-run Kannapolis fourth inning in their 5-4 loss to the Intimidators at Intimidators Stadium Tuesday.Hagerstown (62-72, 32-32) entered the fourth leading 1-0, but Alfonso Hernandez (L, 0-2) entered out of the bullpen and was ambushed by the
HAGERSTOWN, MD (August 27, 2019) - The Suns were not able to overcome a five-run Kannapolis fourth inning in their 5-4 loss to the Intimidators at Intimidators Stadium Tuesday.
Hagerstown (62-72, 32-32) entered the fourth leading 1-0, but Alfonso Hernandez (L, 0-2) entered out of the bullpen and was ambushed by the Kannapolis (60-72, 32-32) offense. After back-to-back hits to start the frame, Cameron Simmons tied the game with a sacrifice fly. Three batters later, Amado Nunez came through with a two-RBI double to put the Intimidators up 3-1.
With two outs, Lenyn Sosa delivered another blow with a two-run single to make the score 5-1. Hernandez settled down after that and pitched three consecutive scoreless innings, but the damage done in the fourth was too much for the Suns to overcome.
Hagerstown took that initial 1-0 lead on a Jacob Rhinesmith solo home run in the second. With the long ball, Rhinesmith became the first Suns player this season to reach 10 home runs. Ryan Williamson, who got the start, was able to hold that lead with three scoreless innings before the Suns turned it over to the bullpen.
The Hagerstown offense woke up again in the sixth against Intimidators starter Johan Dominguez (W, 5-5). Jackson Cluff led off the inning with a triple and Drew Mendoza brought him home with an RBI single. Rhinesmith then came through with a sacrifice fly later in the frame to make it a 5-3 scoreline.
Rhinesmith brought in another run in the eighth with an RBI fielder's choice, but the Suns left two on base in the frame. Austin Conway (S, 11) came on to get those final two outs in the eighth and then closed it out with a scoreless ninth. With the loss, Hagerstown is officially eliminated from postseason contention.
Game three of four between Hagerstown and Kannapolis will start at 7:05 p.m. tomorrow. The Suns will send RHP Jackson Rutledge (2-0, 2.42 ERA) to the hill while the Intimidators will counter with RHP Kevin Folman (0-4, 5.40 ERA).
After this series ends, the Suns will close out their season with a four-game set against the Lakewood BlueClaws Friday-Monday. The homestand will have two special jersey auctions, the final fireworks show of the year and a Paul "Ears" McNeal bobblehead giveaway. For tickets or more information call 301-791-6266 or visit hagerstownsuns.com.