Suns Claim 4-1 Win Behind Mendoza Bomb
Mendoza Goes Deep, Pitching Dominates Power Bats in Win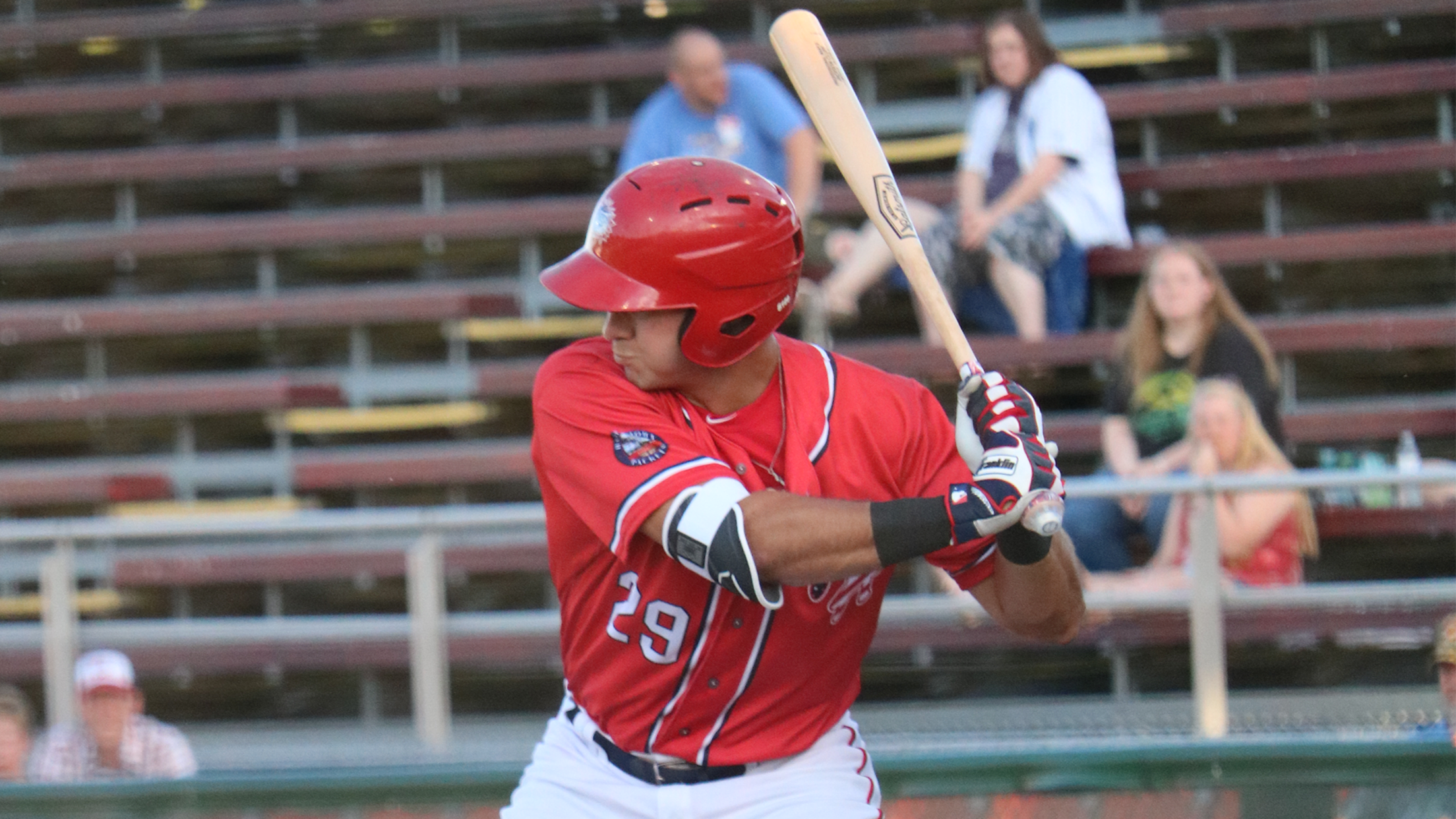 Drew Mendoza smashed a two-run homer to right-center to put the Suns in front early at Appalachian Power Park. (Patrick Cavey)
CHARLESTON, WV (August 16, 2019) - The Suns pitching staff shut down the West Virginia Power in a 4-1 victory at Appalachian Power Park Friday night.Jackson Stoeckinger (W, 2-2) spun five, one-run innings to start the game off. He wrung up four Power (62-62, 25-29) batters before exiting the game and handing
CHARLESTON, WV (August 16, 2019) - The Suns pitching staff shut down the West Virginia Power in a 4-1 victory at Appalachian Power Park Friday night.
Jackson Stoeckinger (W, 2-2) spun five, one-run innings to start the game off. He wrung up four Power (62-62, 25-29) batters before exiting the game and handing the ball to Nick Wells. The lefty struckout two batters in 2.2 innings of work.
Pearson McMahan (S, 2) closed out the game, retiring all four batters he faced to earn the save.
The bats started early for Hagerstown, after Justin Connell drew a one out walk in the second, Drew Mendoza blasted a ball over the right-center fence to put Hagerstown in front 2-0.
After a lull, the Suns (26-28, 56-68) kept things rolling in the eighth. Armond Upshaw and Mendoza walked aboard for Jacob Rhinesmith, who singled to score Upshaw, which gave him his 61st RBI of the season. After that Israel Pineda dropped a ball in center field to score Mendoza and put Hagerstown in front 4-1.
The loss was handed to Josias De Los Santos (L, 4-7) after he gave up the homer to Mendoza and exited the game through five innings.
Tomorrow the Suns go for the series win at Appalachian Power Park at 6:05 p.m. RHP Tomas Alastre (4-12, 5.97 ERA) gets the ball for Hagerstown, while RHP Matt Martin makes his debut for the Power.
The Suns return home for a six-game homestand August 20. During the stretch they'll face the Greenville Drive and the Delmarva Shorebirds and will host the final Fireworks night of the season Friday, August 23. The following day, Hagerstown will give away a Mike Mussina bobblehead to the first 1,000 fans in the gates. Gates open at 5:00 p.m. The homestand will also feature Thirsty Thursday and Sunday Funday.