Suns Drop Kannapolis Finale 5-4
Intimidators Close Season with Close Win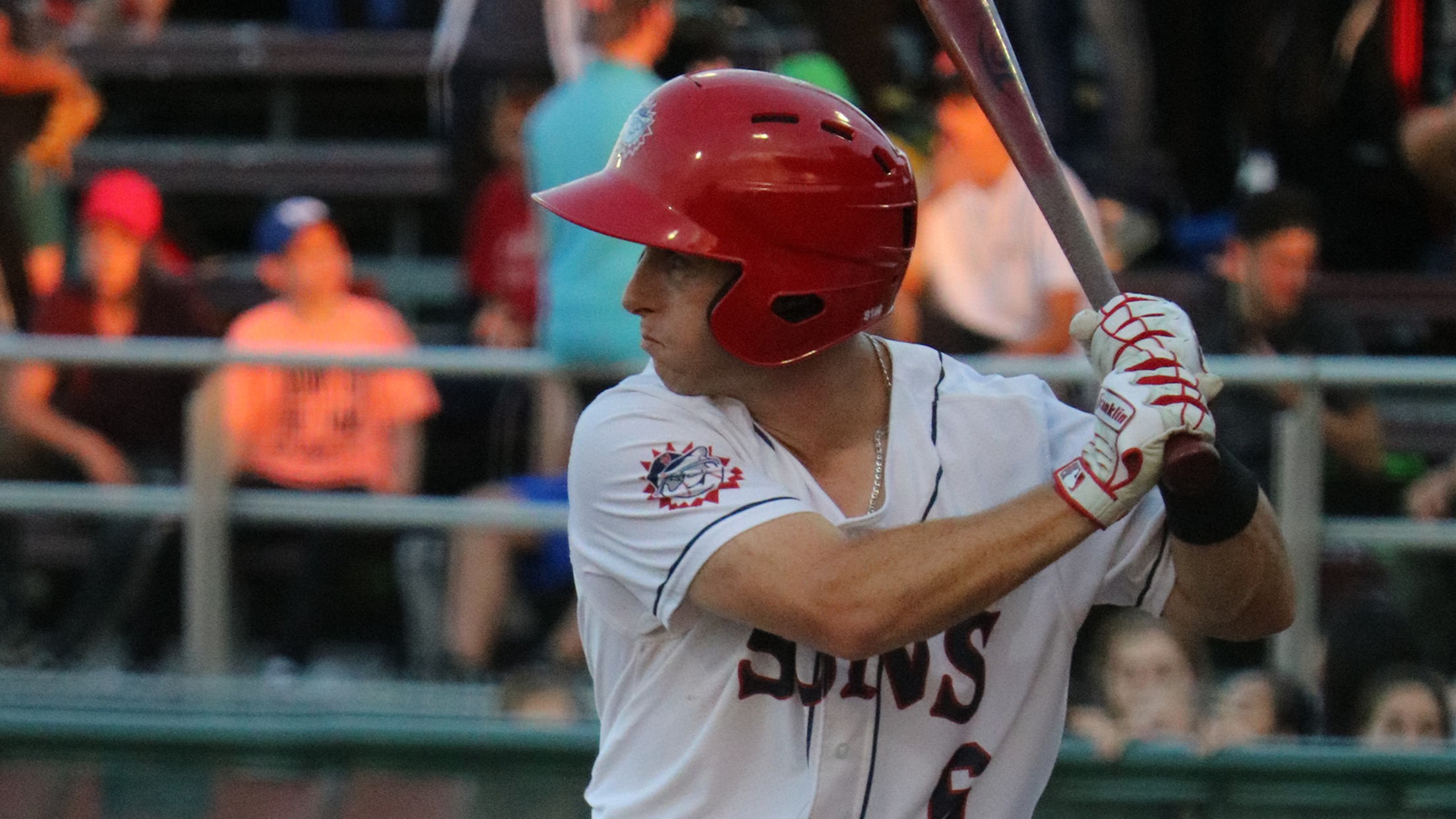 Phil Caulfield drew a bases loaded walk to bring the Suns within one in their loss to Kannapolis Thursday night. (Abby Choi/Hagerstown Suns Staff)
KANNAPOLIS, NC (August 29, 2019) - A sixth inning rally could not lift the Suns over the Intimidators in a 5-4 loss in Kannapolis Thursday evening.Jackson Stoeckinger (L, 2-3) got into trouble early, issuing a walk with the bases loaded to allow Kannapolis's first run to score in the home half of
KANNAPOLIS, NC (August 29, 2019) - A sixth inning rally could not lift the Suns over the Intimidators in a 5-4 loss in Kannapolis Thursday evening.
Jackson Stoeckinger (L, 2-3) got into trouble early, issuing a walk with the bases loaded to allow Kannapolis's first run to score in the home half of the first frame. The Intimidators (62-72, 34-32) would add two more in the third from Tyler Osik's second homer in as many games.

Hagerstown (62-74, 32-34) mustered a comeback and clawed to within one, scoring a pair in the sixth. Jacob Rhinesmith and Israel Pineda hit back-to-back two out singles before Kyle Marinconz drew a walk to load the bases. After a mound visit, Cole Daily drove in a run dribbling a base knock back to the pitcher before Phil Caulfield drew a bases loaded walk to bring the score to 5-4.
The Suns capitalized on a pair of miscues from Kannapolis starter Devon Perez and reliever Hansen Butler (W, 1-1) tossed wild pitches that led to runs in back-to-back innings.
Once Hagerstown got to the bullpen, they did not surrender a run Pearson McMahan worked 2.1 innings before handing the ball to Matt Cronin, who fanned a pair in the eighth.
Justin O'Conner (S, 1) finished a scoreless ninth to get the save for Kannapolis.
Tomorrow the Suns return home to start off a four-game set with the Lakewood BlueClaws. RHP Tomas Alastre (5-12, 5.48 ERA) gets the nod for Hagerstown while Lakewood opts to throw LHP Erik Miller (1-0, 3.38 ERA).
After this series ends, the Suns will close out their season with a four-game set against the Lakewood BlueClaws Friday-Monday. The homestand will have two special jersey auctions, the final fireworks show of the year and a Paul "Ears" McNeal bobblehead giveaway. For tickets or more information call 301-791-6266 or visit hagerstownsuns.com.