Crawdads Slam Door in 14-6 Win
Hauver Drives in 5 as 'Dads Take Game 2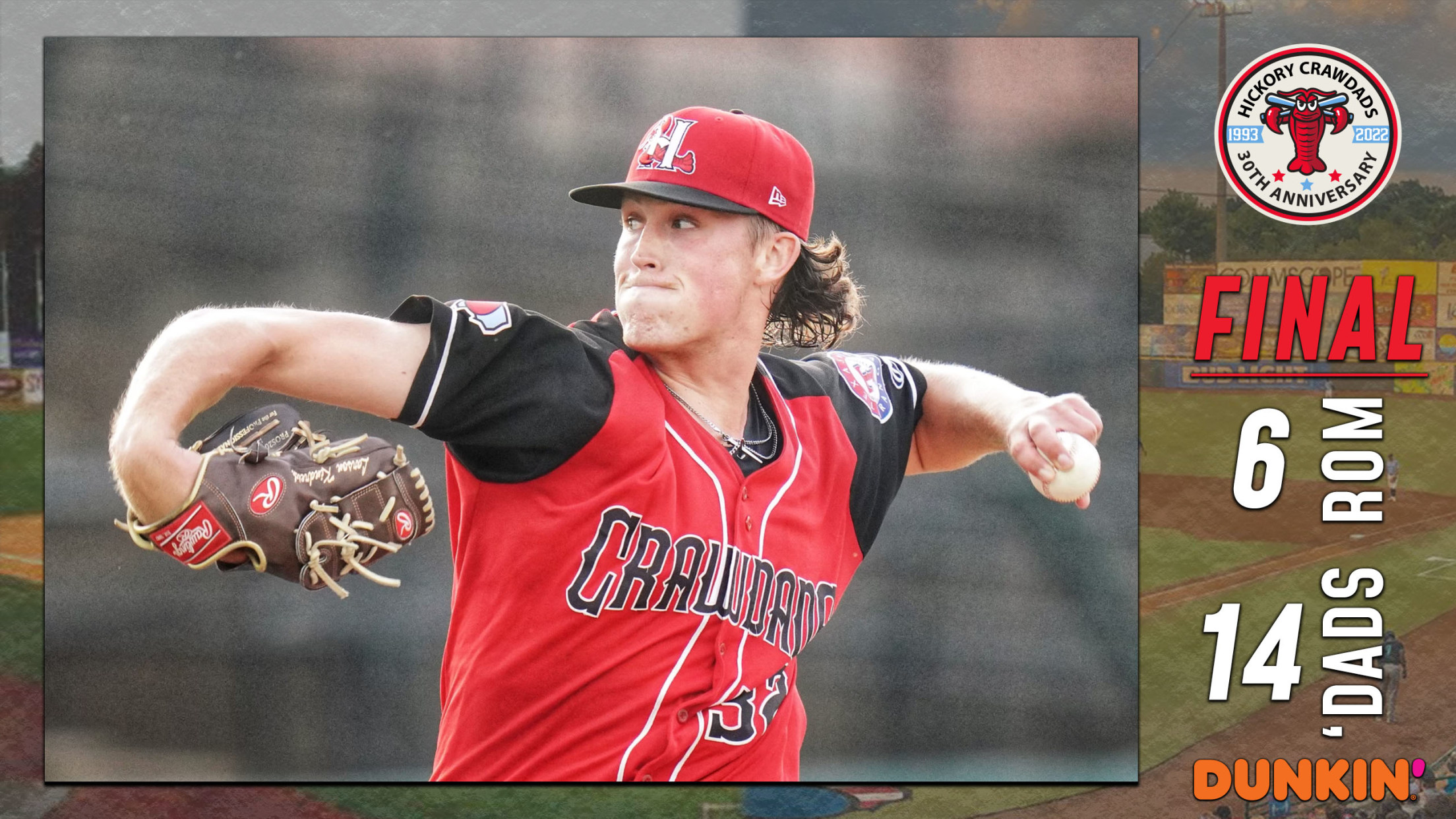 Hickory, NC- The Crawdads slugged their way to their third straight win as they took down the Rome Braves 14-6 on Wednesday night. The Crawdads started red hot, erupting for seven runs in the first inning. They began the inning by getting the first seven batters on base. Luisangel Acuña
Hickory, NC- The Crawdads slugged their way to their third straight win as they took down the Rome Braves 14-6 on Wednesday night.
The Crawdads started red hot, erupting for seven runs in the first inning. They began the inning by getting the first seven batters on base. Luisangel Acuña singled and moved to third as Evan Carter reached on a throwing error. Thomas Saggese singled to left, bringing in the first run of the inning. Aaron Zavala walked, to load the bases. Trevor Hauver sent a 2-2 pitch over the right-center field wall for his twelfth homer and second grand slam of the season. The 'Dads continued to jump on the Braves starter, as Cristian Inoa and Frainyer Chavez hit consecutive singles to put runners on the corners. Jayce Easley, the ninth hitter of the inning, hit a sacrifice fly to score Inoa. Acuña followed up with his second base hit of the inning to make it a 7-0 game.
Rome scored three in the top of the second but still trailed the Crawdads by four.
The 'Dads pushed back in the bottom half the inning, scoring two more runs. Saggese led the frame off with a double and dashed home on a bunt single by Aaron Zavala. A throwing error on the play let Zavala take 3rd. Hauver hit a fly ball to right that allowed Zavala to tag up and score.
In the fourth inning, the Crawdads scored again to bring the game to 11-3. Hauver began the inning with a walk and ran to second on a wild pitch. Inoa picked up a base hit to put runners on the corners. Chavez followed up with a single of his own to drive in Hauver and send Inoa to third. Randy Florentino grounded into a force out but Inoa was able to score on the play.
Rome scored one in the fifth and two in the seventh but the score remained 11-6.
The Crawdads responded in the eighth inning with another run. Saggese singled to kick off the inning. Angel Aponte hit a sharp grounder to the third baseman that he bobbled and threw wide to first, allowing Saggese to take third and Aponte to reach safely. Hauver grounded into a force out at second but Saggese went to third on the play. Inoa singled to score Hauver and push the Crawdads' lead back to six. Hauver moved up to third on a single by Florentino and came home on a wild pitch. Easley walked to load the bases for Acuña, who also drew a walk to bring in a run.
Tomorrow night will be game 3 of the series. It will be 'Dad Bod Night and Thirsty Thursday present by Fyreside Taproom and Focus News. It will also be a Peoples Bank Thursday.