Crawdads Take No-No Into 7th in Win Over Grasshoppers
Team Rides Season High Hits to 7-2 Victory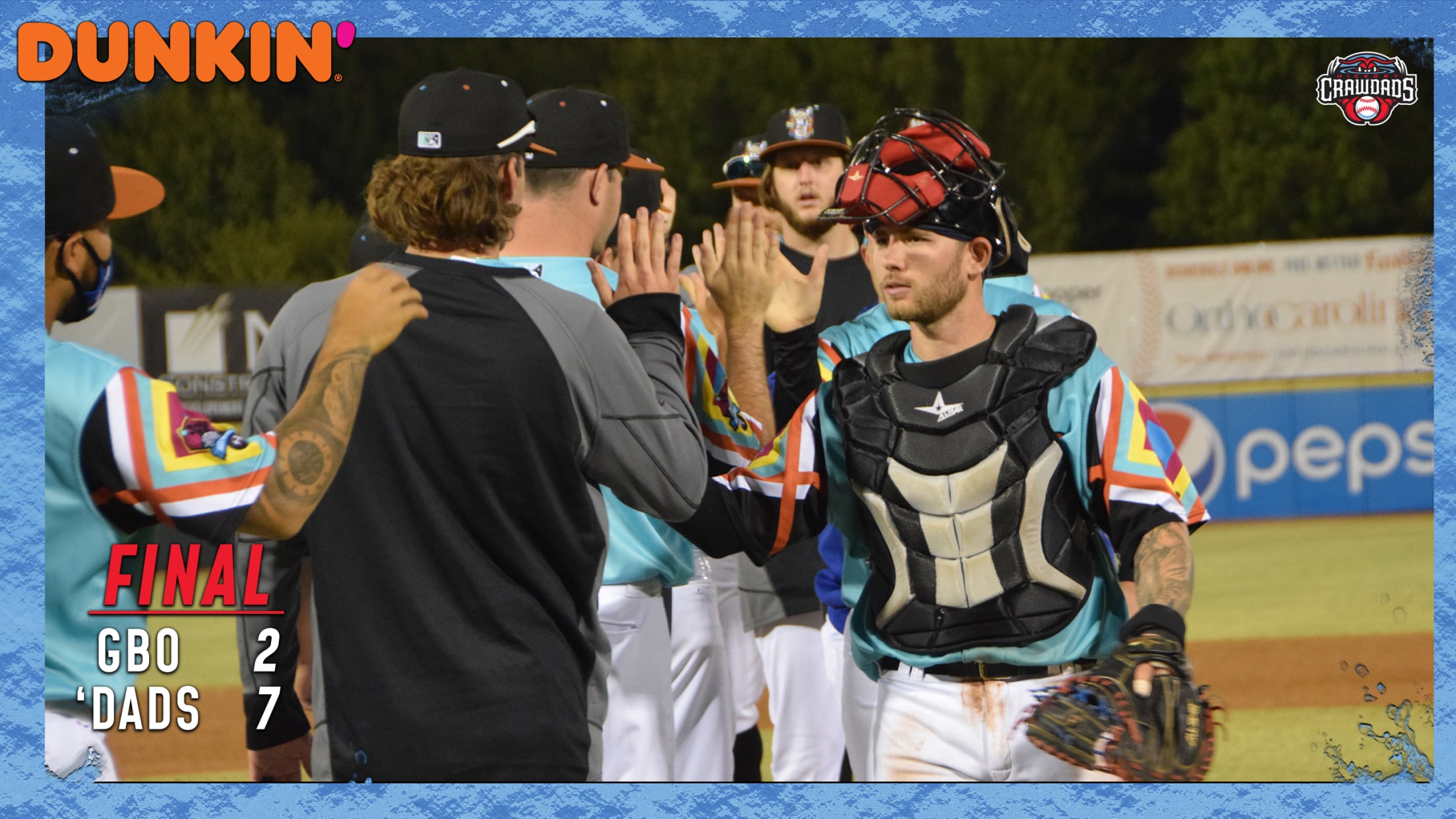 Hickory, NC- The Crawdads two-hit the Greensboro Grasshoppers on Saturday night as they took home a 7-2 victory. For the second night in a row, the Crawdads struck first, getting a run across in the bottom of the second inning. Jake Guenther drew a two out walk to get the
Hickory, NC- The Crawdads two-hit the Greensboro Grasshoppers on Saturday night as they took home a 7-2 victory.
For the second night in a row, the Crawdads struck first, getting a run across in the bottom of the second inning. Jake Guenther drew a two out walk to get the first runner of the inning aboard. Scott Kapers hit a soft ground ball down the left field line that rolled into third base, staying fair and giving Kapers an infield single. Jose Acosta singled to right for his first Crawdads hit and RBI.
The 'Dads doubled their lead in the fifth inning with another run. Frainyer Chavez led off the inning with a double to left. Blaine Crim advanced him to third with a deep fly ball to the center fielder. David Garcia drove in Chavez with a line drive to center.
The momentum continued into the sixth inning with three more runs. Guenther and Kapers drew back-to-back walks and Acosta reached on a throwing error that brought Guenther in and moved Kapers to third. Jonathan Ornelas was hit by a pitch and Chavez walked to load the bases for the 'Dads. Crim hit into a grounder but Acosta was able to come in to push the score to 5-0. The Crawdads got all three runs across without recording a hit in the inning.
Guenther drew his third walk of the night in the seventh to start the 'Dads fourth rally of the night. A wild pitch allowed him to take second. Kapers singled him in and gave the Crawdads a six-run lead.
The offense stayed hot in the eighth, adding on another run. Ornelas singled and came around a double by Crim. The Crawdads nine hits on the evening set a season high for the team.
On the mound the Crawdads took a no hitter into the seventh inning. Avery Weems got the start for the Crawdads, tossing three hitless innings while striking out five. Seth Nordlin came in and recorded ten outs before yielding a double with one out in the seventh. Nordlin got out of the inning, finishing his night with just the one hit allowed in four innings while striking out eight. Tyler Thomas came into the game in the eighth and pitched a scoreless inning before allowing two runs in the ninth. The 'Dads held on to win the game 7-2.
The homestand will wrap up tomorrow afternoon with a 3pm first pitch. It is Hot Rods and Hot Dogs night so come out for some classic cars and $1 hot dogs. Fans can also bring their church bulletin to the K&L Dunrite Ticket Office for a $6 ticket, $4 of which will be donated back to the bulletin's respective church. Kids can also wear their little league uniform to a local Sheetz for a free ticket to the game.