Hops end Four-Game Slide with Offensive Breakout
Brent Teller Picks up Win in Debut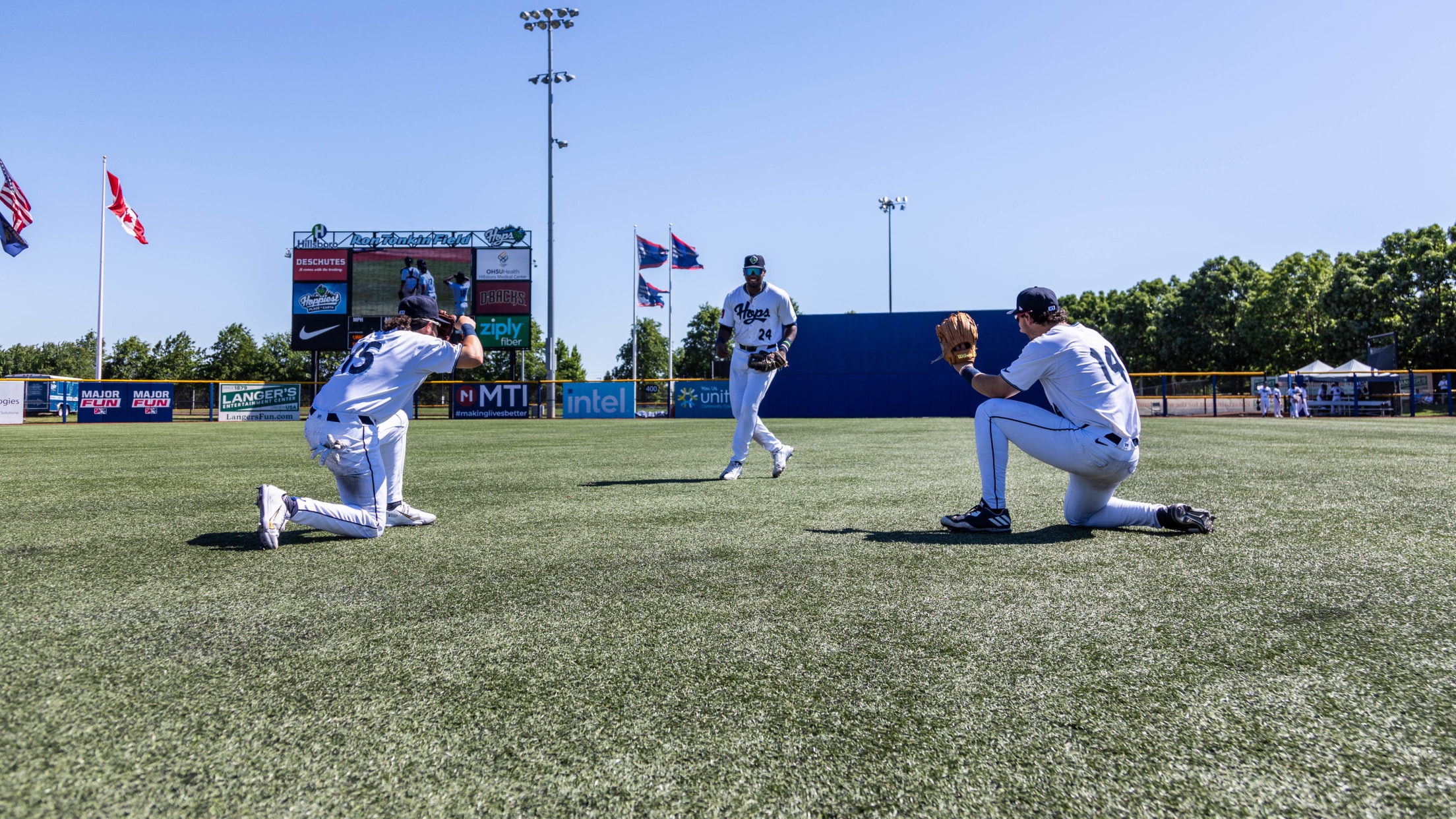 Hillsboro, OR (June 26, 2022) – The Hops' bats came alive in game six of the series, as they got eight runs on 13 hits. Eight-of-nine Hillsboro batters got a hit in the game, with five players getting two hits (Bliss, Del Castillo, English, Coursey and Semones). Brent Teller picked
Hillsboro, OR (June 26, 2022) – The Hops' bats came alive in game six of the series, as they got eight runs on 13 hits. Eight-of-nine Hillsboro batters got a hit in the game, with five players getting two hits (Bliss, Del Castillo, English, Coursey and Semones). Brent Teller picked up his first affiliated professional career win in his Hops' debut. Ryan Bliss and Cam Coursey both reached base four times in the game, while scoring two runs each. Neyfy Castillo extended his hit streak to 13 games, in the 8-3 Hillsboro win.
Ryan Bliss led off the game with a double, one of the four times he reached base. Bliss came around to score on an RBI ground out by Neyfy Castillo.
Vancouver responded in the second inning, with Miguel Hiraldo tripling home a pair of runs. Hiraldo picked up his second triple of the series, the 8th as a team for the Canadians.
Naswell Paulino made his third start of the season at Ron Tonkin Field for Vancouver and allowed another run in the bottom of the second, as Cam Coursey left the yard. Coursey, hit his first home run of 2022, a solo shot to tie the game at two.
The scoreless tie was broken by Tristin English in the fifth, a two-RBI double to the left field corner.
Paulino's night would be complete after 4.1 innings, allowing six hits, 4 walks and four earned runs.
Hops' starter, Brent Teller, was solid in his first game for Hillsboro. Teller pitched five innings, allowing just three hits and two runs, while striking out four.
Hillsboro started a hit parade against Vancouver reliever Justin Kelly in the seventh inning. Back-to-back-to-back singles in both the seventh and eighth innings against Kelly, with Ortiz, Coursey and Semons picking up RBIs, extending the lead to 7-2.
Steward Berroa recorded his fifth extra-base hit of the series with a solo shot in the eighth, the final extra-base hit of the series for Vancouver, giving them 28 over the last five games.
Cam Coursey wasn't done producing offensively, as he came through with an RBI single in the eighth to make it 8-3 Hops.
Hillsboro picked up their first win of the second half, which started on Friday. The winner of the second half will play Eugene, the winner of the first half, in the Northwest League Championship in September. Hillsboro is 1-2 in the second half.
Hillsboro (30-37/1-2) will head to Pacso to face Tri-City (30-35/1-1) for a six-game series starting on Tuesday. Game one will start at 7:05 on Rip City Radio 620.