Hops Hit Parade Evens Series
Hops ride 18-hit night to 8-2 win at Spokane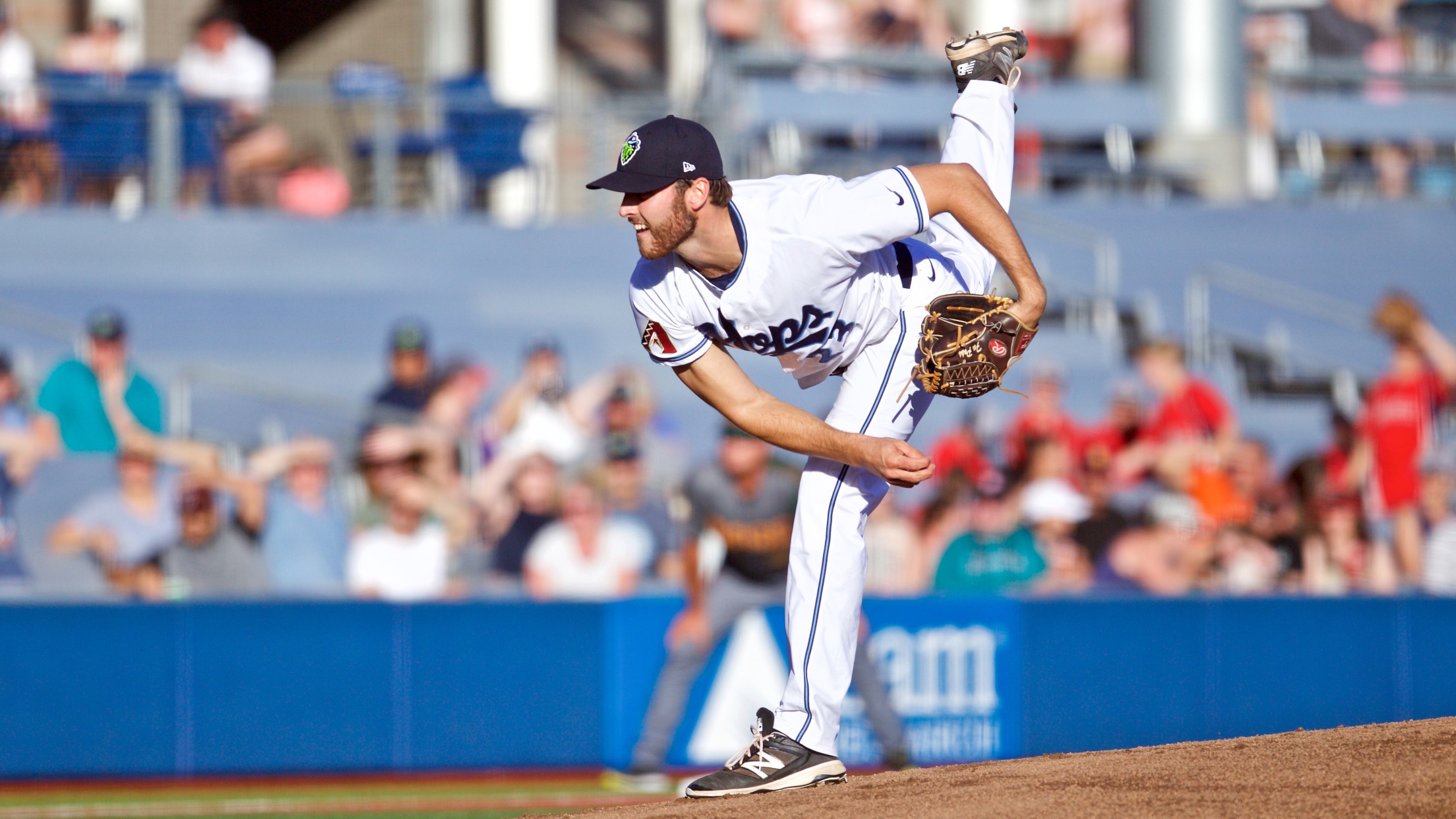 Tyler Keele (Sam Ortega)
A no-hitter, flawless defense and a multitude of hits normally means an easy win. Nothing has been easy in this five-game series at Spokane for the Hillsboro Hops.Tyler Keele took a no-hitter into the sixth inning and the Hops pounded out 18 hits against three Spokane pitchers in an 8-2
A no-hitter, flawless defense and a multitude of hits normally means an easy win. Nothing has been easy in this five-game series at Spokane for the Hillsboro Hops.
Tyler Keele took a no-hitter into the sixth inning and the Hops pounded out 18 hits against three Spokane pitchers in an 8-2 victory at Avista Stadium to even the series at two games apiece headed into Monday's finale.
Keele retired the first 14 hitters he faced before hitting back-to-back batters with two outs in the fifth inning. No-hitter still intact in the sixth, Chad Smith sent a two-out ground ball toward second base. Hops' second baseman Camden Duzenack sprinted to his right to backhand it and with his momentum carrying him into center field, launched a one-out throw to first that could not nab the speedy Smith.
Keele allowed just two hits over seven innings pitched, the second a leadoff home run by Spokane's Andretty Cordero in the seventh that ended a shutout bid. He struck out seven batters without a walk.
The Hops had hits in every inning except the eighth. THey had multiple hits in six conscecutive innings and put runners in scoring position in all but two innings. Yet they were clinging to a 3-0 lead when Drew Ellis led off the seventh with his first professional home run to left field off Spokane reliever Argenis Rodriguez, the first of four hits in the inning, that also featured RBI singles by Duzenack and leadoff batter Yan Sanchez.
The Hops finally breathed a sigh of relief after the four-run inning gave them a 7-0 lead. But after Cordero's homer put the Indians on the board, they loaded the bases with none out in the eighth inning after reliever Pierce Romero surrendered a leadoff single, a four pitch walk, then plunked a batter. Cal Becker came on to get the Hops out of the jam, limiting the Tribe to one run while inducing an inning-ending double-play.
The game also featured the first professional home run Arizona Diamondbacks ninth-rounder Camden Duzenack (Dallas Baptist), who led off the ninth with a towering bomb to left center for the Hops' final run. Duzenack had four hits, drove in three and scored three runs, adding a double in the sixth inning. Eudy Ramos went 4-for-6 with a double and a run scored. Every Hop in the lineup had a hit.
The Hops close out the series Monday night with Connor Grey on the hill as they face the Texas Rangers' 2016 first-round draft pick, lefthander Cole Ragans. Game time is scheduled for 6:30 p.m. with the first pitch at 6:00 p.m. on 103.7FM The Legend, simulcast on Rip City Radio 620AM beginning at 7 p.m.