Late-inning Heroics Put Hops On Verge Of Division Title
Hops pounce on dropped pop-up, score six runs in 9th and 10th to shock Boise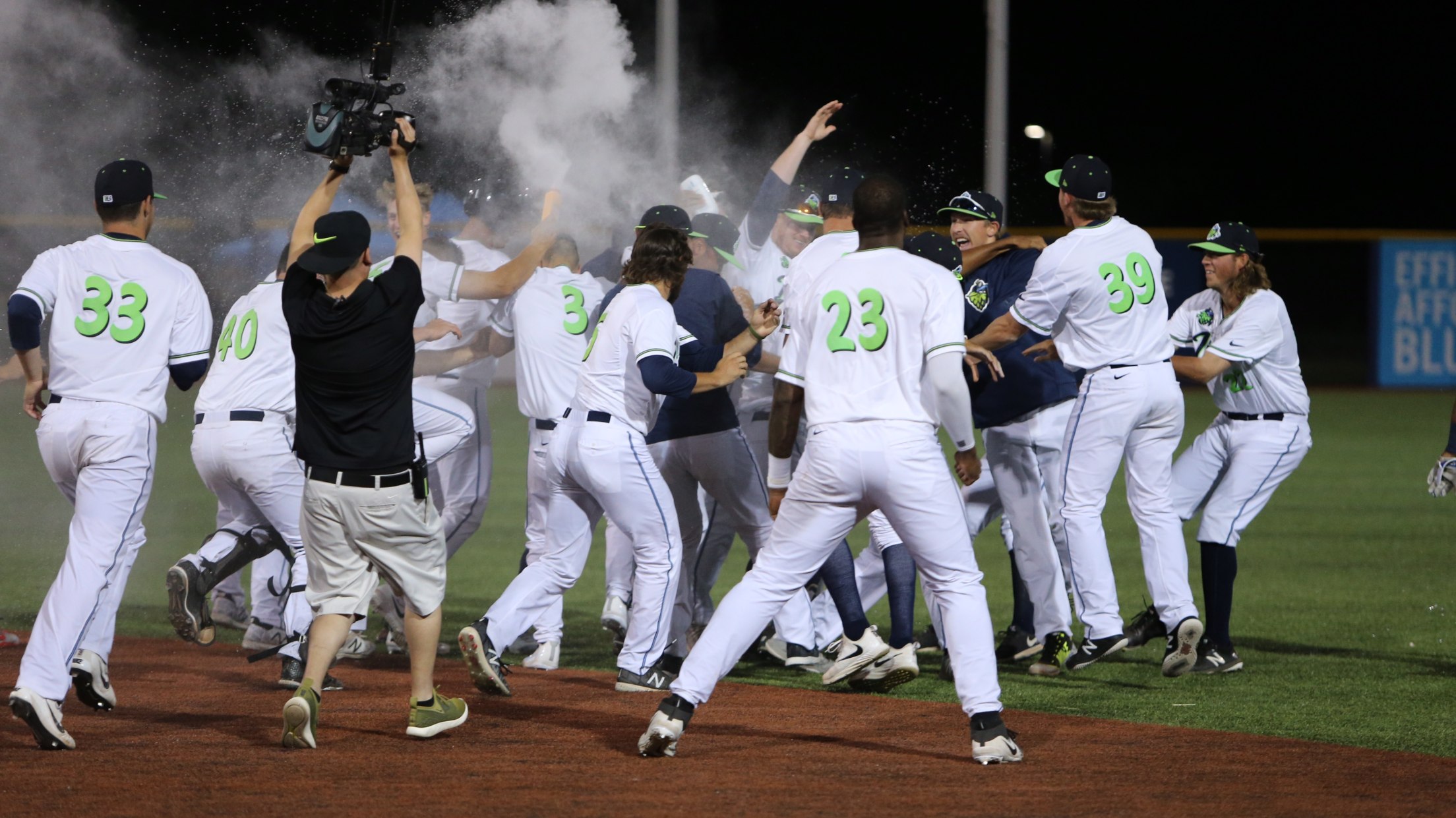 In a fateful bit of bad timing, the Hillsboro Hops welcomed the national champion Oregon State University baseball team to the ballpark a day too early. Had Kyle Nobach, Jack Anderson, Kevin Abel, et. al. seen what transpired in the ninth inning Tuesday night, they may have experienced a bit
In a fateful bit of bad timing, the Hillsboro Hops welcomed the national champion Oregon State University baseball team to the ballpark a day too early. Had Kyle Nobach, Jack Anderson, Kevin Abel, et. al. seen what transpired in the ninth inning Tuesday night, they may have experienced a bit of deja vu.
With the Hops down 3-0 and an out away from losing their second straight game to Boise and with the Northwest League's first-half South Division pennant on the line, a routine pop up dropped in and opened the door for an improbable late-inning surge from the Northwest League's most clutch franchise.
Joey Rose hit a game-tying 2-run homer with two outs in the ninth and Jorge Perez delivered a walk-off two-run single in the bottom of the 10th inning as the Hops defeated the Hawks 6-5 Tuesday night in front of 3,019 ecstatic fans at Ron Tonkin Field.
A Boise win would have closed the Hops' first-half division lead to two games. Instead, Hillsboro (22-10) is now four games ahead of its closest pursuer with six games to go before the first-half South Division champion is crowned in the Northwest League.
The Hops were down 3-0 in the final inning of regulation and had left 11 runners on base, seven in scoring position. With two outs in the ninth, Keshawn Lynch lifted a pop-up to shallow right center that should have ended the game, but the ball dropped between three Boise defenders. In a scene reminiscent of Oregon State's College World Series championship win over Arkansas last month, the Hops jumped on the opportunity. Andy Yerzy plated Lynch with an RBI single and Rose followed with a towering shot to left off Boise reliever Eric Hepple, a 27th-round pick out of Central Florida who was twice a strike away from his first pro save.
In the top half of the tenth and with Hillsboro reliever Ethan Larrison (3-0) on the hill, Boise leadoff batter Matt Hearn walked with one out, putting runners at first and third. After Hearn swiped second, Terrin Vavra blooped a single to right center to plate both Hearn and Cole Anderson to put the Hawks up 5-3.
Earlier in the game, Hearn, who raised his NWL-leading batting average to .409, hit a ground rule double in the first inning and singled up the middle in the eighth, his tenth multi-hit game in the last 11 games and his 14th consecutive game with a base hit.
In the bottom of the inning, Boise reliever Colton Pate (1-1) plunked Jake McCarthy to bring the winning run to the plate. Pinch hitter Ryan Tufts placed a bunt up the third base line, Pate fielded and threw wildly to third after a double-clutch, scoring Francis Martinez from second and putting McCarthy at third with Tuft reaching second base. After an intentional walk to Ryan January to load the bases, Perez sent a hard ground ball past the drawn-in second baseman Vavra on the first pitch he saw to plate McCarthy and pinch-runner Jose Caballero with the winning runs.
Perez, no stranger to walk-off celebrations this year, is now 4-for-6 with a double, walk and nine runs batted in with the bases loaded this season. He was one of five Hops with two hits in the contest, including Ryan Dobson, who went 2-for-5 with a double to extend his current hitting streak to ten games. Rose's home run was his fourth of the year and his league-leading 17th extra-base hit.
Daniel Jipping drove in all three Boise runs in regulation with an RBI fielder's choice in the second inning and a two-run single in the fourth. The 2017 NWL-Pioneer League home run derby champion added a double in the ninth. All three runs came off Hops' starter Matt Tabor, who allowed six hits and no walks with two strikeouts over five efficient innings. Boise's Pearson McMahon wiggled out of jams in each of the first three innings to pitch six scoreless. The Hops were 1-for-11 with runners in scoring position and had twice left the bases loaded before coming alive late against the Boise bullpen.
It was Hillsboro's 33rd all-time walk-off win, fifth this season and third of the current 8-game homestand. Hillsboro improved to 4-0 in extra-inning games under this year's new rules, which place a runner at second base to start the 10th. Three of those wins have come on the homestand. The Hops are an unexplainable 24-11 in extra-inning games in their six-year history.
The Hops try to wrap up their seventh consecutive series win when the two teams meet again Wednesday night at Tonkin Field. A Hillsboro victory would clinch a fifth consecutive trip to the NWL playoffs. Pregame airtime is 7:00 p.m. on NBC Sports Northwest Rip City Radio and www.ripcityradio.com with first pitch at 7:05 p.m.