CPL, Hooks Launch USO Campaign
Funds raised will pay for renovations at the USO facilities at the Corpus Christi International Airport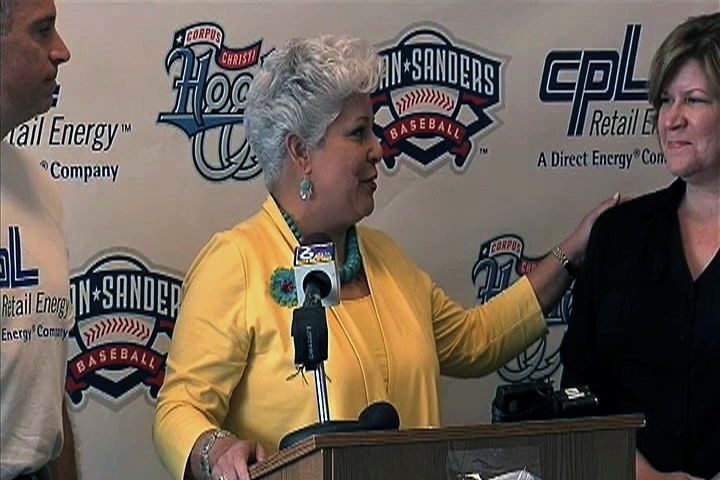 By Corpus Christi Hooks | May 6, 2013 11:01 AM ET
CORPUS CHRISTI - Thousands of service men and women walk through the flight gates at the Corpus Christi International Airport (CCIA) every year. Today, CPL Retail Energy and the Corpus Christi Hooks announced an initiative for a capital campaign to raise funds to refurbish USO South Texas facilities at CCIA.
USO South Texas, an independent 501(c)(3) non-profit organization, is the only chartered center in Texas and serves military personnel from NAS Corpus Christi and NAS Kingsville. Monies raised will be used to completely renovate the USO airport lounge and give veterans and active military personnel an upgraded welcome as they arrive or return to the Coastal Bend. The plan for the new and improved USO center at CCIA is also a relocation to a larger more visible space in the airport.
"CPL Retail Energy is a powerhouse as a USO Friend for our military," said Nancy Allen, president and CEO of USO South Texas. "With the Hooks partnering to renovate our airport lounge, we will knock this project out of the park with the community on our team."
With Memorial Day this month, CPL wanted to honor Coastal Bend service men and women with a gift to USO South Texas that will provide a welcoming place for retired and active service members to enjoy for years to come, said Steven Murray, president of Direct Energy Residential and CPL Retail Energy.
"CPL Retail Energy employees appreciate and are truly humbled by the sacrifices those serving in the armed forces have made for our country. This campaign to raise funds for USO South Texas is our contribution to support this generation of military personnel and those who will follow," he added.
The public-private collaboration between the City of Corpus Christi, USO South Texas, CPL Retail Energy and the Corpus Christi Hooks to raise the money needed for the project is a challenging endeavor, but they have set their fundraising goal at $25,000. CPL Retail Energy will provide a donation to launch the campaign and the Corpus Christi Hooks will supplement fund raising efforts with promotion and auctioning Hooks player jerseys.
"We are delighted to partner with the city, CPL Retail Energy and USO South Texas on this project," Hooks vice president Adam Nuse said. "Our military personnel deserve the very best. One of the great things about baseball is that it brings people and worthwhile causes together."
Following the announcement, more than 50 volunteers from CPL Retail Energy and its corporate parent, Direct Energy, assembled care packages with travel-sized hygiene products, healthy snacks, drink-mix packets, microwaveable foods and small entertainment items for USO South Texas to send overseas to military personnel.
About USO South Texas: The USO (United Service Organizations) lifts the spirits of America's armed forces and their families. The USO of South Texas serves NAS Corpus Christi and NAS Kingsville. We provide a touch of home to troops wherever they serve through centers at airports and military bases around the world, top quality entertainment and innovative programs and services tailored to meet the needs of troops and their families. The USO is a private non-profit organization which relies solely on donations to provide support to servicemen and women of South Texas and their families by providing morale, welfare, and recreational services .www.usosouthtexas.org.
About CPL Retail Energy: CPL Retail Energy is part of the Direct Energy family of companies, one of North America's largest energy and energy-related services providers with over 6 million residential and commercial customer relationships. Direct Energy with its CPL Retail Energy and WTU Retail Energy brands, is the third-largest retail electricity provider in Texas. It owns three power generation facilities and a series of energy related services companies - including Wendland Air Conditioning and Heating serving the Coastal Bend. CPL Retail Energy provides customers with choice and support in managing their energy costs through a portfolio of innovative products and services. A subsidiary of Centrica plc (LSE: CNA), one of the world's leading integrated energy companies, Direct Energy operates in 46 states and 10 provinces in Canada. For more information, visit www.cplretailenergy.com.
About Corpus Christi Hooks Baseball: Corpus Christi Hooks Baseball is in its ninth year. The Hooks are members of the eight-team Texas League and Double-A affiliate of the Houston Astros. Reid Ryan, oldest son of baseball Hall of Fame pitcher Nolan Ryan, is founder and CEO of the Hooks and Round Rock Express. Hooks Help was established in 2006 to positively impact Coastal Bend citizens. It revolves around the desire to serve through youth-, education and charity-related initiatives.
This story was not subject to the approval of the National Association of Professional Baseball Leagues or its clubs.
View More