Bombs Away: Gades blast four dingers in 8-7 win
Hardman goes deep twice, joined by Wagaman and Sweeney in homer party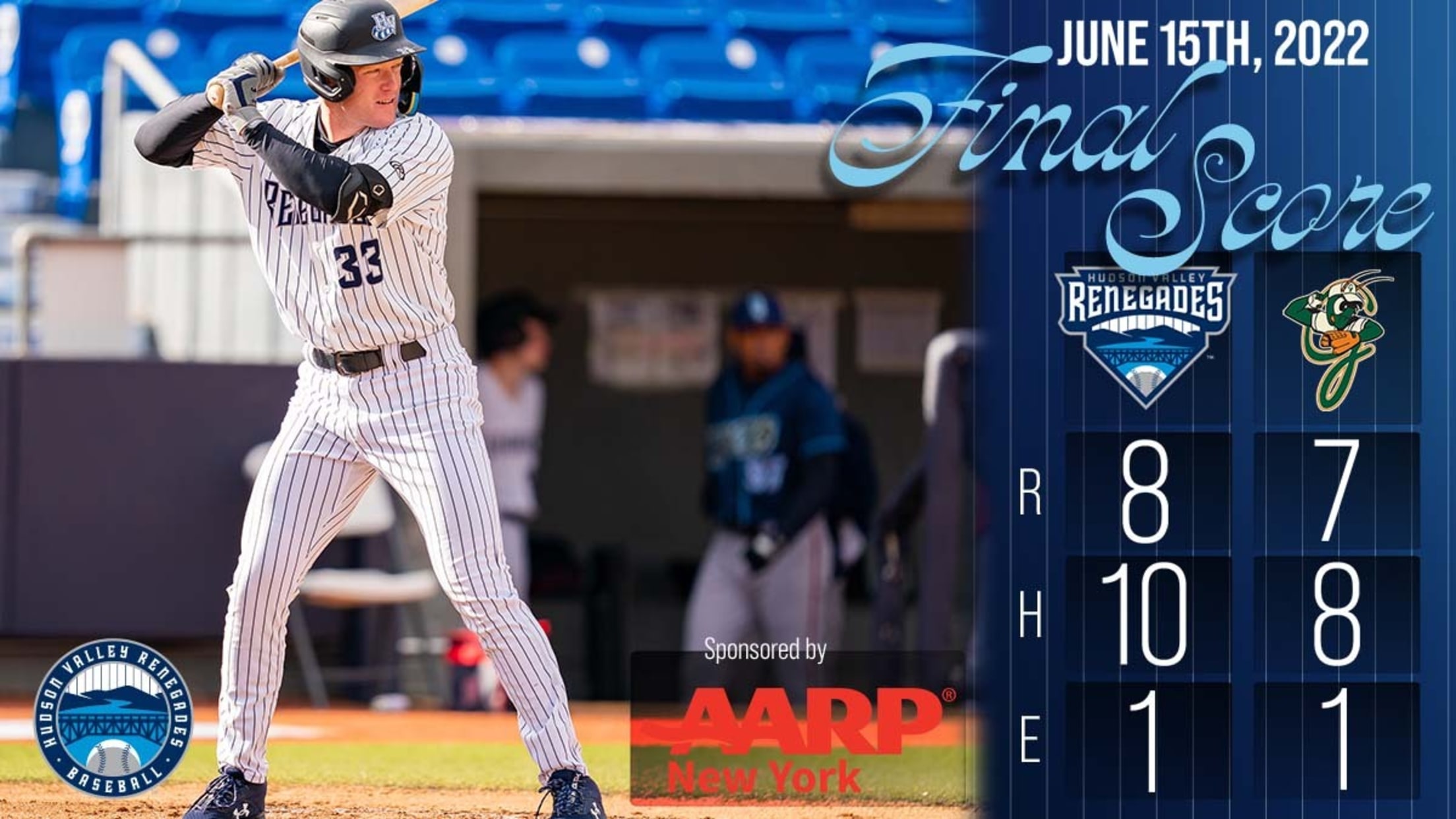 Eric Wagaman hit a home run for the third consecutive game in Wednesday's win at Greensboro. (Dave Janosz)
GREENSBORO, N.C. (June 15, 2022) – Powered by a season-high four home runs, the Hudson Valley Renegades out-slugged the Greensboro Grasshoppers 8-7 on Wednesday night at First National Bank Field. Tyler Hardman finished 2-for-4 with two home runs and four RBIs, his first career multi-home run game. Greensboro struck for
GREENSBORO, N.C. (June 15, 2022) – Powered by a season-high four home runs, the Hudson Valley Renegades out-slugged the Greensboro Grasshoppers 8-7 on Wednesday night at First National Bank Field.
Tyler Hardman finished 2-for-4 with two home runs and four RBIs, his first career multi-home run game.
Greensboro struck for four runs in the bottom of the first against Matt Sauer, highlighted by a three-run home run by Endy Rodriguez. However, Sauer settled down after that and gutted his way through 4.2 innings, allowing five runs on five hits while walking five and striking out five.
The Renegades chipped away with two in the fourth on Hardman's first home run of the night – a two-run shot off Jared Jones. They added another off Jones in the fifth on a Cooper Bowman sacrifice fly that cut the deficit to 4-3.
After the Grasshoppers tallied a run in the bottom of the fifth, the Gades grabbed the lead in the top of the sixth. Eric Wagaman led off the inning with a solo home run off Santiago Florez. Two batters later, Florez (1-2) served up a two-run shot to Hardman to put Hudson Valley in front 6-5.
Trey Sweeney added two more in the seventh with a two-run homer off Jack Carey to expand the lead to 8-5. The long ball was Sweeney's seventh of the season.
After 2.1 scoreless innings from Nelson Alvarez (4-1), Tanner Myatt allowed a two-run home run to Sammy Siani in the eighth that closed the lead to 8-7. Myatt rebounded with a scoreless ninth, stranding the tying run at first to earn his fourth save.
The win improved the Renegades to one game over .500 for the first time since May 12. It was also the team's fourth straight win, tied for the longest winning streak of the season.
Hudson Valley continues its series with Greensboro on Thursday night at First National Bank Field. First pitch is scheduled for 6:30 p.m., with coverage on the Renegades Baseball Network beginning at 6:15. RHP Beck Way (3-2, 4.62) gets the start for the Renegades, while Grasshoppers counter with RHP Justin Meis (0-0, Infinity).
POSTGAME NOTES: Wagaman has homered in three straight games for the Renegades, becoming the first HV player to homer in three straight since Andres Chaparro from September 3-5, 2021, all at Greensboro… The Renegades have had players hit multiple home runs in a game in back-to-back games, with Everson Pereira doing so on Tuesday and Hardman accomplishing the feat Wednesday.