Swept: Renegades shut out in both ends of twin bill
Gades fall 2-0 in game one, 1-0 in game two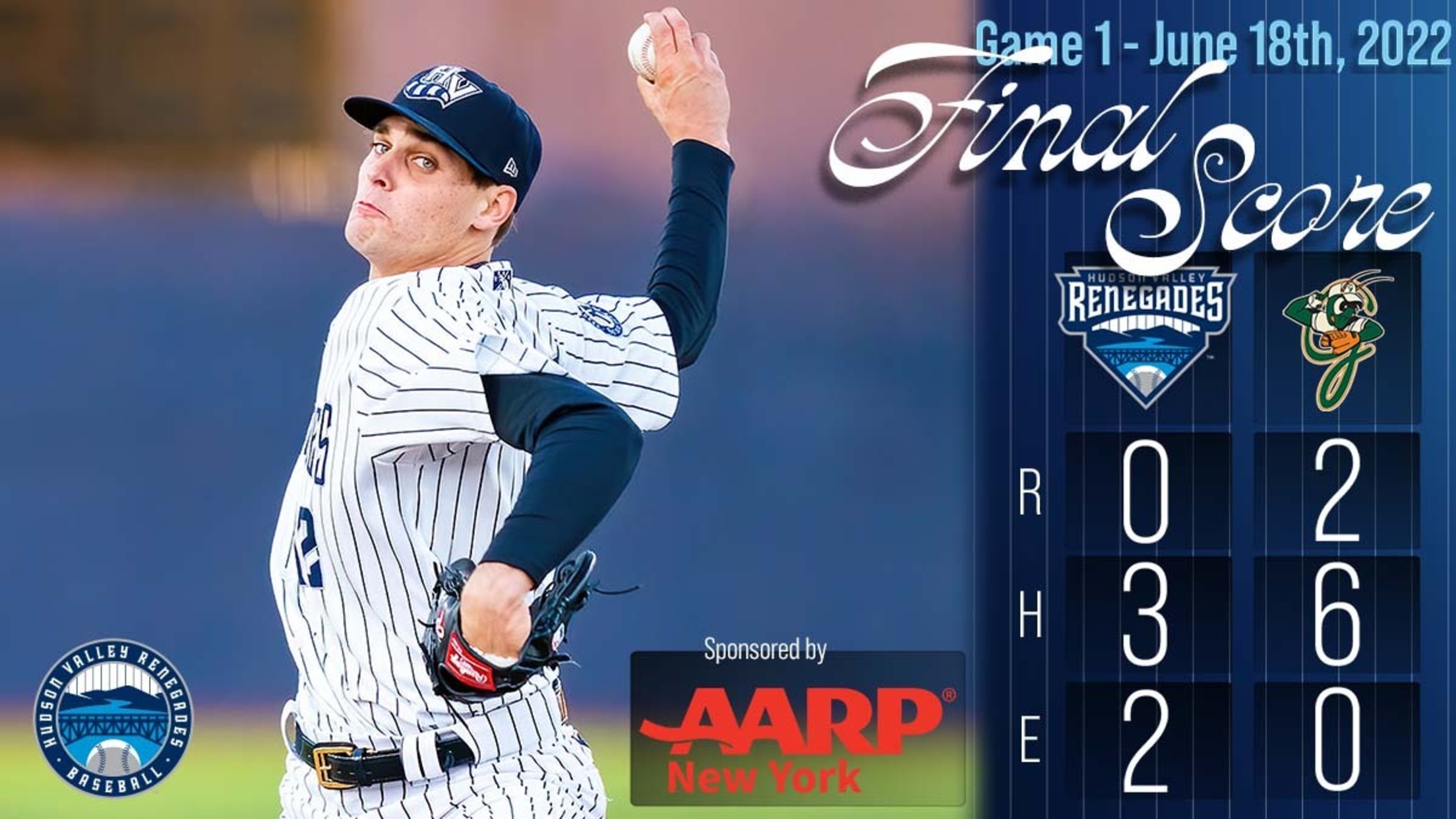 Beck Way allowed one earned run in 5.0 innings in Saturday's doubleheader at Greensboro. (Dave Janosz)
GREENSBORO, N.C. (June 18, 2022) – The Hudson Valley Renegades saw their five-game winning streak come to an end on Saturday night as they were swept in a doubleheader by the Greensboro Grasshoppers. They fell in game one 2-0 and lost the night cap 1-0. The Renegades collected only three
GREENSBORO, N.C. (June 18, 2022) – The Hudson Valley Renegades saw their five-game winning streak come to an end on Saturday night as they were swept in a doubleheader by the Greensboro Grasshoppers. They fell in game one 2-0 and lost the night cap 1-0.
The Renegades collected only three hits in the first game against Nick Garcia, who threw a complete game shutout for the Grasshoppers. Greensboro got both runs in the bottom of the fourth against Beck Way on back-to-back RBI singles by Sammy Siani and Hudson Head.
Way (3-3) was solid, allowing just two runs (one earned) on six hits in 5.0 innings, walking two and striking out five on the night. Carlos Gomez tossed a scoreless sixth, but the Gades couldn't muster a late rally before falling 2-0.
In the second game, Josue Panacual allowed a run in the bottom of the first on an RBI single by Abrahan Gutierrez, but settled down in the remainder of his 5.0 innings.
Hudson Valley threatened several times against Greensboro, but stranded eight runners on base, including the bases loaded twice. The Gades went 0-for-5 with runners in scoring position and hit into two double plays in the game.
Everson Pereira was 2-for-3 in the second game of the twin bill, and Trey Sweeney had a hit in each game.
The back-to-back shutout losses are the first time that Hudson Valley has lost consecutive games without scoring a run since July 8 and 9, 2017 against the Vermont Lake Monsters.
Hudson Valley completes its series with Greensboro on Sunday afternoon at First National Bank Field. First pitch is scheduled for 2 p.m., with coverage beginning on the Renegades Baseball Network at 1:45. LHP T.J. Sikkema (0-1, 2.45) is slated to start for the Renegades, while RHP Domingo Gonzalez (3-2, 6.18) gets the ball for the Grasshoppers.