Chukars Blast Off To Division Title
Idaho Falls Hits Four Homers In Rout Of Osprey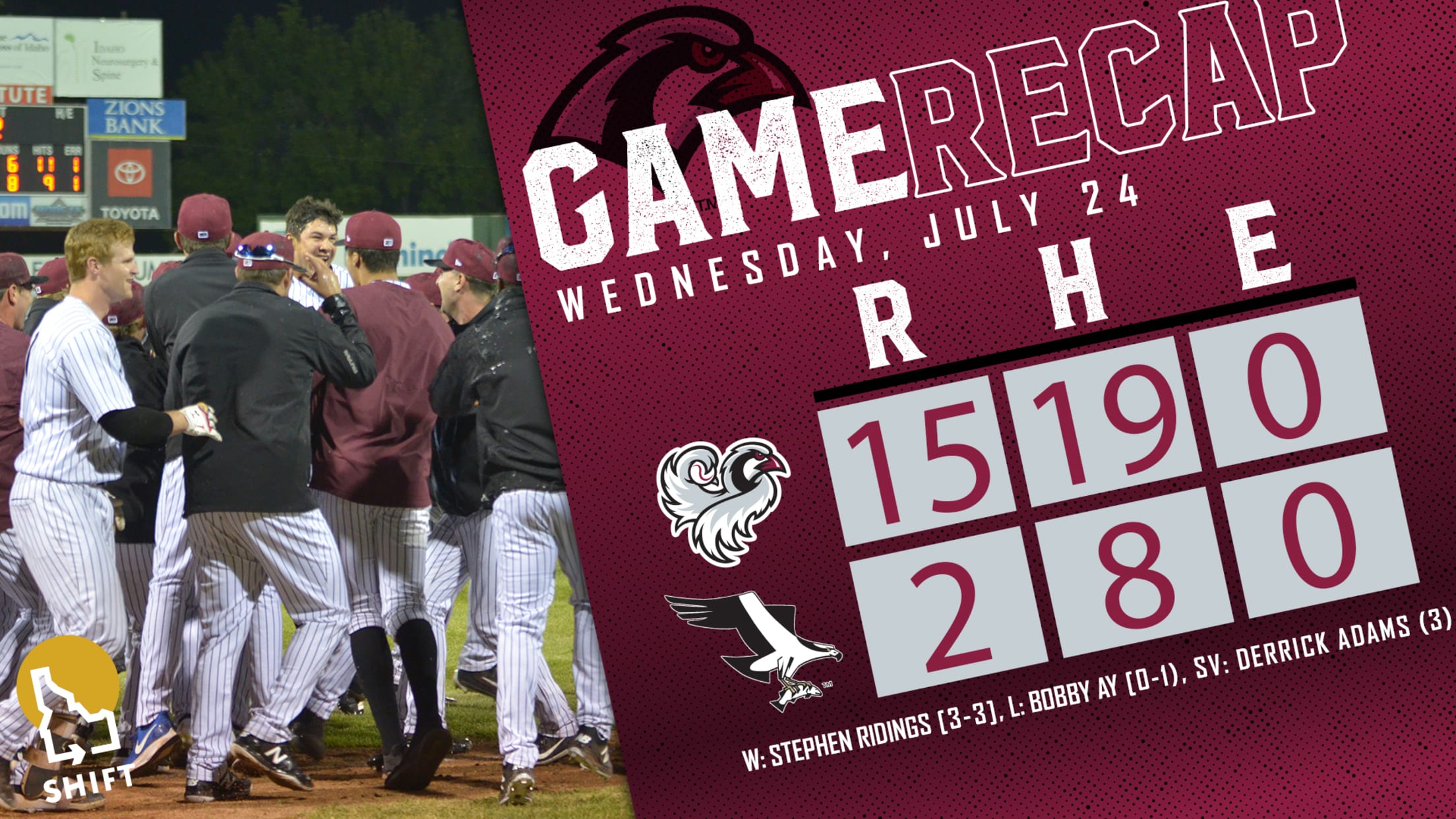 Missoula, MT - Faced with a win and you're in scenario tonight in Missoula, the Chukars started hot and never stopped. Idaho Falls scored three runs in the first and never trailed, hitting four homers in the game, en route to a 15-2 victory over the Missoula Osprey. With the
Missoula, MT - Faced with a win and you're in scenario tonight in Missoula, the Chukars started hot and never stopped. Idaho Falls scored three runs in the first and never trailed, hitting four homers in the game, en route to a 15-2 victory over the Missoula Osprey. With the win, the Chukars are the 2019 1st Half Northern Division Champions and are going back to the playoffs for the first time since 2015.
Like they did last night, the Chukars started the game with a bang. Jose Marquez started the inning with a single, and Clay Dungan followed with a walk. Rhett Aplin hit into a double play, but Michael Emodi picked him up with a double, scoring Marquez. Juan Carlos Negret then brought out the big lumber, firing a rocket over the left center field wall for a two run homer, extending the Chukars lead to 3-0.
Idaho Falls extended the lead in the fourth inning, as they loaded the bases with nobody out. Kember Nacero drove home the lone run of the inning with a sacrifice fly to right.
Negret though was not done. In the fifth inning with two on and two out, he took a hanging slider from reliever Dustin Lacaze and parked it over the left field wall for a home run, his second of the day, making it 7-0 Idaho Falls. Negret finished the day 4 for 5 with 5 RBI.
Idaho Falls starter Stephen Ridings was locked in from the get go. After stranding two runners in the first inning, Ridings allowed only one hit over his next three innings. Missoula scored single runs against him in the fifth and sixth innings, but that was all. Ridings completed six innings for the second time this season, walking just one and striking out nine.
The long balls kept coming for Idaho Falls, as Tyler James hit a two run shot in the sixth inning and Ismaldo Rodriguez followed with a three run blast in the seventh.
Derrick Adams pitched a scoreless final three innings, earning his third save of the year.
With the first half title in hand, the Chukars head north to Great Falls, starting a five game series tomorrow with a double header against the Voyagers. First pitch of game one is scheduled for 5 PM, and you can listen to the broadcast on ESPN 980 The Sports Zone and online via the TuneIn App.