Indy Drops Both Ends of Doubleheader to Mud Hens
Pablo Reyes smacks three doubles but Tribe skid hits three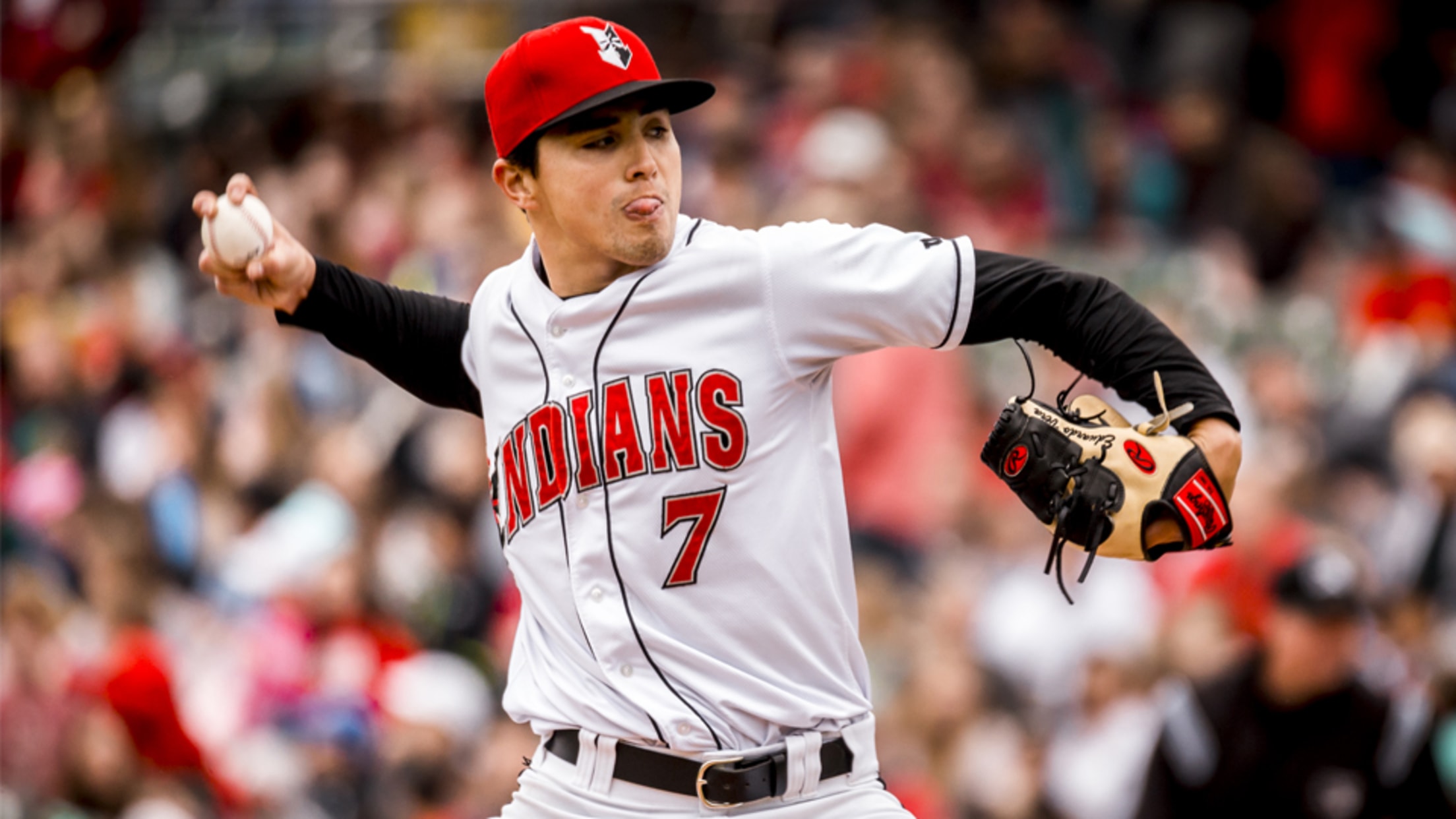 Eduardo Vera tossed 7.0 innings and allowed just two runs in the first game of a doubleheader on Saturday in Toledo. (Photo by Adam Pintar)
TOLEDO, OHIO -Pablo Reyes recorded three doubles but the Tribe defense committed three total errors in 3-2 and 8-2 losses to the Mud Hens on Saturday night. Eduardo Vera was the lone bright spot on the bump for Indy, throwing 7.0 innings of two-run ball in the opener before the
TOLEDO, OHIO -Pablo Reyes recorded three doubles but the Tribe defense committed three total errors in 3-2 and 8-2 losses to the Mud Hens on Saturday night. Eduardo Vera was the lone bright spot on the bump for Indy, throwing 7.0 innings of two-run ball in the opener before the Indians lost in eight innings.
The Indians (34-26) fell to 3-4 in extra-inning games with their loss in the first contest. In the decisive eighth inning, Indianapolis had runners at the corners with two away. Kevin Kramer intentionally put himself in a rundown between first and second base but was tagged out before Jason Martin reached home.
In the bottom of the eighth, Daniel Pinero wasted little time to deliver the game-winning hit against Sean Keselica (L, 1-4). After a foul bunt, Pinero smashed a line drive past Ke'Bryan Hayes into left field to bring home Daz Cameron from second base.
Trailing 1-0 through the first three frames, the Tribe scored both of their runs in the fourth off Gregory Soto. Hayes walked and took second on a wild pitch. He then stole third and scored on the play as Jake Rogers' throw skipped into left field. Will Craig later singled and raced home on a Pablo Reyes double off the left field wall.
Eduardo Vera maintained the lead until the bottom of the sixth. He retired the first two batters in the frame before yielding a single to Willi Castro. Victor Reyes followed with a single to shallow left that brought around Castro to tie the game at two.
Both teams left two runners on in the seventh before the Mud Hens walked it off in extras. Caleb Thielbar (W, 1-1) earned the win with 1.1 innings pitched in relief. Vera scattered eight hits and two walks with five strikeouts in a no-decision.
Toledo (26-34) sealed the doubleheader sweep and series victory with three long balls in the nightcap. Victor Reyes and Peterson crushed solo homers off Yefry Ramírez (L, 0-1) in the second. Two innings later, Bobby Wilson extended the Mud Hens' lead to 5-0 with a three-run homer over the left field foul pole.
Indy's two runs in the second affair came on a Nick Franklin sacrifice fly in the fifth and Pablo Reyes' third two-bagger of the night in the sixth.
Drew VerHagen (W, 1-2) allowed one run with four strikeouts in 5.0 innings pitched to earn the game two victory for Toledo.
Craig's single in the opener pushed his hitting streak to 14 games, but he went 0-for-3 with a pair of strikeouts in game two.
The Indians and Mud Hens conclude their five-game weekend series on Sunday at 4:05 p.m. ET. Dario Agrazal (3-2, 3.19) will face Spenser Watkins (5-1, 5.66).