Martin Walks Off, Suwinski and Castillo Homer in Doubleheader Split
The walk-off win in Game 1 was Indy's eighth this season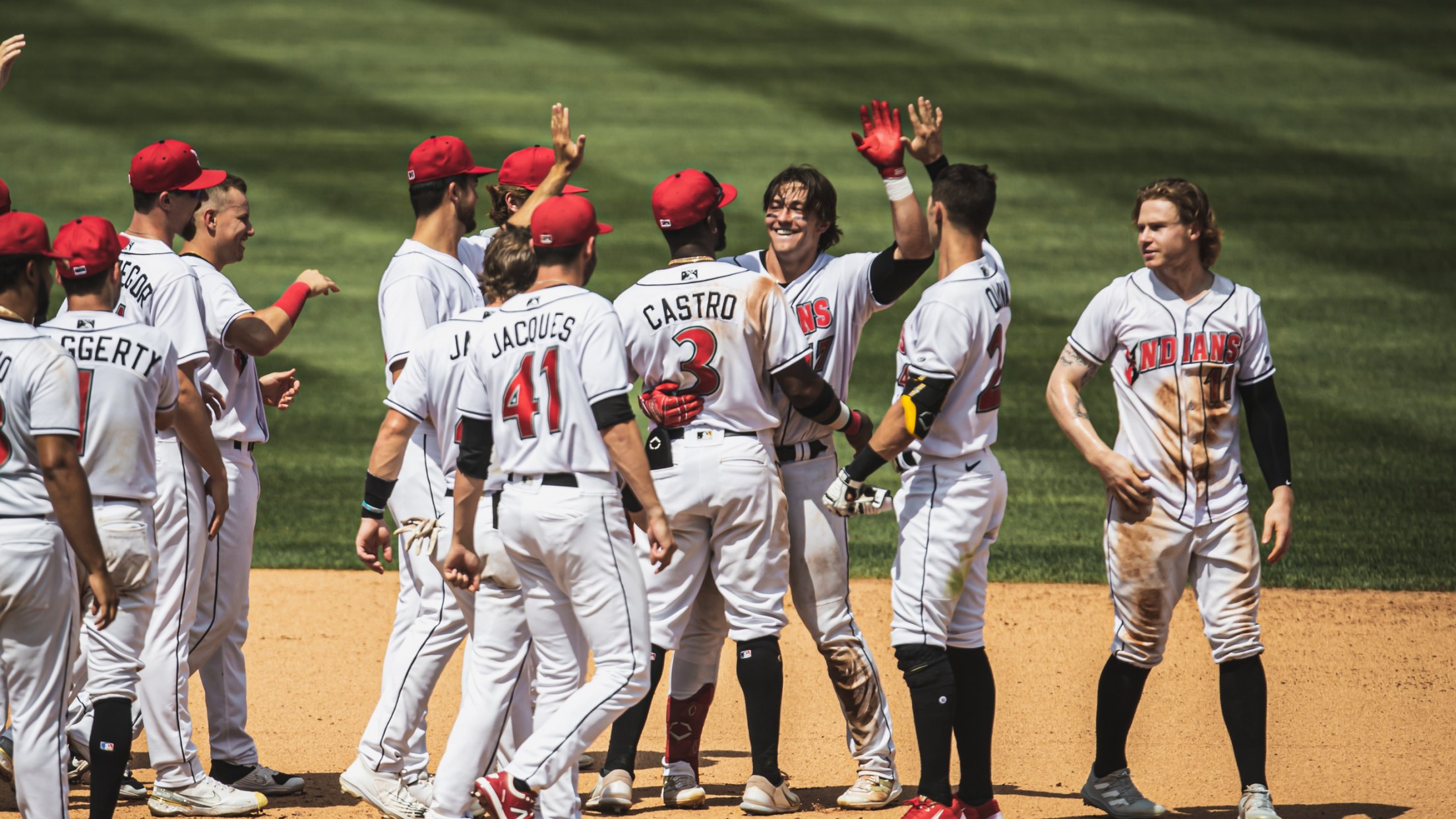 Mason Martin clubbed a ball into deep left-center for the walk-off win in Game 1 of the doublheader. (Photo by Adam Pintar)
INDIANAPOLIS – Mason Martin roped his second walk-off single of the season to lead the Indianapolis Indians in a doubleheader-opening victory on Wednesday afternoon, 4-3. The Louisville Bats then bounced back to take the nightcap, 9-6
INDIANAPOLIS – Mason Martin roped his second walk-off single of the season to lead the Indianapolis Indians in a doubleheader-opening victory on Wednesday afternoon, 4-3. The Louisville Bats then bounced back to take the nightcap, 9-6
With two outs in the bottom of the seventh inning and the game knotted at 3-3, back-to-back singles by Brendt Citta – playing in his first Triple-A game since May – and Jamie Ritchie extended the game to Martin. On a 2-2 offering from Matt Pidich (L, 4-3), Martin launched a fly ball that carried over the left-fielder's head to plate the game-winning run.
The Indians (48-51) bounced back from an early 1-0 deficit with a solo home run by Diego Castillo and go-ahead RBI single off the bat of Jack Suwinski in the third inning. Following a leadoff walk to Martin and the power-hitter's 11th stolen base this season, Rodolfo Castro lined a single into right field for an insurance run.
Miguel Yajure kept Louisville quiet following first-inning traffic, allowing just one baserunner with five strikeouts over his next four frames. All three of his hits allowed came in the first inning.
In the top of the sixth, a pair of homers in a three-batter span by TJ Friedl and Colin Moran tied the game at 3-3 to set up Martin's walk-off hit. Eric Hanhold (W, 3-2) entered the game and stranded the go-ahead run at first base in the top of the ninth.
Facing a 2-0 deficit early, Indianapolis climbed back to tie Game 2 with Suwinski's fifth Triple-A homer of the season in the second inning and back-to-back singles by Jared Oliva and Hoy Park in the third. Trailing by two again in the fourth, an RBI single by Taylor Davis and a two-run triple by Oliva – his third three-bagger of the season – against Jared Solomon (W, 2-1) gave Indy it's first lead of the contest.
Louisville (42-59) then plated four runs, three of which were charged to Noe Toribio (L, 1-1) in the fifth inning to take a lead it would not relinquish. After Citta drove in one more in the fifth, the Indians stranded the game-tying run at the plate in both the fifth and sixth innings.
Indianapolis and Louisville will continue their seven-game series tomorrow night at 7:05 ET at Victory Field. RHP Osvaldo Bido (1-6, 5.45) will take the mound for the Indians against RHP Randy Wynne (4-10, 4.82).