The 2010s: Selecting the Tribe's All-Decade Team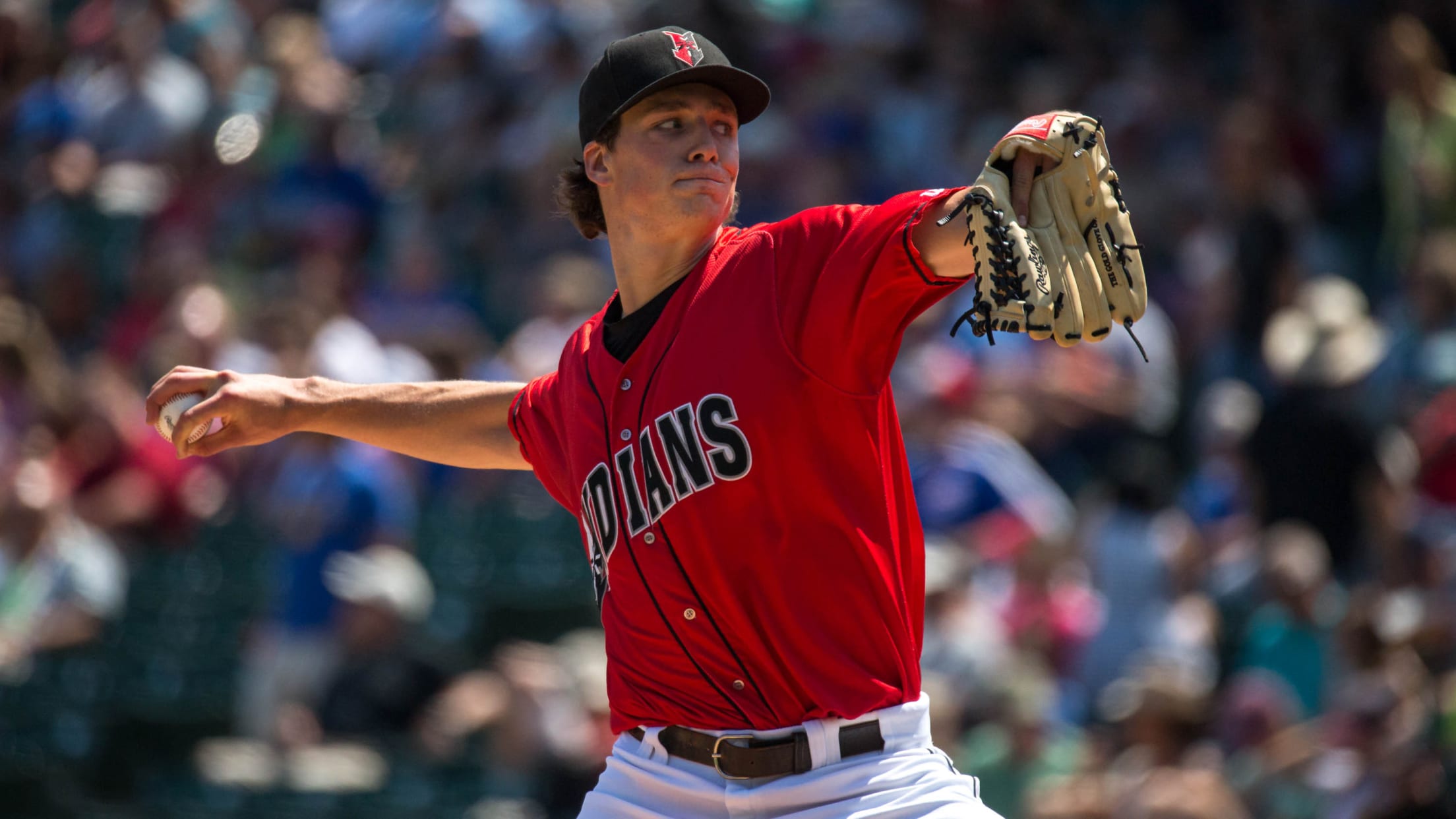 Tyler Glasnow went 19-6 with a 1.95 ERA in 43 games for Indy, making him the headliner on the Tribe's All-Decade Team. (Photo by Adam Pintar)
INDIANAPOLIS - The Indianapolis Indians finished the 2010s with three outright division titles, four Governors' Cup playoff appearances and an appearance in the 2015 Governors' Cup Championship Series. The Tribe compiled a regular season record of 760-670 in the 2010s - good for a .532 winning percentage - second to
INDIANAPOLIS - The Indianapolis Indians finished the 2010s with three outright division titles, four Governors' Cup playoff appearances and an appearance in the 2015 Governors' Cup Championship Series. The Tribe compiled a regular season record of 760-670 in the 2010s - good for a .532 winning percentage - second to only the 1990s, when Indy posted a .538 winning percentage (773-665). For reference, the Indians have been in continuous operation since 1902 and just completed their 12th decade of existence. Here's a look at the top players from the last decade, during which 371 total players took the field for Indy.
First Team
First Base:Josh Bell (2015-16)
Bell joined Indy on August 1, 2015 and his tenure began with a 1-for-17 showing through his first four games. Over the final 31 games of the regular season, he flipped the script with a .394 average, 12 extra-base hits, 17 RBI and a 2-to-1 walk-to-strikeout ratio (20 walks, 10 strikeouts). He put the team on his back in the postseason as well, carrying Indy to Game 5 of the Governors' Cup Championship Series vs. Columbus. In eight playoff games, Bell hit .379 and went 4-for-4 with a walk-off single in Game 4 at The Vic to stave off elimination. In 149 career regular season games with Indy, Bell batted .306 (166-for-542) with 16 home runs, 30 doubles, 78 RBI and an .872 OPS.
Second Base:Josh Harrison (2011, 2013, 2015)
Harrison was an IL midseason All-Star for Indy in 2013, when he hit .317 (85-for-268) with 38 extra-base hits, 34 RBI and 19 stolen bases in 64 games. In 131 career games for the Tribe, Harrison batted .304 (156-for-513) with nine dingers, seven triples, 44 doubles and an .830 OPS. If he played in the same amount of games as second-team second baseman Kevin Kramer, Harrison's totals prorate to 81 doubles, 17 home runs and 105 RBI.
Third Base:Eric Wood (2017-19)
While he hasn't yet reached the big leagues, Wood has shrunk International League ballparks with his power. The slugger hit 16 homers in 2017, 11 in 2018 and nine this past summer, leaving him in a tie with Neil Walker for fourth on the Victory Field era home run list. Wood has seen time at first base, right and left field as well, but his ever-changing defensive position hasn't slowed his roll at the plate, where he's ripped 36 long balls, 61 doubles and driven in 132 runs while hitting .249 (231-for-926) with a .763 OPS.
Shortstop:Kevin Newman (2017-19)
Hello, Newman. Pittsburgh's 2015 first-round draft pick is a lifetime .294 hitter (186-for-833) in 157 career games for Indy. His .734 OPS trails only Cole Tucker (.759) and Jordy Mercer (.749) at the position this past decade, and his 35 stolen bases are second among Tribe shortstops since 2010. In 2018, Newman was named Indy's Team MVP, an IL mid and postseason All-Star and a Baseball America Triple-A All-Star.

Catcher:Jacob Stallings (2016-19)
Stallings' climb from being a backup catcher in Indy, ascending to the No. 1 option, and then doing it all over again in Pittsburgh has been impressive. While his .725 OPS is fifth among six catchers considered, his 34 percent caught-stealing rate (63-of-187) is third best, trailing Elias Díaz (38 percent) and Ryan Lavarnway (44 percent). In 225 games with the Tribe, Stallings owns a .265 average (207-for-780) with 15 home runs, 64 doubles and 113 RBI.
Left Field:Jordan Luplow (2017-18)
Luplow, a college teammate of Aaron Judge at Fresno State University, has the best arm and bat among his competitors at the left field position this decade. He played in 132 games for Indy before being traded to Cleveland following the 2018 season. Luplow led all Tribe left fielders this decade in average (.300, 142-for-474), and his career .857 OPS is third among all Indy outfielders, behind only Gregory Polanco (.871) and Chris Dickerson (.886). Luplow also contributed 12 outfield assists. He was named Pittsburgh's Minor League Player of the Year after the 2017 campaign.
Center Field:Alex Presley (2010-13)
Arguably the most difficult position to select a first-teamer for, let alone a second-teamer and two honorable mentions, Presley claims first-team status based off his .309 average (343-for-1109), 98 extra-base hits (53 doubles, 21 triples, 24 home runs), .837 OPS and 54 stolen bases, the top mark by all Tribe outfielders this decade. His lowest season average in Indy came in 2010, when he hit .294 in 69 games. Presley suited up in 285 games for the Tribe and chipped in 15 outfield assists. He was also a 2011 IL postseason All-Star.
Right Field: Gregory Polanco (2013-14, 2019)
Polanco first reached Indianapolis in 2013 for just two games and played for the Tribe this past summer on two separate rehab assignments. It was his showing in 2014, however, that earned him a spot on the first team. That year, he hit .328 (90-for-274) with 29 extra-base hits, 51 RBI and 16 stolen bases in 69 games to force his way to Pittsburgh. In 84 career games with Indy, Polanco has batted .317 (104-for-328) with eight home runs, five triples, 21 doubles and an .871 OPS. He also piled up 62 RBI and 19 stolen bases in his brief Triple-A stay.
Starting Pitchers:Tyler Glasnow (2015-17) and Gerrit Cole (2012-14, 2016)
No pitcher dominated International League opponents the way Glasnow did for three seasons in Indianapolis. In 43 regular season starts, the right-hander went 19-6 with a 1.95 ERA (53er/245.0ip), .183 average against, 1.11 WHIP and 11.8 strikeouts per 9.0 innings (321k). Just how good was Glasnow for the Tribe? From 2010-19, there were 24 games in which a Tribe starter racked up 10 or more strikeouts. Glasnow stakes claim to nine of those outings.
Across parts of four seasons with Indy, Cole compiled a 9-4 record, 2.59 ERA (30er/104.1ip), 1.04 WHIP and .205 average against, the third-lowest mark by a Tribe starting pitcher since 2010. Nine of his 19 starts were 6-plus innings with two or fewer earned runs allowed.
Relief Pitchers:Montana DuRapau (2017-19), Evan Meek (2008-09, 2011-12) and Tim Wood (2011-12)
DuRapau has been a fixture in Indy's bullpen over the last three seasons, and this past summer he was at his best to earn International League midseason All-Star honors. He went 2-1, converted all 10 of his save chances and had a 2.14 ERA (11er/46.1ip), 0.76 WHIP and .135 average against. Those numbers earned him a promotion to Pittsburgh for the first time. He was even better at Victory Field in 2019, recording a 1.25 ERA and 0.55 WHIP in 21.2 innings pitched. The right-hander was especially tough on right-handed batters, holding them to a .091 average (9-for-99) and just two extra-base hits. He had the longest scoreless streak by any Tribe hurler in 2019 (16.1ip) and became the sixth relief pitcher in the Victory Field era to throw 40-plus innings in a season while having a 2.14 ERA or lower. His career average against of .166 in Triple-A is third and his career 0.94 WHIP is the second-best mark among Indy relievers this decade.
Meek first took the mound for Indy before the turn of the decade, but he returned to the bump for consecutive seasons in 2011 and 2012, too. In 73 career games, Meek went 3-2 with four saves, a 2.42 ERA (28er/104.0ip), 1.15 WHIP and .193 average against.
Wood spent two seasons with Indy and converted a decade-leading 44 saves in 94 relief appearances. He went 8-6, had a 2.44 ERA (31er/114.1ip), 99 strikeouts and a 1.07 WHIP. Opponents also hit just .207 against him. Wood nailed down 23 saves in 2011 and 21 the following year, making him the first Tribe reliever with 20-plus saves in back-to-back seasons since Todd Williams had 26 and 24 in 1998 and '99.
Second Team
First Base:Matt Hague (2011-14)
Hague was nicknamed "The Hit Collector" because he did one thing exceptionally well, hit. During his four-year run that saw him appear in 467 games for Indy, Hague batted .289 (510-for-1767) with 103 doubles, 264 RBI and 38 home runs - second most in the Victory Field era - and was named Team MVP in both 2011 and 2013, becoming just the fourth player in franchise history to win the honor multiple times. He is the only Tribe player this decade to have over 500 hits. Second on the hit list since 2010? Presley…with 343.

Second Base: Kevin Kramer (2018-19)
Kramer has topped the 30-double mark in each of his two seasons with Indy, totaling 65 two-baggers. He joined Rocky Colavito (1954-55) and Jack Daugherty (1987-88) as the only Tribe players since 1950 to log back-to-back campaigns with 30-plus doubles. In 242 career games with Indy, Kramer has hit .288 (250-for-869) with 25 home runs, 113 RBI and an .809 OPS. He was a 2018 International League postseason All-Star and Indy's 2018 Rookie of the Year. His 65 doubles lead all Tribe second basemen this decade, and his 25 home runs trail only Max Moroff (29) at the position.
Third Base:Ke'Bryan Hayes (2019)
Hayes' third consecutive Rawlings Gold Glove Award earned him a spot on the second team. He committed just three errors in his first Triple-A season and posted a career-high 10 home runs at the plate. Hayes had a respectable .265 average (113-for-427) and added 30 doubles and 53 RBI to take home Indy's 2019 Rookie of the Year honor.
Shortstop: Jordy Mercer (2011-13, 2015)
Mercer played in 149 games for Indy over parts of four seasons and had a .749 OPS, 12 home runs and 70 RBI. He was reliable defensively, too, committing just 12 errors. He hit .273 (152-for-556), the second-best mark among Tribe shortstops behind first-team selection Kevin Newman (.294). Mercer was selected to the 2012 IL midseason All-Star team.
Catcher:Tony Sanchez (2012-15)
The Pirates made Sanchez their first-round pick (fourth overall) in 2009 out of Boston College. While he never reached his full potential at the highest level, Sanchez was a productive catcher in Indianapolis. In 313 games for the Tribe, he hit .248 (260-for-1047) and led all Indy catchers this decade in doubles (75), home runs (32) and RBI (160).
Left Field:Pablo Reyes (2018-19)
Reyes blossomed as an under-the-radar farmhand before breaking onto the scene in 2018, ultimately earning a September call-up to Pittsburgh. While he's had an up-and-down battle with the Buccos, Reyes has flourished with Indy, batting .288 (153-for-531) with 18 homers, 35 doubles, 66 RBI and an .812 OPS in 161 games. His hustle made him an easy player for Tribe fans to cheer for, as he flashed his all-out style on the basepaths and in the outfield on a nightly basis.
Center Field:Christopher Bostick (2017-18)
Bostick was a model of consistency and was named to the IL's midseason All-Star squad both years he played in Indy. Naturally a middle infielder, Bostick eventually found his home in center field for the Tribe and earned Team MVP honors following the 2017 season. He hit .294 (143-for-486) with 33 doubles, 57 RBI and 75 runs scored that year. In 205 career games, he batted .295 (231-for-784) with a .782 OPS. Off the field, the Rochester, N.Y. native often devoted his free time to the Tribe's community relations efforts.
Right Field: Brandon Moss (2010)
Moss mashed in his lone campaign for the Tribe, launching 22 home runs with 96 RBI and an .800 OPS in 136 games. His 22 home runs trail only Will Craig's 23-homer 2019 season from this decade, and his 96 RBI are the most in a single season by an Indy Indian since D.T. Cromer had 107 in 1999.
Starting Pitchers:Jameson Taillon (2013, 2016-17) and Steven Brault (2016-19)
Taillon has made 18 starts for Indy over parts of three seasons, tallying a 5-6 record, 2.87 ERA (35er/109.2ip), 113 strikeouts and .213 average against. His 1.01 WHIP leads all Tribe starting pitchers this decade.
Brault made 43 appearances (36 starts) for Indy over the last four seasons, going 12-13 with a 2.73 ERA and 1.23 WHIP. The southpaw went 10-5 and had a league-best 1.94 ERA in 21 games (20 starts) in 2017, making him the third pitcher in franchise history and first since 1945 to lead his respective league with a sub-2.00 ERA. That year he became just the third Indy Indian to win the International League's Most Valuable Pitcher Award, joining Fritz Ackley (1963) and Ben Hendrickson (2004).
Relief Pitchers:Wilfredo Ledezma (2010), Deolis Guerra (2015) and Vic Black (2013)
Ledezma was lights out for Indy in 2010, registering a 0.94 ERA (4er/38.1ip) and 50 strikeouts in 35 relief appearances. He had a 1.02 WHIP and .156 average against to go with eight saves.
Guerra nearly matched Ledezma's 2010 season by recording a 1.23 ERA (5er/36.2ip), 0.79 WHIP and .165 average against in 2015. He pitched in 25 games for Indianapolis.
Black was money in Indy's 2013 bullpen. He notched a 5-3 record, team-high 17 saves and 2.51 ERA (13er/46.2ip) in 38 games. He also racked up 63 strikeouts, held opponents to a .169 average and was named to the IL's midseason All-Star team.
Honorable Mentions
First Base:José Osuna (2016-19) and Will Craig (2019)
Osuna was named Indy's 2016 Offensive Player of the Year and 2018 Silver Slugger Award winner. The guy can flat out hit and has played the corner spots in both the infield and outfield for the Tribe. In 174 career games with the Indians, the Venezuelan owns a .300 average (189-for-629), 18 home runs, 57 doubles, 104 RBI and an .842 OPS.
In his first season at the Triple-A level, Craig smashed a career-high 23 home runs and drove in 78 runs, the most RBI by a Tribe player in a single season since Moss had 96 in 2010. His 23 dingers tied with Graham Koonce (2005) for fourth most in the Victory Field era. Craig was also honored as a 2019 Rawlings Gold Glove Award winner for being the best defensive first baseman in Minor League Baseball.
Second Base:Jake Elmore (2019) and Iván De Jesús Jr. (2013)
Elmore batted .322 (118-for-367) with six homers and 31 doubles in 109 games in 2019, earning Team MVP honors. His .322 average was good for second in the IL and was the highest mark in a single season by a Tribe player since Jason Hardtke hit .329 in 1999. Elmore was an IL mid and postseason All-Star, as well.
De Jesus Jr. had a strong 2013 season in Indy, owning a .319 average (97-for-304) and .837 OPS in 103 games. He added three home runs, three triples and 27 doubles at the dish.
Third Base:Pedro Álvarez (2010-11) and Brent Morel (2014-15)
Once labeled as Pittsburgh's top prospect, Alvarez hit .270 (99-for-367) with 18 homers and 72 RBI in 101 games for Indy over two seasons. His .862 OPS was the highest mark among all Tribe third basemen this decade, but his 15 errors were also second most.
Like Alvarez, Morel suited up for Indy for two seasons. He hit .269 (170-for-633) with 13 home runs, 40 doubles, 100 RBI and 15 stolen bases.
Shortstop:Chase d'Arnaud (2011-14) and Gift Ngoepe (2015-17)
d'Arnaud struggled defensively with 39 errors but made up for the miscues with his speed, swiping 101 stolen bases in 351 career games for Indy. He led all Tribe players this decade in stolen bases and triples (23).
The opposite of d'Arnaud, Ngoepe excelled defensively but struggled at the plate. Ngoepe was a highlight waiting to happen and committed just 16 errors in 200 career games. His .657 OPS was lowest among the five shortstops considered for this list, but he did provide some thump with 14 home runs, second to only d'Arnaud (16).
Catcher: Elias Diaz (2014-17, 2019) and Ryan Lavarnway (2018)
Diaz played in 192 games for Indy and hit .269 (188-for-699) with six homers, 33 doubles and a .668 OPS, the lowest OPS among six catchers in the running for this All-Decade team breakdown. Diaz had one of the better arms behind the plate, however, throwing out 38 percent (45-of-118) of basestealers.
Lavarnway was selected to the IL midseason All-Star team in his only season with Indy. A 2013 World Series champion with the Boston Red Sox, Lavarnway hit .288 (76-for-264) with nine dingers, 23 doubles and an .860 OPS in 77 games. He shut down basestealers, too, notching a 44 percent caught-stealing rate (15-of-34).
Left Field:John Bowker (2010-11, 2015) and Jaff Decker (2014-15)
Bowker hit .283 in 186 career games for Indianapolis and logged 25 home runs, 43 doubles and 106 RBI. Most of his damage came during the 2011 season (.306 average, 15 homers, 76 RBI), resulting in MiLB.com naming him a Pirates Organization All-Star.
Decker appeared in 173 games and batted .261 (148-for-568) with nine home runs, 37 doubles and a .741 OPS. He stole 25 bases and had 18 outfield assists, third most by a Tribe outfielder this decade.
Center Field:Starling Marte (2012, 2014, 2017) and Gorkys Hernández (2011-12, 2015)
In 111 career games for Indy, Marte has hit .284 (124-for-436) with 13 homers, 13 triples, 23 doubles, 24 stolen bases and an .831 OPS. He was an IL mid and postseason All-Star in 2012, a year in which he hit .286 (111-for-388) with 46 extra-base hits and 21 stolen bases in 99 games.
Hernandez played more games (297) in the outfield this decade than any other Tribe player and did so in just three seasons. During that time, he hit .279 (279-for-1001) with nine homers, 14 triples, 52 doubles, 107 RBI and 51 stolen bases. His 25 outfield assists trail only Willy García's 27 since 2010.
Right Field:Jose Tabata (2009-15) and Andrew Lambo (2011, 2013-14)
Tabata is the only Tribe player to appear in six different seasons this decade, and he adds a seventh if you count 2009. He totaled 227 games in a Tribe uniform and hit .290 (253-for-871) with 52 doubles and 38 stolen bases.
Lambo played in 183 games with Indy and batted .267 (173-for-647) with 32 home runs, 45 doubles and 112 RBI. His 32 blasts are tied with Danny Ortiz for the most home runs by a Tribe outfielder since 2010.
Starting Pitcher:Mitch Keller (2018-19)
It's hard to leave Keller off the top five starting pitchers for Indy this decade thanks to his 2019 campaign. Pittsburgh's top prospect according to Baseball America and MLB.com lived up to the hype, delivering a 7-5 record, 3.56 ERA (41er/103.2ip) and 123 strikeouts in 19 starts this summer. He became the fourth pitcher in franchise history to be named as the IL's Most Valuable Pitcher. Keller was also an IL mid and postseason All-Star and was named Indy's Pitcher of the Year.
Relief Pitcher:Jared Hughes (2011-14, 2016)
Hughes is the seventh and final relief pitcher slotted into the All-Decade bullpen. He made 66 appearances (one start) over parts of five seasons, going 5-2 with six saves, a 1.93 ERA (17er/79.1ip) and 78 strikeouts.
For more information or to purchase a 2020 tickets package, visit IndyIndians.com or call (317) 269-3545.